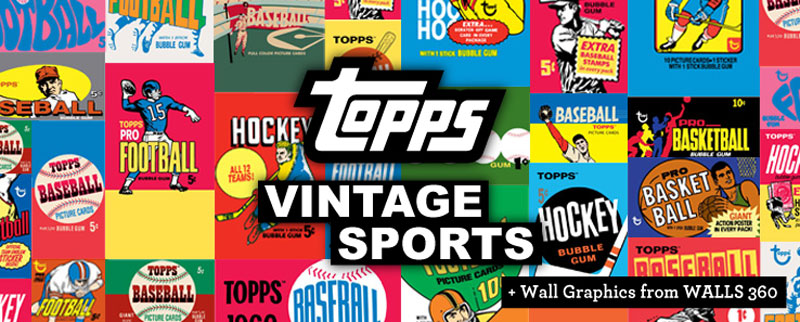 WALLS 360, the on-demand wall graphics company, today launched an exclusive on-demand collection of Topps wall graphics, featuring classic artwork from the last 60 years of sports card wrappers produced by the Topps Company.
Topps Sports Card Wrappers are now available as WALLS 360 wall graphics, and feature iconic, large-format designs from the original Topps Baseball, Basketball, Football, and Hockey card wrappers.
http://www.Walls360.com/ToppsVintageSports
"We're very pleased to be partnering with WALLS 360 on a line of Topps Sports wall graphics," said Adam Levine, Topps Licensing Manager. "The unique, original, decorative artwork that comprises our Vintage Sports program comes directly from the Topps Vault, from the iconic wrappers, boxes and advertising produced from the 1950s through the 80s. With these wall graphics, any sports fan can now decorate their home or office with Topps' powerful and iconic images and relive their fond childhood memories of collecting sports cards - even if they lost them years ago."
"WALLS 360 has created an exclusive collection of on-demand wall graphics featuring classic wrapper designs from the last 60 years of sports cards produced by the Topps Company," according to John Doffing, Co-Founder and CEO at WALLS 360. "Today WALLS 360 and Topps launched some amazing wall graphic collections, featuring baseball, basketball, football, and hockey card wrappers from the 1950s, the 1960s, the 1970s, the 1980s, and the 1990s. The graphic designs of the orginal wrappers are astounding, and they look absolutely stunning as large-format wall graphics from WALLS 360!"
About Topps
http://www.Topps.com
Founded in 1938, The Topps Company is the preeminent creator and brand marketer of sports cards, entertainment products, and distinctive confectionery. Topps leading sports and entertainment products include Major League Baseball, National Football League, WWE, UFC, Star Wars, Wacky Packages, Garbage Pail Kids and other trading cards, sticker album collections, and collectible games. The Company's top confectionery brands include "Ring Pop," "Push Pop," "Baby Bottle Pop," "Bazooka" bubble gum, "Sharkies" and "Juicy Drop Pop" products.
About WALLS 360
http://www.Walls360.com
WALLS 360 creates amazing wall graphics for artists, designers, photographers, and brands from around the world. "WALLS 360 has created the world's premier on-demand wall graphics production platform," according to Tavia Campbell, Co-Founder and COO at WALLS 360. "WALLS 360 makes the best wall graphics in the world - right here in Las Vegas, Nevada."
WALLS 360 wall graphics are printed on-demand at high-resolution with premium 8-color UltraChrome® GS digital inks, for stunning color gamut and accuracy.
WALLS 360 wall graphics are created using a premium re-positionable fabric material that will stick to almost any surface - from walls and windows to ceilings and around corners.
WALLS 360 wall graphics are self-adhesive, easy to install, and can be removed and re-hung hundreds of times without losing adhesion, leaving a mark, or damaging surfaces.
WALLS 360 wall graphics are precision contour-cut, using state-of-the-art, high-resolution plotters and cutters, from a single piece of re-positionable fabric material, for truly seamless installation.
WALLS 360 wall graphics are created in the United States, and shipped globally from our (new!) state-of-the-art on-demand wall graphics production facility in Las Vegas, Nevada. Proudly Made in USA!