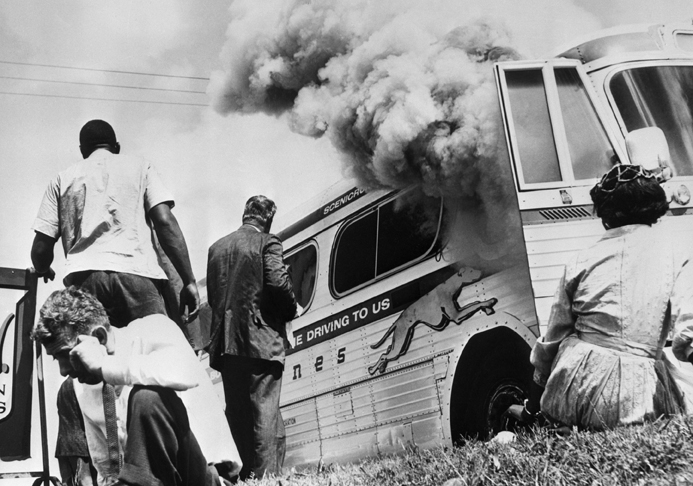 Press contacts

CaraMar, Inc
-Cara White, 843.881.1480, cara.white@mac.com
-Mary Lugo, 770.623.8190, lugo@negia.net

AMERICAN EXPERIENCE
-Lauren Prestileo, 617.300.5329, lauren_prestileo@wgbh.org

PBS's AMERICAN EXPERIENCE, America's most-watched history series, today announced the launch of the 2011 Student Freedom Ride, a journey retracing the historic civil rights bus rides that changed America. Accompanied by original Freedom Riders, forty college students will be chosen to participate in the bus ride which will take place from May 6 - 16, 2011 in conjunction with the 50th anniversary of the original rides. A once-in-a-lifetime opportunity for college students committed to learning from history and applying those lessons today, the ride is also a catalyst for a national conversation about the role of civic engagement today. The 2011 Student Freedom Ride is the centerpiece of a major outreach campaign leading up to the May 2011 PBS broadcast of Stanley Nelson's acclaimed film FREEDOM RIDERS, the powerful and inspirational story of the more than 400 black and white men and women who, using non-violent tactics, risked their lives to challenge segregated facilities in the South in 1961.

Kicking off in Washington, DC with a major public event that will gather many who were involved in the original Rides, the 2011 Student Freedom Ride will roll through Virginia, North Carolina, South Carolina, Georgia, Alabama, Tennessee and Mississippi, stopping along the way at historically significant locations. The students will spend time with original Freedom Riders who will share their memories of this bold and dangerous experiment in the fight for equal rights. Students will also meet with today's leaders in civic engagement.

Says director Stanley Nelson, "We hope that the film and the ride will inspire young people to see that the past was made up of courageous, ordinary people who were able to make great changes. One of the things that the film shows is that success was not inevitable and only came from perseverance. And sometimes to do any great thing, it's important that we step out alone."

"A year-long outreach and engagement campaign that will bring the inspirational message of Freedom Riders to citizens everywhere is something that would only be found in public media," says Paula Kerger, President and CEO of PBS. "Our mission has always been to use the power of public media to transform lives, and FREEDOM RIDERS represents a tremendous opportunity to do just that by uniting all Americans around the importance of civic engagement."

"Freedom Riders tells the story of an overlooked piece of not only civil rights history but American history," says Mark Samels, Executive Producer of AMERICAN EXPERIENCE. "It's a story that we knew had to be told. The film touches and inspires everyone who sees it and it's an honor to be presenting it."

AMERICAN EXPERIENCE is seeking college students from a broad range of backgrounds who will lend diverse voices to the journey. Students will be encouraged to share their experiences and must be eager to learn from their peers, from pioneers in the civil rights movement, and from today's civic leaders. Students should have strong written communication skills and a commitment to civic engagement.

The 2011 Student Freedom Ride will provide these students with an opportunity to take part in an inter-generational conversation about the very idea of civic engagement. What form does civic engagement take today? What has changed since 1961? What would inspire today's students to "get on the bus?" A moving digital media platform, the 2011 Student Freedom Ride will facilitate the students' use of both social and traditional media to share their experiences, bringing others along on their journey, and encouraging their friends and classmates to think more seriously about civic activism and the role that it plays in a thriving democracy. Applications for college student participation are being accepted starting today through January 17, 2011 and can be accessed at http://www.pbs.org/freedomriders.

Freedom Riders Forums

In addition to the 2011 Student Freedom Ride, the outreach initiative will feature a series of public screenings and forums in cities across the country, bringing together original Freedom Riders, historians, filmmakers and today's civic leaders to share their stories with audiences that may not know the inter-racial, inter-generational, and geographically diverse story of the Freedom Rides.

Freedom Riders Traveling Exhibit

AMERICAN EXPERIENCE has partnered with the Gilder Lehrman Institute of American History to create a large-scale traveling exhibit devoted to the Freedom Rides of 1961. A "mini-museum" of sorts, the exhibit will visit twenty cities across the country in 2011 and will offer an audio guide, accessible from visitors' cell phones, featuring the voices and stories of the Freedom Riders themselves.



Freedom Riders Online

The first comprehensive online resource for information on this pivotal event in the Civil Rights Movement, Freedom Riders online is an invaluable resource for information about the 1961 Freedom Rides. The Freedom Riders website offers students, teachers and the general public an interactive site to explore this event and more meaningfully engage in the content and the role of civic engagement in the shaping of society. In addition to a stream of the full film, the site will offer twelve original short films, a fully animated map of the Rides, an interactive roster of the 436 original Riders, nearly two hours of video that illustrates the people, issues and timeline of the Freedom Rides, the application for the 2011 Student Freedom Ride, and daily dispatches from the ride in May 2011.

Freedom Riders in the Classroom

AMERICAN EXPERIENCE has partnered with Facing History and Ourselves, an international educational and professional development organization, to create comprehensive Freedom Riders curriculum materials that will be distributed to high school classrooms nationwide. Through a combination of in-person and online workshops, Facing History will train more than 650 teachers to use Freedom Riders in the classroom, and will present the film and curriculum at multiple educational conferences across the country. Curriculum materials will be available in February 2011. Educator trainings will occur over the course of 2011. AMERICAN EXPERIENCE is also working with Teachers' Domain to develop digital resources for middle and high school students and educators that will enhance the use of Freedom Riders in the classroom.


About the Film

Award-winning filmmaker Stanley Nelson (Wounded Knee, Jonestown: The Life and Death of Peoples Temple, The Murder of Emmett Till) comes to PBS' American Experience in May 2011 with his latest documentary FREEDOM RIDERS, the powerful, harrowing and ultimately inspirational story of six months in 1961 that changed America forever. From May until November 1961, more than 400 black and white Americans risked their lives-and many endured savage beatings and imprisonment-for simply traveling together on buses and trains as they journeyed through the Deep South. Deliberately violating Jim Crow laws, the Freedom Riders' belief in non-violent activism was sorely tested as mob violence and bitter racism greeted them along the way.

FREEDOM RIDERS features testimony from a fascinating cast of central characters: the Riders themselves, state and federal government officials, and journalists who witnessed the rides firsthand.

"I got up one morning in May and I said to my folks at home, I won't be back today because I'm a Freedom Rider. It was like a wave or a wind that you didn't know where it was coming from or where it was going, but you knew you were supposed to be there." - Pauline Knight-Ofuso, Freedom Rider

Despite two earlier Supreme Court decisions that mandated the desegregation of interstate travel facilities, black Americans in 1961 continued to endure hostility and racism while traveling through the South. The newly inaugurated Kennedy administration, embroiled in the Cold War and worried about the nuclear threat, did little to address domestic Civil Rights.

"It became clear that the Civil Rights leaders had to do something desperate, something dramatic to get Kennedy's attention. That was the idea behind the Freedom Rides-to dare the federal government to do what it was supposed to do, and see if their constitutional rights would be protected by the Kennedy administration," explains Raymond Arsenault, author of Freedom Riders: 1961 and the Struggle for Racial Justice, on which the film is partially based.

Organized by the Congress of Racial Equality (CORE), the self-proclaimed "Freedom Riders" came from all strata of American society-black and white, young and old, male and female, Northern and Southern. They embarked on the Rides knowing the danger but firmly committed to the ideals of non-violent protest, aware that their actions could provoke a savage response but willing to put their lives on the line for the cause of justice.

Each time the Freedom Rides met violence and the campaign seemed doomed, new ways were found to sustain and even expand the movement. After Klansmen in Alabama set fire to the original Freedom Ride bus, student activists from Nashville organized a ride of their own. "We were past fear. If we were going to die, we were gonna die, but we can't stop," recalls Rider Joan Trumpauer-Mulholland. "If one person falls, others take their place."

Later, Mississippi officials locked up more than 300 Riders in the notorious Parchman State Penitentiary. Rather than weaken the Riders' resolve, the move only strengthened their determination. None of the obstacles placed in their path would weaken their commitment.

The Riders' journey was front-page news and the world was watching. After nearly five months of fighting, the federal government capitulated. On September 22, the Interstate Commerce Commission issued its order to end the segregation in bus and rail stations that had been in place for generations. "This was the first unambiguous victory in the long history of the Civil Rights Movement. It finally said, `We can do this.' And it raised expectations across the board for greater victories in the future," says Arsenault.

"The people that took a seat on these buses, that went to jail in Jackson, that went to Parchman, they were never the same. We had moments there to learn, to teach each other the way of nonviolence, the way of love, the way of peace. The Freedom Ride created an unbelievable sense: Yes, we will make it. Yes, we will survive. And that nothing, but nothing, was going to stop this movement," recalls Congressman John Lewis, one of the original Riders.

Says Stanley Nelson, "The lesson of the Freedom Rides is that great change can come from a few small steps taken by courageous people. And that sometimes to do any great thing, it's important that we step out alone."

CREDITS
A Stanley Nelson Film
A Firelight Media Production for AMERICAN EXPERIENCE

Produced, Written and Directed by
Stanley Nelson

Produced by
Laurens Grant

Edited by
Lewis Erskine, Aljernon Tunsil

Archival Producer
Lewanne Jones

Associate Producer
Stacey Holman

Director of Photography
Robert Shepard

Composer
Tom Phillips

Music Supervisor
Rena Kosersky

Based in part on the book Freedom Riders by
Raymond Arsenault

AMERICAN EXPERIENCE is a production of WGBH Boston.
Senior producer
Sharon Grimberg

Executive producer
Mark Samels

Funders
Exclusive corporate funding for AMERICAN EXPERIENCE provided by Liberty Mutual. Major funding provided by the Alfred P. Sloan Foundation. Major Funding for FREEDOM RIDERS is provided by the National Endowment for the Humanities: because democracy demands wisdom. Additional funding provided by Lynn Bay Dayton, Nordblum Family Foundation, the Corporation for Public Broadcasting and Public Television Viewers. AMERICAN EXPERIENCE is produced for PBS by WGBH Boston.