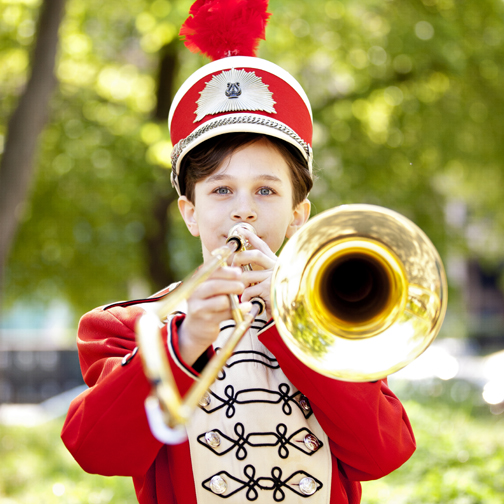 Ian Berlin as Winthrop Paroo in Arena Stage at the Mead Center for American Theater's production of The Music Man May 11-July 22, 2012. Photo by Scott Suchman.

Ian Berlin as Winthrop Paroo in Arena Stage at the Mead Center for American Theater's production of The Music Man May 11-July 22, 2012. Photo by Scott Suchman.
(Washington, D.C.) Inspired by The Music Man's signature song "76 Trombones," Arena Stage at the Mead Center for American Theater is partnering with FAME (The Foundation for the Advancement of Music & Education, Inc.) in an attempt to bring together more than 500 trombone players to set the world record for the largest all-trombone ensemble. Under the direction of Lawrence Goldberg (music director for Arena Stage's upcoming The Music Man), musicians will fill Nationals Park – home of the Washington Nationals – to perform a rousing rendition of this classic show tune at 6:00 p.m. Friday, June 1, prior to the scheduled Nationals game against the Atlanta Braves. Participants may then stay and watch the game for free.
"The Music Man is a celebration of music," says Molly Smith, Arena Stage artistic director and director of the theater's The Music Man. "Through our partnership with FAME for this record-breaking occasion we cannot wait to gather hundreds of area musicians at Nationals Park to celebrate in harmony together and in support of quality music education and performance."
Goldberg has created a new orchestration for the toe-tapping "76 Trombones" by putting together a seven-part, all-trombone arrangement. The seven parts represent a variety of levels of difficulty to ensure that all levels of musicians, no matter how young or old, from beginning trombone player to seasoned professional, can participate and be a part of making music history.
"Harold Hill sings of the marching band of his dreams being led by 76 trombones, and why not? There's no other instrument as dramatic and distinctive as the trombone, with its long slide and muscular sound," says Goldberg. "76 trombones all playing together would surely make an impression, but we at Arena Stage want to do far better than that. Harold Hill would definitely approve!"
"We are ecstatic about this opportunity to assist in a world record attempt," adds A. Toni Lewis, FAME president and founder. "This is a powerful event that speaks to our mission that the arts are vital to building strong communities."
Interested participants would need to arrive at Nationals Park by 5:15 p.m. and the performance would take place at 6:00 p.m. Participants must provide their own trombone and are expected to learn the music in advance of the event. Participation is free, but advance registration is required. To sign up visit fameorg.org. Sheet music and detailed information will be provided upon registration.
After the performance, participants are invited to stay and watch the game (starting at 7:05 p.m.) for FREE and hear Trombonist Leon Rawlings, music director and founder of the 76 Degrees West Band, perform the national anthem. A special ticket price for families and friends of participants is available starting at $10, offered through the Host Sponsor, the Washington Nationals. To purchase the special ticket offer visit fameorg.org.
In order to purchase an upgraded ticket with a designated donation to FAME, please visit nationals.com/tickets and enter the promo code MUSICMAN beginning May 2, 2012.
WTOP is a proud sponsor of this event. Throughout the entire month of June, FAME will receive more than $30,000 in free air-time and in-kind contributions as WTOP's Charity of the Month. This program was established to help non-profits raise community awareness, promote their events and help with fundraising efforts. The charity chosen each month receives a total of 64 30-second on-air promotional announcements on WTOP Radio and Federal News Radio, as well as promotional content on WTOP.com and FederalNewsRadio.com throughout the month.
In The Music Man, for Harold Hill, there's a sucker born every minute. Sooner or later, this smooth-talking "Professor" has everyone eating out of the palm of his hand – and the citizens of River City, IA are his latest mark. When local librarian Marian Paroo tries to expose him as a swindler, Hill sets out to win her heart and save his hide. Will the town get wise to Hill before he steals their savings or will Marian make an honest man out of him? This summer's toe-tapping production, featuring all-time favorites "Ya Got Trouble," "Goodnight Ladies," "Shipoopi," and "76 Trombones," will put a spring in your step and a song in your heart. The Music Man runs May 11-July 22, 2012 in the Fichandler Stage at Arena Stage at the Mead Center for American Theater.
The Foundation for the Advancement of Music and Education, Inc (FAME) is a community, non-profit 501(c)(3) organization dedicated to providing equal access to outstanding young performing and visual artists who are disproportionately affected by their social and economic backgrounds. Our mission at FAME is to cultivate high-quality opportunities for outstanding young musicians to perform in venues that might not customarily be available due to lack of access, and to help them excel academically. Founded in 2004, FAME speaks for the young performing artist who has been silenced at school due to budgetary cutbacks and/or the total elimination of performing arts programs; subsequently, FAME is committed to enriching the overall literacy in the community via the performing arts and the humanities. Fameorg.org
Follow Arena Stage on Twitter @arenastage or twitter.com/arenastage and mention The Music Man with #ASMusicMan and the June 1 event with #76Trombones. Find Arena Stage on Facebook at facebook.com/arenastage.
###