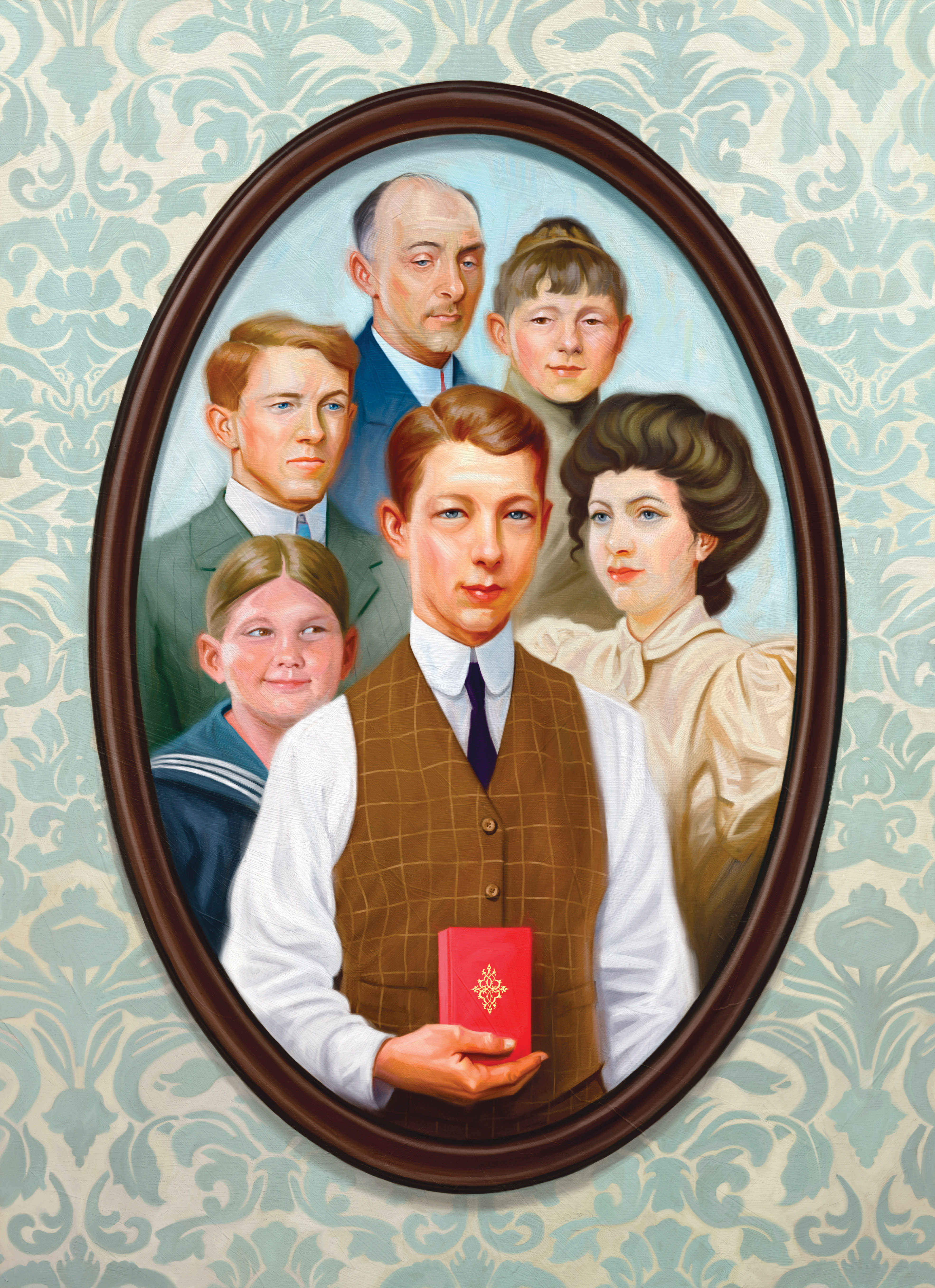 Ah, Wilderness! at Arena Stage. Illustration by Rob Carter.

Ah, Wilderness! at Arena Stage. Illustration by Rob Carter.
(Washington, D.C.) Arena Stage at the Mead Center for American Theater announces casting for Eugene O'Neill's singular comedy Ah, Wilderness! Helen Hayes Award winner and former Arena Stage Associate Artistic Director Kyle Donnelly returns to direct her 21st show at Arena Stage. Ah, Wilderness! runs March 9-April 8, 2012 in the Fichandler Stage as part of the two-month Eugene O'Neill Festival.
Helen Hayes Award winners and local favorites Rick Foucheux (last seen at Arena Stage in Theater J's The Chosen) and Nancy Robinette (Arena Stage's You, Nero) last appeared together at Arena Stage as heads of the house in Death of a Salesman and now return to star as parents Nat and Essie Miller. Joining them are Jonathan Lincoln Fried (Arena Stage's A Time to Kill, New York's Signature Theatre's Landscape of the Body) as Essie's brother Sid Davis, Kimberly Schraf (Theater J's After the Fall) as Nat's sister Lily Miller, and Leo Erickson (Studio Theatre's The Habit of Art) as David McComber/Salesman. Returning on the heels of her acclaimed professional debut as Ado Annie in Arena Stage's Oklahoma! is the Madeira School senior June Schreiner as Richard's sweetheart Muriel McComber.
Making their Arena Stage debuts as the Miller siblings are Davis Chandler Hasty (Round House Theatre's A Wrinkle in Time) as older brother Arthur, William Patrick Riley (La Jolla Playhouse's Hoover Comes Alive!) as middle son Richard, and Talisa Friedman (Studio Theatre's The Prime of Miss Jean Brodie) as daughter Mildred. Ten-year-old Thomas Langston plays youngest brother Tommy and is understudied by real-life brother T.J. Langston (both performed in Everyman Theatre's All My Sons).
Rounding out the cast are James Flanagan (Theater J's The Moscows of Nantucket) as Wint Selby/Bartender, Pearl Rhein (Alabama Shakespeare Festival's Cowgirls) as Belle, and Allison Leigh Corke (Georgia Shakespeare's A Midsummer Night's Dream) as the family's Irish maid Norah.
Return to an idyllic age of Americana in Eugene O'Neill's unabashedly romantic and sweetly funny Ah, Wilderness! As the Connecticut-based Miller clan plans their traditional Fourth of July festivities, their dreamy-eyed middle child Richard is wrestling with cultural conventions, political uncertainty, the power of literature, and the exquisite pain of love. The memories of family life were never so delicately portrayed as in O'Neill's only comedy, his coming-of-age love letter to a simpler time, which finds the master playwright "at his most wistful and serene" (New York Times).
Full bios available upon request. Please e-mail press@arenastage.org. Complete company including creative team to be announced at a later date.
Ah, Wilderness! is produced as part of the Eugene O'Neill Festival, a two-month festival that honors the works of American playwright Eugene O'Neill through unique collaborations with other arts and education institutions in the area. Specific dates and further information to come.
The O'Neill Festival is generously sponsored by Joan and David Maxwell. The 2011/12 Fichandler Stage Season is sponsored by Life Trustee Dr. Jaylee Montague Mead.
TICKETS: Tickets for Ah, Wilderness! are $40-$85, subject to change and based on availability, plus applicable fees. For information on savings programs such as student discounts, Southwest Nights, Pay-Your-Age tickets, HOTTIX and Hero's Discounts, visit arenastage.org/shows-tickets/single-tickets/savings-programs/. Tickets may be purchased online at arenastage.org, by phone at 202-488-3300 or at the Sales Office at 1101 Sixth St., SW, D.C.
Sales Office/Subscriptions: 202-488-3300
Group Sales Hotline for 10+ Tickets: 202-488-4380
TTY for deaf patrons: 202-484-0247
Info for patrons with disabilities: 202-488-3300
Sunday, Tuesday & Wednesday at 7:30 p.m.
Thursday, Friday & Saturday at 8:00 p.m.
Saturday & Sunday at 2:00 p.m.
Weekdays at noon on Tuesday, 3/27 and Wednesday, 4/4
Full calendar: arenastage.org/single/psDetail.aspx?psn=13343
METRO: Arena Stage at the Mead Center for American Theater is only one block from the Waterfront-SEU Metro station (Green Line). When exiting the station, walk west on M Street toward Sixth Street, and the main entrance to the Mead Center is on the right.
PARKING: Parking is available in Arena Stage's on-site garage. Subscribers may purchase parking in advance for $15. Single ticket buyers may purchase parking in advance for $18 or on the day of the performance for $20 on a first-come, first-served basis. Limited handicapped parking is available by reservation. Advanced parking must be reserved by calling 202-488-3300. The entrance to the Mead Center garage is on Maine Avenue between Sixth and Seventh streets. Patrons can also park at the Public Parking Garage at 1101 Fourth Street, one block from the Mead Center, for $11. Street parking is also available along Maine Avenue and Water Street.
VALET PARKING: Arena Stage offers valet service at no additional cost to patrons with accessibility needs, who have booked their parking in advance by calling 202-488-3300. Valet parking is available to general patrons one hour prior to show time for $25, based upon availability. To use valet parking, pull up to the main entrance on Sixth Street.