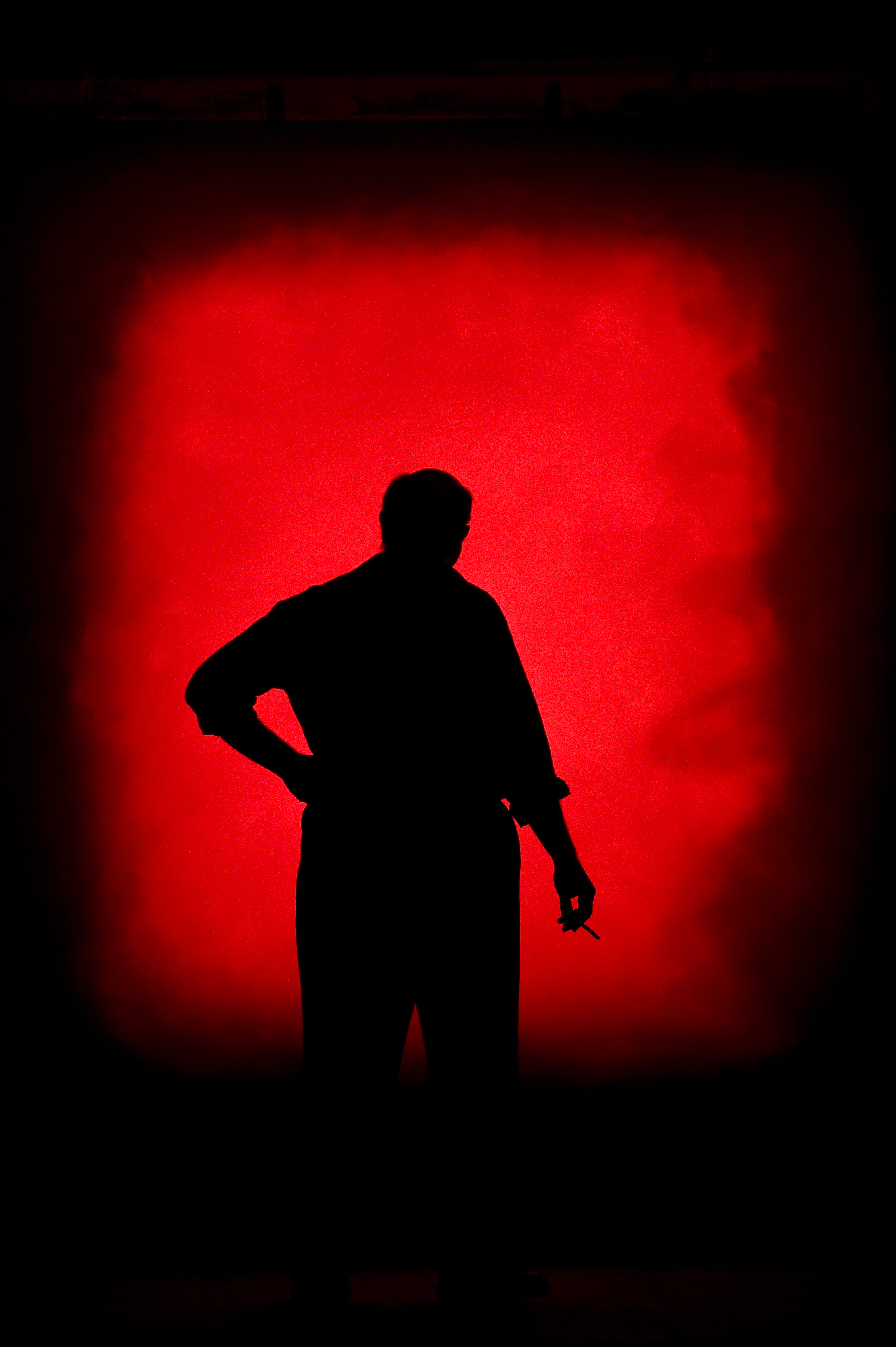 (Washington, D.C.) Edward Gero and Patrick Andrews star in Red at Arena Stage at the Mead Center for American Theater, produced in association with Goodman Theatre. John Logan's Tony Award-winning play ran at Goodman Theatre September 17-October 30, 2011, including a weeklong extension due to popular demand. Now bringing his production to Arena Stage for its D.C. premiere is Tony Award winner and Goodman Theatre Artistic Director Robert Falls (Broadway's Death of a Salesman, Long Day's Journey into Night, Talk Radio). Red runs January 20-March 4, 2012 in the Kreeger Theater.
Red features four-time Helen Hayes Award winner and Washington, D.C.-based actor Edward Gero as abstract expressionist painter Mark Rothko. Gero was last seen at Arena Stage in Theater J's production of The Chosen and is currently portraying Ebenezer Scrooge in Ford's Theatre's production of A Christmas Carol (through December 31). Noted Chicago actor Patrick Andrews, whose credits include Goodman Theatre's production of The Actor and Steppenwolf Theatre Company's production of American Buffalo, joins Gero as Ken, Rothko's fictional assistant.
"We are delighted that Arena Stage is partnering with Goodman Theatre, which is a major leader in Chicago's theater scene," says Arena Stage Artistic Director Molly Smith. "This is an opportunity for us to showcase Robert Fall's work in exploring the legacy of this deeply complex artist with esteemed DC actor Edward Gero."
"I am thrilled to continue the journey of John Logan's extraordinarily passionate and moving play Red at Arena Stage, where I am honored to direct for the first time," says Falls.
A visceral, "superbly taut" (Chicago Tribune) battle of wills, Red drops you squarely inside the world of painter Mark Rothko and sets your heart pounding. At the height of his career, Rothko struggles with a series of grand-scale paintings for New York's elite Four Seasons restaurant. When his new assistant challenges his artistic integrity, Rothko must confront his own demons or be crushed by the ever-changing art world he helped create.
To more deeply explore and celebrate the life and work of Mark Rothko, Arena Stage is partnering with the National Gallery of Art and The Phillips Collection. The National Gallery of Art, the largest public repository of Rothko's work, is presenting a special installation from their collection of three of Rothko's Seagram Murals, the commission he is depicted working on in the play, and The Phillips Collection is hosting several Red-inspired events. Gero also spent time in the Rothko Room at the Phillips with Curator at Large and author of The Essential Mark Rothko Klaus Ottmann in preparation for his role. Arena Stage will hold panel discussions with guest panelists including specialists from both organizations following the Sunday matinees during the run of the show to further explore specific facets of Rothko's life. For specific details, read below under Related Events.
Critical acclaim for Red in Chicago:
"Compelling…If you've got any blood in your veins, you'll lean forward into Red." – Chicago Tribune
"Bristlingly smart, emotionally fiery…It is a credit to director Robert Falls and his actors that they make the tense bond that develops between these men's hearts every bit as important as the sound and fury." – Chicago Sun-Times
"Nuanced…smartly scaled production…Gero and Andrews make their arguments sound like the stuff of life and death." – Time Out Chicago
John Logan (Playwright) received the Tony, Drama Desk, Outer Critic Circle and Drama League awards for his play Red. This play premiered at the Donmar Warehouse in London and at the Golden Theatre on Broadway. He is the author of more than a dozen other plays including Never the Sinner and Hauptmann. His adaptation of Ibsen's The Master Builder premiered on the West End in 2003. As a screenwriter, Logan had three movies released in 2011: Hugo, Coriolanus and Rango. Previous film work includes Sweeney Todd (Golden Globe Award); The Aviator (Oscar, Golden Globe, BAFTA and WGA nominations); Gladiator (Oscar, Golden Globe, BAFTA and WGA nominations); The Last Samurai; Any Given Sunday, and RKO 281 (WGA Award, Emmy nomination).
Robert Falls (Director) has been the artistic director of Goodman Theatre since 1986. Earlier this season, Mr. Falls directed Red for the Goodman and, prior to that, Jon Robin Baitz's Three Hotels for the Williamstown Theatre Festival. Recent Goodman credits include his critically acclaimed production of Anton Chekhov's The Seagull and the world premiere of Rebecca Gilman's A True History of the Johnstown Flood. Other recent productions include his remount of King Lear for the Shakespeare Theatre in Washington, D.C. (Helen Hayes Award); Desire Under the Elms on Broadway; the Tony-nominated Broadway revival of Eric Bogosian's Talk Radio; Richard Nelson's Frank's Home for the Goodman and Playwrights Horizons; and the American premiere of Shining City on Broadway. Mr. Falls' production of Elton John and Tim Rice's Aida for Walt Disney Theatricals ran on Broadway for four years and has toured nationally and abroad. Two of his most highly acclaimed Broadway productions, Arthur Miller's Death of a Salesman and Eugene O'Neill's Long Day's Journey into Night garnered seven Tony Awards and three Drama Desk Awards. Mr. Falls' world premiere production of Beth Henley's The Jacksonian opens in February at the Geffen Playhouse in Los Angeles, after which he directs Nathan Lane and Brian Dennehy in a new production of Eugene O'Neill's The Iceman Cometh for the Goodman.
The Cast of Red
Edward Gero (Mark Rothko) is a four-time Helen Hayes Award recipient and a 14-time Helen Hayes nominee. His regional credits include a recently completed run as Antonio Salieri in Amadeus at Round House Theatre, where he also played Richard Nixon in Nixon's Nixon in 1999 and 2008 and received a Helen Hayes Award nomination for Outstanding Lead Actor both times. Additional regional credits include the title character in Signature Theatre's 2010 production of Sweeney Todd; David Malter in The Chosen for Theater J at Arena Stage; Ebenezer Scrooge in A Christmas Carol at Ford's Theatre; Donny in American Buffalo at The Studio Theatre and Horace Vandergelder in The Matchmaker at Centerstage in Baltimore. Other favorites include John in Shining City, Ivan in The Seafarer and Tom Sargeant in Skylight (Helen Hayes Award), Uncle Vanya, and Phillip Gellburg in Broken Glass. In 28 seasons with the Shakespeare Theatre Company, he has played 70 Shakespearean roles including Hotspur in Henry IV (Helen Hayes Award), Bolingbroke in Richard II (Helen Hayes Award) and Macduff in Macbeth (Helen Hayes Award). In New York he has appeared at South Street Theatre and Classic Stage Company. Film and television credits include Die Hard 2, Striking Distance, and narrations for the Discovery Channel and PBS. He is an associate professor of theater at George Mason University and instructor at the Academy for Classical Acting at George Washington University and the University of Maryland. More information about Mr. Gero's process for Rothko can be found on his blog "The Making of Red" at www.geroasrothko.wordpress.com.
Patrick Andrews (Ken) recently appeared in Chicago productions of American Buffalo at Steppenwolf Theatre Company; Do the Hustle at Writers' Theatre; Cabaret at Drury Lane Theatre Oakbrook; The Homosexuals and Stupid Kids at About Face Theatre; The People's Temple and Speech & Debate at American Theater Company; The Snow Queen at Victory Gardens Theater; Into the Woods at Marriott Theatre Lincolnshire; Willy Wonka at Chicago Shakespeare Theater; The Sparrow at The House Theatre and Dorian at Bailiwick Chicago. Andrews will next appear in The Iceman Cometh at Goodman Theatre. Other regional credits include American Buffalo at McCarter Theatre Center, Saved at Kansas City Repertory Theatre and West Side Story at Walnut Street Theatre. Additionally, Andrews performed in the national tour of Broadway's Fosse. Choreography credits include Cherrywood, directed by David Cromer at Mary-Arrchie Theatre; Queertopia at About Face Theatre; Go, Dog. Go! at Chicago Children's Theatre and Bible B-Sides with Sinnerman Ensemble. On television, he has appeared in The Chicago Code. Andrews is an ensemble member of American Theatre Company, an artistic associate with About Face Theatre, a member of the queer-electronic-fuck band DAAN and a member of Goldmine.
The Creative Team of Red also includes Set Designer Todd Rosenthal, Costume Designer Birgit Rattenborg Wise, Lighting Designer Keith Parham, Composer and Sound Designer Richard Woodbury, Goodman Production Stage Manager Joe Drummond, Arena Stage Manager Kurt Hall and Arena Assistant Stage Manager Keri Schultz.
For further information please e-mail press@arenastage.org.
Red is sponsored by Gina and John Despres, Doug Drysdale and Laura Tosi.
Red Ongoing Partnerships and Related Events
For up-to-date information, visit http://www.arenastage.org/shows-tickets/the-season/productions/red/events/.
Mark Rothko: Seagram Murals at the National Gallery of Art – December 6-August 15
In 1985 and 1986, the National Gallery of Art received the largest gift of works from the Mark Rothko Foundation, including several paintings deriving from the Seagram Mural project, a series of paintings Rothko created through the commission he received for New York's Four Seasons restaurant. This special installation of three of these works is timed to coincide with Arena Stage's Red, which dramatizes Rothko's struggle with the commission. National Gallery of Art, East Building Concourse galleries. 4th Street and Pennsylvania Avenue, NW, D.C. For more information visit http://www.nga.gov/collection/rothko.shtm.
Staged Reading at the Phillips – Thursday, December 8 at 6:00 p.m.
Edward Gero performed excerpts from John Logan's play Red, followed by a conversation with David Dower, Arena Stage Associate Artistic Director, and Klaus Ottmann, Phillips Curator at Large and author of The Essential Mark Rothko.
Engage at Arena Stage Panel Series ­­– Select Sundays following the 2:00 p.m. matinee
Take part in a conversation following performances of Red with guest panelists, ranging from Rothko experts to artists. The series will take place following the Sunday matinees of Red (at approximately 3:30 p.m.) January 29; February 5, 12, 19, and 26; and March 4. The panels are free and open to the public.
Imagining Rothko Panel Discussion – January 29 at 3:30 p.m. Over the past 50 years, Mark Rothko has become a monolithic figure in American culture, but where is our 21st century understanding of the noted abstract expressionist rooted? The National Gallery of Art's Director of Education Lynn Russell moderates a conversation between Curator of Modern and Contemporary Art Harry Cooper and Curator of Special Projects in Modern Art and lead author of the Rothko works on paper catalogue raisonné Ruth Fine exploring how Rothko has figured into the public imagination.
Information on future panelists to come. For up-to-date information visit http://www.arenastage.org/shows-tickets/the-season/productions/red/events/.
Mark Rothko and Color Lecture at the Phillips – Thursday, January 12 at 6:00 p.m.
Phillips Curator at Large and author of The Essential Mark Rothko Klaus Ottmann discusses how Rothko used color as a gateway to the soul. Rothko's idea that color can express the full gravity of religious yearnings is evident in the Phillips's chapel-like Rothko Room. The Phillips Collection, 1600 21st St., NW, D.C. By donation.
Phillips after 5: A Valentine to the Arts – Thursday, February 2, 5:00-8:30 p.m.
Arena Stage joins the Phillips for a special edition of its popular monthly program. A lively mix of art and entertainment, Phillips after 5 includes gallery talks, live music, food and a cash bar. Arena Stage staff lead brief acting classes, featuring improvisation games, diction exercises and basic movement. In another workshop, paintings in The Phillips Collection come to life as participants act out scenes from select works. The Phillips Collection, 1600 21st St., NW, D.C. By donation. A special ticket package to attend this event in combination with a performance of Red is available. To purchase, call 202-488-4380.
Screening of the Film Rothko's Rooms – February 22 and 23 at 12:30 p.m.
This documentary film tells the story behind the creation of the room designed for Rothko's Seagram Murals in London's Tate Modern. Rothko's Rooms (2000, 45 minutes) is filled with anecdotes about the artist culled from friends, family members and curators. Admission to the Gallery and its programs is free of charge, with seating available on a first-come, first-served basis. National Gallery of Art, 4th Street and Pennsylvania Avenue, NW, D.C., East Building Auditorium. For information about the Gallery's film program visit http://www.nga.gov/programs/film/.
Details subject to change.
Red Ticket Information and Performance Calendar
TICKETS: Tickets for Red are $40-$85, subject to change and based on availability, plus applicable fees. For information on savings programs such as student discounts, Southwest Nights, Pay-Your-Age tickets, Family Fun Packs, HOTTIX and Hero's Discounts, visit http://www.arenastage.org/shows-tickets/single-tickets/savings-programs/. Tickets may be purchased online at www.arenastage.org, by phone at 202-488-3300 or at the Sales Office at 1101 Sixth St., SW, D.C.
Sales Office/Subscriptions: 202-488-3300
Group Sales Hotline for 10+ Tickets: 202-488-4380
TTY for deaf patrons: 202-484-0247
Info for patrons with disabilities: 202-488-3300
Sunday, Tuesday & Wednesday at 7:30 p.m.
Thursday, Friday & Saturday at 8:00 p.m.
Saturday & Sunday at 2:00 p.m.
Weekdays at noon on Wednesday, 2/8; Tuesday, 2/28 and Wednesday, 2/29
Full calendar: http://tickets.arenastage.org/single/psDetail.aspx?psn=13137
METRO: Arena Stage at the Mead Center for American Theater is only one block from the Waterfront-SEU Metro station (Green Line). When exiting the station, walk west on M Street toward Sixth Street, and the main entrance to the Mead Center is on the right.
PARKING: Parking is available in Arena Stage's on-site garage. Subscribers may purchase parking in advance for $15. Single ticket buyers may purchase parking in advance for $18 or on the day of the performance for $20 on a first-come, first-served basis. Limited handicapped parking is available by reservation. The entrance to the Mead Center garage is on Maine Avenue between Sixth and Seventh streets. Patrons can also park at the Public Parking Garage at 1101 Fourth Street, one block from the Mead Center, for $11. Street parking is also available along Maine Avenue and Water Street.
Goodman Theatre, "the leading regional theater in the nation's most important theater city" (Time), is a major cultural, educational and economic pillar located in the heart of Chicago's Theatre District. Founded in 1925 and currently led by Artistic Director Robert Falls, "Chicago's most essential director" (Chicago Tribune), and Executive Director Roche Schulfer, Chicago's oldest and largest not-for-profit theater has welcomed nearly two million patrons to productions and events—including 10 festivals celebrating playwrights such as David Mamet, August Wilson and Horton Foote and the Latino Theatre Festival—and served legions of students through Education and Community Engagement. The Goodman has earned over 90 awards for hundreds of productions, including the Pulitzer Prize for Ruined by Lynn Nottage—one of 25 new-work commissions in the last decade. www.goodmantheatre.org
Follow Arena Stage on Twitter @arenastage or http://twitter.com/arenastage and mention Red with #ASRed. Visit Arena Stage on Facebook at http://www.facebook.com/arenastage.
###