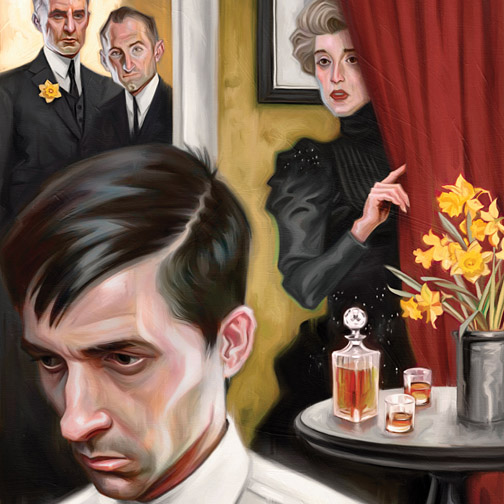 (Washington, D.C.) As the final of three mainstage productions during the two-month Eugene O'Neill Festival spearheaded by Arena Stage at the Mead Center for American Theater, Long Day's Journey into Night rounds out this celebration of O'Neill's life and work. The accomplished, English-born and Canadian-based director and former Stratford Festival Artistic Director Robin Phillips makes his Arena Stage debut to direct his fourth production of this Pulitzer Prize-winning play in a theatrical career spanning more than 50 years.
Long Day's Journey into Night stars two-time Helen Hayes Award winner Helen Carey (Shakespeare Theatre's Major Barbara and Volpone) as substance-abusing mother Mary Tyrone alongside noted stage and screen actor Peter Michael Goetz (Broadway's Macbeth) as actor-father James Tyrone, Sr. Long Day's Journey into Night runs March 30-May 6, 2012 in the Kreeger Theater.
"I have admired Robin Phillips' work for over 20 years, and he's a true master of the theater. He is known for his brilliant direction—it is visual, elegant and focused on the actors," says Arena Stage Artistic Director Molly Smith. "I'm so pleased that Robin will be directing Long Day's Journey into Night at Arena as part of the O'Neill Festival honoring America's first theater giant."
Phillips first directed Long Day's Journey into Night with Jessica Tandy and William Hutt at the Grand Theatre in London, Ontario, and later revived the production during his term as artistic director of the Stratford Festival. He then directed Jessica Lange and Charles Dance in a production for London's West End in 2000.
"I feel very fortunate to be working with this remarkable theater company as I return to Long Day's Journey into Night," says Phillips. "I am grateful to Molly Smith for the chance to revisit this monumentally beautiful and tragic play. The play is filled with immense compassion and understanding."
Joining Carey and Goetz in the cast for Long Day's Journey into Night and also making their Arena Stage debuts are Nathan Darrow, who plays younger brother Edmund and was recently in Broadway's In the Next Room, or the vibrator play, and Andy Bean, who plays older brother James Tyrone, Jr. and was in the world premiere of From Prague at the Contemporary American Theater Festival. D.C. favorite Helen Hedman, who was last seen at Arena Stage in Edward Albee's A Delicate Balance, plays the family maid Cathleen.
Meet the Tyrones: Like most resilient, American families, they have had their share of highs and lows—from celebrity and financial success to illness and loss. One fateful day, as their increasingly drunken hours slip by, they are forced to confront the demons that plague them individually, in a final effort to save the family. One of the most powerful plays in American theater and the crowning achievement of a masterful career, Long Day's Journey into Night "restores the drama to literature and the theater to art" (New York Times).
Published and produced posthumously, Long Day's Journey into Night unwaveringly illustrates the O'Neill household as it really was: conflicted, diseased and shattered. It is the perfect counterpart to the nostalgic Ah, Wilderness!, which runs March 9-April 8, 2012 at Arena Stage and depicts a fantasy version of O'Neill's youth as he imagined it could have been. Though both plays are set in the same time and place, they portray very different American families.
Long Day's Journey into Night and Ah, Wilderness! are produced as part of the Eugene O'Neill Festival, a two-month citywide examination of the life and work of American playwright Eugene O'Neill. Featuring partnerships with education and arts organizations in the area, the festival runs March 9-May 6, 2012 and includes Shakespeare Theatre Company's mainstage production Strange Interlude, along with more than 20 readings, workshops, radio plays, lectures, panels, presentations and art exhibits. For a complete festival schedule, visit arenastage.org/shows-tickets/the-season/productions/eugene-oneill-festival/index.shtml.
Hisham Ali's set design, paired with lighting design by Michael Whitfield, seamlessly conveys the ever-present atmosphere of fog in the Tyrones' home, further accentuated by a white-toned costume palette designed by Susan Benson. The creative team for Long Day's Journey into Night also includes Sound Designer James Sugg, Wig Designer Paul Huntley, Arena Casting Director Daniel Pruksarnukul, Stage Manager Martha Knight and Assistant Stage Manager Marne Anderson.
Eugene O'Neill (Playwright, 1888-1953) began writing when melodrama dominated American theater. Influenced by Strindberg and Ibsen, O'Neill vowed to strip theater of sentimentality. He won Pulitzers for Beyond the Horizon, Anna Christie and Strange Interlude and received further acclaim for The Emperor Jones, The Hairy Ape, Desire Under the Elms, The Great God Brown and Mourning Becomes Electra. In 1936, he won the Nobel Prize, the only American playwright so honored. The autobiographical The Iceman Cometh, Long Day's Journey into Night and A Moon for the Misbegotten tower over his other works and portray with "faithful realism" the haunting figures of his family. He won a fourth Pulitzer, posthumously, in 1956 for Long Day's Journey into Night. In a career of more than three decades, O'Neill experimented with dramatic techniques, tackled controversial issues and changed American theater forever.
Robin Phillips (Director) studied at Bristol's Old Vic and acted across the U.K., on TV and in film. In 1970, he staged Abelard and Heloise (in London and on Broadway) and was soon directing at the RSC. He was artistic director at Company Theatre (Greenwich, 1973-75) and Stratford Festival (1975-80). He led Stratford's Young Company (1987-88) before being appointed director general of Citadel Theatre (1990-95). He directed Jekyll and Hyde on Broadway in 1997. In London's West End, Robin has directed Jessica Lange in Long Day's Journey into Night in 2000 and Ghosts in 2001. For his contribution to Canadian theater, he was awarded an honorary degree by Univ. of Western Ontario, the Order of Canada and a Governor General's Award for Lifetime Achievement.
The Cast of Long Day's Journey into Night (in alphabetical order)
Andy Bean (James Tyrone, Jr.) New York: '68 (LAByrinth Theatre Company); Three Sisters, In Memoriam: A Recession Play in 13 Acts (Glass Bandits); Theory of Everything (Lake George). Regional: From Prague (world premiere, Contemporary American Theater Festival); Blind Date (Wingspan Theatre Company); The Wrestling Season (DCT); Our Town, The Time of your Life (Purchase Rep). Andy is a founding member of the Brooklyn-based theater company Glass Bandits. Education: B.F.A., SUNY Purchase Acting Conservatory.
Helen Carey (Mary) last appeared at Arena in Noises Off (Helen Hayes nom). At Washington's Shakespeare Theatre, productions included leading roles in Major Barbara (Helen Hayes Award), The Persians, Antony and Cleopatra, Macbeth and Volpone (Helen Hayes Award). Broadway: London Assurance (Tony nom, Theatre World Award), Pygmalion, Hedda Gabler. Her international credits include All My Sons (Irish Times/ESB Award nom) at Dublin's Abbey Theatre and Arms and the Man at Ontario's Shakespeare Festival Theatre. Her association with the Guthrie Theater spans four decades. Some favorite productions have been Winter's Tale, The Cherry Orchard, Death of a Salesman. Film credits include Julie, Julia, The Next Three Days and Little Children. TV: House, Without a Trace, Seinfeld.
Nathan Darrow (Edmund). Arena Stage debut. Credits include Richard III (BAM, Old Vic, world tour); in the next room, or the vibrator play (Broadway-LCT); Major Barbara (Roundabout); Trade, Paternity (Cherry Lane); Death of a Salesman (Weston Playhouse); Ajax (ART); Translations, Taking Sides, Who's Afraid of Virginia Woolf? (Kansas City Actors' Theatre); Henry V, Romeo and Juliet (HASF); To Kill a Mockingbird (KC Rep); Much Ado About Nothing (Berkeley Rep); The Pillowman, The Little Dog Laughed (Unicorn Theatre); Magnetic North (Public Theatre Maine). Film: Civil War Stories. Education: B.S., University of Evansville; M.F.A., NYU under Zelda Fichandler, Ron Van Lieu and Liviu Ciulei.
Peter Michael Goetz (James Tyrone, Sr.) appeared on Broadway as Barrymore in Ned and Jack and in Macbeth, Sex and Longing, Beyond Therapy, The Queen and the Rebels, Brighton Beach Memoirs, The Government Inspector and The Last Night of Ballyhoo. He also has appeared in many repertory theaters and in Dublin's Abbey and Gaiety theaters, as Joe Keller in All My Sons and Willy Loman in Death of a Salesman. This summer he will appear in The Sunshine Boys at Guthrie Theater, where he's been in nearly 100 productions over 45 years. He was the father of the groom in both Father of the Bride movies and has been in over 200 TV productions, including Masterpiece Theater, Arrested Development, The West Wing, The Golden Girls and Twilight Zone.
Helen Hedman (Cathleen) is delighted to return to Arena Stage, where she was previously seen in A Delicate Balance, The Women, The Importance of Being Earnest, The Caucasian Chalk Circle and numerous offerings in last year's Albee Festival. Area credits include Lady Windermere's Fan, A Woman of No Importance, The Country Wife and Camino Real (Shakespeare); The Year of Magical Thinking (Studio); Sabrina Fair, A Christmas Carol (Ford's); Show Boat, I Capture the Castle, My Fair Lady and The Sex Habits of American Women (Signature); Piaf (Helen Hayes nom), Triumph of Love, Omnium Gatherum, Broken Glass and Stanley (Olney); Mrs. Farnsworth, The Seagull and Kimberly Akimbo (Rep Stage); Pygmalion, School for Scandal, The Cripple of Inishmaan (Everyman, Baltimore); and a host of theaters across the U.S.
The O'Neill Festival is generously sponsored by Joan and David Maxwell.
TICKETS: Tickets for Long Day's Journey into Night are $40-$85, subject to change and based on availability, plus applicable fees. For information on savings programs such as student discounts, Southwest Nights, Pay-Your-Age tickets, HOTTIX and Hero's Discounts, visit arenastage.org/shows-tickets/single-tickets/savings-programs/. Tickets may be purchased online at arenastage.org, by phone at 202-488-3300 or at the Sales Office at 1101 Sixth St., SW, D.C.
Sales Office/Subscriptions: 202-488-3300
Group Sales Hotline for 10+ Tickets: 202-488-4380
TTY for deaf patrons: 202-484-0247
Info for patrons with disabilities: 202-488-3300
Sunday, Tuesday & Wednesday at 7:30 p.m.
Thursday, Friday & Saturday at 8:00 p.m.
Saturday & Sunday at 2:00 p.m.
Weekdays at noon on Wednesday, 4/11; Tuesday, 4/17 and Wednesday, 4/25.
Full calendar: tickets.arenastage.org/single/psDetail.aspx?psn=13343
METRO: Arena Stage at the Mead Center for American Theater is only one block from the Waterfront-SEU Metro station (Green Line). When exiting the station, walk west on M Street toward Sixth Street, and the main entrance to the Mead Center is on the right.
PARKING: Parking is available in Arena Stage's on-site garage. Subscribers may purchase parking in advance for $15. Single ticket buyers may purchase parking in advance for $18 or on the day of the performance for $20 on a first-come, first-served basis. Limited handicapped parking is available by reservation. Advanced parking must be reserved by calling 202-488-3300. The entrance to the Mead Center garage is on Maine Avenue between Sixth and Seventh streets. Patrons can also park at the Public Parking Garage at 1101 Fourth Street, one block from the Mead Center, for $11. Street parking is also available along Maine Avenue and Water Street.
VALET PARKING: Arena Stage offers valet service at no additional cost to patrons with accessibility needs who have booked their parking in advance by calling 202-488-3300. Valet parking is available to general patrons one hour prior to show time for $25, based upon availability. To use valet parking, pull up to the main entrance on Sixth Street.
Follow Arena Stage on Twitter @arenastage or twitter.com/arenastage and mention Long Day's Journey into Night with #ASJourney and the Eugene O'Neill Festival with #ASONeill. Visit Arena Stage on Facebook at facebook.com/arenastage.
###