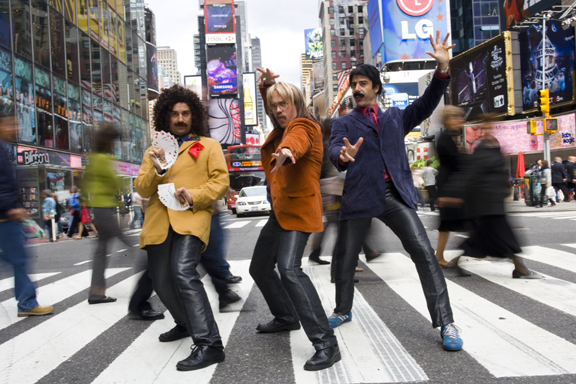 (Washington, D.C) Arena Stage at the Mead Center for American Theater's Arlene and Robert Kogod Cradle will be transformed into a mystical place of wonder and amusement, with a dash of ridiculousness, with Elephant Room, featuring semi-pro conjurors Dennis Diamond, Daryl Hannah and Louie Magic. Fresh from the Philadelphia Live Arts Festival, Diamond, Hannah and Magic bring their absurdist magic show to D.C. under the direction of Paul Lazar. Created by Steve Cuiffo, Trey Lyford and Geoff Sobelle, Elephant Room runs January 20-February 26, 2012 in the Kogod Cradle.
"This is a fantastic piece of devised theater helmed by a trio of very special illusionists," says Artistic Director Molly Smith. "Elephant Room offers something entirely fresh for our audiences, and I don't think D.C. has seen anything quite like this. Get ready to be amazed by their talent."
Combine the glory of a Styx reunion tour with the transcendental power of a 200-year-old Zuni shaman and add a dash of trailer park ennui, and you come close to describing the mystical pull of a trip to the Elephant Room. From the uninhibited, "engaging" (Washington Post) performance duo Rainpan 43 and actor-magician Steve Cuiffo comes a new theatrical event. Filled with off-the-wall magic and sublime comedy, Elephant Room examines the childlike wonder of three deluded illusionists who choose to live their off-center lives by sleight of hand.
"I am very excited to be working at Arena Stage," says Magic. "It has always been my dream to perform in an arena ever since I saw my first Warrant show at the Meadowlands in 1987. And that's what magic is! Making all of your dreams come true. With Elephant Room, you are invited into a world of mystery where the curtain is pulled back and the secrets are revealed. Or are they? That's the mysterious thing about Elephant Room. Things are not as they seem. And that's the kind of world we all ought to live in."
"The great dramatist Shakespeare wrote, 'Only an idiot would strut and fret for an hour upon the stage,'" shares Diamond. "Well, let me tell you, we do not fret during this hourlong show. We mostly do magic instead."
"It's extra-specially rare to have three illusionists working together," adds Hannah. "That the three of us even agreed to be on the same bill is a miracle. Audiences have a right to be excited."
Critical acclaim for Elephant Room in Philadelphia
"Enchantingly goofy…strangely amazing." – The Village Voice
"Genuinely amazing." – Philadelphia City Paper
"Outrageously entertaining…surreal slapstick." – Culturebot.org
Paul Lazar (Director) founded Big Dance Theater in 1991 with Annie-B Parson. The company received an Obie Award in 2002 and Bessie Awards in 2002 and 2009. His work with the company includes conceiving, directing or performing in such works as Supernatural Wife (premiere at BAM, fall 2011), Mac Wellman's Antigone (CSC), Another Telepathic Thing, Shunkin, Mac Wellman's Girl Gone, as well as dance-theater adaptations of Tristan Tzara's The Gas Heart (CSC), Ödön von Horváth's Don Juan Returns from the War (CSC) and Rainer Werner Fassbinder's Bremen Freedom. He directed Major Bang for the Foundry Theatre, which ran at St. Ann's Warehouse (2006). He is an associate performer with the Wooster Group and instructor at NYU's Tisch School of the Arts.
The Magicians of Elephant Room
Dennis Diamond has devoted his life to perfecting his craft. He has been a stalwart practitioner in the art of mystery ever since he was a tender youngling. He is a student of both magic and psychology and is fascinated as well with history. Years of research, collaboration and invention along with thousands of live performances have won him accolades of fans and industry peers as well. This experience and devotion has paid off big time, offering the world of illusion a brand new master showman and artist. Diamond served as cruise conjuror on Carnival Cruise lines and Celebrity Cruise Lines between 1993 and 1996 and toured almost all over the world. Diamond is known around town as one of the best magicians in town. He has performed extensively in Atlantic City and Las Vegas, and has appeared on television in NBC's World Greatest Magic, Late Show with David Letterman and on his own special as seen on the Animal Planet network. In his early years, Dennis was lucky to work closely with SAM Past National President John Zweers and John Engman at the Society of American Magicians Hall of Fame and Magic Museum on their collections and exhibits before it was flooded and destroyed. All the animals in the breeding program, and in the illusions used in his show, were born in the wild, meaning that the limited numbers of animals remaining in the wild were not affected. He hopes that one day, where and whenever possible, he can assist in re-populating these very rare creatures in their natural environments, and other environments as well. His book, Dennis Diamond: The Black Canary is available by private order. He is available for bookings at modernwarlock@gmail.com and you can find him on the Facebook website as well.
Daryl Hannah has been doing magic for over six and a half years, performing at venues across the country as well as internationally (Rosarito's Casa del Magiko Grande). While touring with a premier Salsa band throughout the southwest, Hannah was exposed to Native American Medicine Men that changed his life. Previously known as Daryl Hannah: Master of Birds, Daryl has been developing a unique blend of Native culture medicine rituals with contemporary illusion techniques. He is currently an ambassador for the Chahawe Reservation outreach program and serves the nation by educating children through classes in poetry and Judo (Hannah is a third-degree brown belt). Based in Tucson, he is the recipient of two Desert Sand Conjurer citations as well as an honorary degree from Westlake Community College. For booking information please visit elephantroom.biz. He is available as a rock band opening act, corporate and spiritual training/guide as well as a magic consultant. He would like to thank, as always, Dawn and Montana.
Louie Magic has been performing magic since he was 10 years old when he got his first magic kit from a local toy store. For the past 15 years, Louie has been the resident magician at Dazzles – Patterson's (New Jersey) ONLY magic nightclub and bar. He is an expert in sleight of hand and close up illusions. As a master of the art of astonishment, Louie has crossed the country "dazzling" the likes of such celebrities as Ellen DeGeneres and Tom Brady (Football Star). Louie created the number one selling item at Magic Trick Shoppe Online – "The Louie Magic Magic Deck". For only five bucks, ANYONE can look like a sleight of hand expert! All inquiries can be sent to: louiemagic69@gmail.com.
The Creative Team of Elephant Room also includes Set Designer Mimi Lien, Costume Designer Christal Weatherly, Lighting Designer Christopher Kuhl, Sound Designer Nick Kourtides, Production Manager and Technical Director Tom C. Snyder and Stage Manager Tom Shotkin.
For further information please e-mail press@arenastage.org.
The Kogod Cradle season is sponsored by Arlene and Robert Kogod.
Elephant Room Ticket Information and Performance Calendar
TICKETS: All tickets for Elephant Room are just $40, subject to change and based on availability, plus applicable fees. For information on savings programs such as student discounts, Southwest Nights, Pay-Your-Age tickets, HOTTIX and Hero's Discounts, visit arenastage.org/shows-tickets/single-tickets/savings-programs/. Tickets may be purchased online at arenastage.org, by phone at 202-488-3300 or at the Sales Office at 1101 Sixth St., SW, D.C.
Sales Office/Subscriptions: 202-488-3300
Group Sales Hotline for 10+ Tickets: 202-488-4380
TTY for deaf patrons : 202-484-0247
Info for patrons with disabilities: 202-488-3300
Sunday, Tuesday & Wednesday at 7:30 p.m.Thursday, Friday & Saturday at 8:00 p.m.
Saturday & Sunday at 2:00 p.m.
Weekdays at noon on Thursday, 1/26 and Wednesday, 2/15
Full calendar: tickets.arenastage.org/single/psDetail.aspx?psn=12873
METRO: Arena Stage at the Mead Center for American Theater is only one block from the Waterfront-SEU Metro station (Green Line). When exiting the station, walk west on M Street toward Sixth Street, and the main entrance to the Mead Center is on the right.
PARKING: Parking is available in Arena Stage's on-site garage. Subscribers may purchase parking in advance for $15. Single ticket buyers may purchase parking in advance for $18 or on the day of the performance for $20 on a first-come, first-served basis. Limited handicapped parking is available by reservation. The entrance to the Mead Center garage is on Maine Avenue between Sixth and Seventh streets. Patrons can also park at the Public Parking Garage at 1101 Fourth Street, one block from the Mead Center, for $11. Street parking is also available along Maine Avenue and Water Street.
Follow Arena Stage on Twitter @arenastage or twitter.com/arenastage and mention Elephant Room with #ASElephant. Visit Arena Stage on Facebook at facebook.com/arenastage.
###