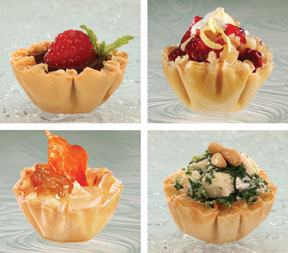 Athens Mini Fillo Shell Holiday Appetizers & Desserts

Athens Mini Fillo Shell Holiday Appetizers & Desserts
CLEVELAND - The holidays are hectic. Enjoy all the get-togethers, parties and casual celebrations by taking a tip from professional chefs and preparing dishes or portions of dishes ahead of events. Athens Fillo Dough and Mini Fillo Shells are ingredients that add elegance to any holiday get-together while enabling timesaving preparation.

Fillo dough and Mini Fillo Shells add a light, flaky texture and visual appeal that complements holiday dishes for casual get-togethers and elegant soirees alike. Some fillo dishes can be prepared ahead of time, frozen and baked just before the party. For Mini Fillo Shell recipes, oftentimes the filling can be combined ahead of time, chilled and then spooned or piped into the shells just before serving. Here's recipe inspiration for cooking up new holiday classics.

For cocktail parties, Brie and Fig Tartlets make great appetizers. Not a fan of figs? The tartlets can also be prepared with apple butter, apricot, blackberry or a preserve of choice. Additionally, fresh fruit like apples, raspberries or pomegranate can be substituted along with nuts like pistachios, walnuts, pecans or almonds to add an extra crunch.

Need to prepare something for an after work event? Chicken Florentine Phyllo Petites are a great appetizer for serving at a weeknight holiday open house or work potluck. The filling can be mixed ahead of time, spooned into the shells and then frozen. Just prior to serving, pull the appetizer from the freezer and bake it.

For bite sized desserts, try these tarts that are a twist on a classic Greek dessert, Cranberry Lemon Mini Baklava Tarts, can be baked earlier in the day and served throughout a holiday open house. If the gathering is a bit more dressed-up, Molten Chocolate & Raspberry Tarts in Mini Fillo Shells is a rich, creamy dessert with panache perfect for an elegant cocktail party with hot chocolate or espresso drinks.

For more formal gatherings, fillo dough dishes lend themselves to sit down celebrations. Serve Pesto Kalamata Olive Pizza to kick off a holiday open house or dinner party. Feel free to customize the pizza with a thin or thicker crust and top it with marinated artichokes, roasted red peppers, tomatoes, capers, fresh mozzarella, mushrooms, sun dried tomatoes, arugula or prosciutto.

For the elegant dinner party entrée, Salmon & Basil Pesto Phyllo Packets, provide flair and flexibility to suit guests' tastes. Tuna, swordfish, cod or grouper can be used to replace the salmon and the pesto can easily be swapped for sauces like sundried tomato tapenade, tzatziki, wasabi or balsamic glaze. The entrée can be assembled ahead of time, frozen and just prior to serving, pull it and bake it.

Lastly, a Phyllo Pecan Pie is right at home at both a formal dinner or a work potluck. It's a twist on a traditional dessert, with a lighter, flakier fillo crust to complement the sweet, rich filling. For additional recipes visit athensfoods.com and phyllo.com.

Hi-res Mini Fillo Shell Image: http://athensfoods.com/pressphotos/ATHENS_Holiday MFS_Recipes.jpg

Hi-res Fillo Image: http://athensfoods.com/pressphotos/ATHENS_Holiday Fillo_Recipes.jpg

About Athens Foods
Athens is the world's largest producer of fillo dough and fillo products, including convenient, pre-baked Mini Fillo Shells. With more than 50 years of experience perfecting fillo, Athens is committed to continually creating new recipes, gourmet appetizers, handmade desserts and a full array of fillo delicacies. For more information about Athens Foods and its products, visit www.athensfoods.com or call 1-216-676-8500.