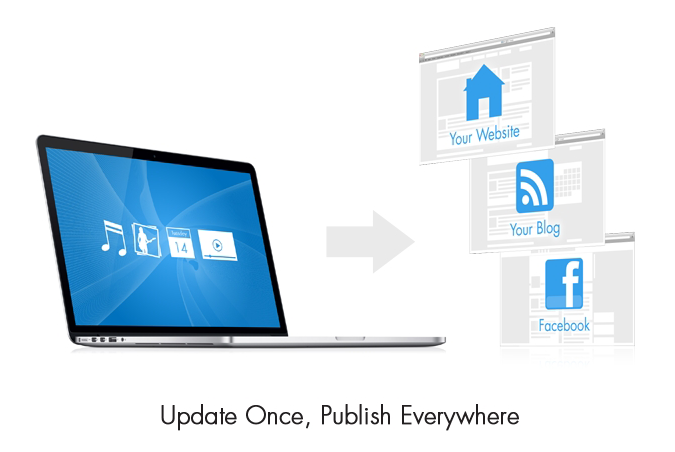 BandPage Everywhere: Update Once, Publish Everywhere

BandPage Everywhere: Update Once, Publish Everywhere
SAN FRANCISCO, CA - July 24, 2012 –
BandPage,
the leading application for musicians on Facebook, has just expanded their reach to the broader web by introducing BandPage Everywhere, a hub for musicians to update their online properties across the web from one central location.
Watch the Video
It has always been a hassle for musicians, labels, and digital managers to manage all their online properties. Having to go to each of their sites when they simply want to add a new song or change a show date can get time consuming. The new product, BandPage Everywhere, allows musicians to update their content from one place and publish to all their sites online. Managers can update the bio, music, photo gallery, tour dates and videos from one central place, keeping content up-to-date across the web.
"When we built BandPage on Facebook, our users asked if they could 'take it with them' to their Website and blog," said CEO and Founder J Sider. "So we created BandPage Extensions so musicians could take any section of their BandPage with them to their existing website or blog. If they want a brand new website, then they can use the Website Extension to create one in a few clicks. The best thing is that once you have BandPage products on your different online properties, you just update it from one place and it updates across the web in real-time."
BandPage Extensions
The
BandPage Extensions
are advanced widgets that can be customized to fit perfectly into a musician's existing website or blog. There are six types of BandPage Extensions: A Music Player, Photo Gallery, Show List, Video Gallery, Bio and Email Capture. Musicians can take any of them and use them on their websites or blogs. This product solves the problem of having to keep multiple properties up-to-date at the same time.
Website Extension
BandPage created the
Website Extension
for musicians that need a free and professional website. All that's needed is to add a background image; BandPage automatically populates it with shows, photos, videos, bio and music from the musician's BandPage. "A lot of musicians wanted to make their BandPage into their own .com so we're allowing them to do that with a few clicks," says Sider.
Update Once, Publish Everywhere
"It's the first place a musician will go to set up their presence online or if they already have it set up they will use BandPage to make it easy to keep everything up-to-date from one place. It's great technology for famous musicians or ones that are just getting started," says Josh Deutsch, CEO of Downtown Music.
The two-year old company started out with BandPage on Facebook which quickly became the #1 Musician app on Facebook. Now it's expanding to powering the way musicians represent themselves across the web and will be launching a full suite of products over the next few months. "BandPage is one of the most promising music startups with the strongest team I've seen," says Larry Marcus of Walden Capital.
BandPage Everywhere is designed for ease-of-use, putting powerful tools into the hands of musicians. Joe Barham, Manager of The Stone Foxes, says, "It used to be that when I wanted to upload a new song or video, I'd have to call a lot of different people to change it on your website and other sites online... it was a huge hassle. Now I update it once from BandPage and it publishes everywhere.
If you're a band starting out or making it on the big stage, you have to get a BandPage."
BandPage Everywhere Live Demos:
Anberlin
- Music / Tour Dates
The Wallflowers
- Tour Dates
AI
- Bio, Photos, Tracks
Sara Evans
- Videos
The Foot
- Mailing List, Bio, Photos
tUnE-yArDs
- Music
Jason Mraz
- Website Extension
Maroon 5
- Website Extension
Good Old War
- Website Extension
Christina Perri
- Website Extension
Beth Orton
- Website Extension
About BandPage
BandPage is a music technology company that is focused on building powerful tools for modern musicians. Used by over 500,000 musicians ranging from local bands to singers and performers like Rihanna, Jimi Hendrix, Mayday Parade and many more, BandPage is a fully-featured solution for musicians to manage their music, tour dates, photos, bio and videos across the web from one central place. To create a BandPage and learn more, visit
BandPage.com
.
Extra Product Notes
There are Facebook Open Graph actions tied to each of the BandPage Extensions, so by adding them to your website or blog, you're building in a social layer on top of your musician content.
The Shows Extension is built so that the show nearest in location to your fan will rise to the top and be the first one shown.
PR contact: Catherine Shyu - catherine@bandpage.com