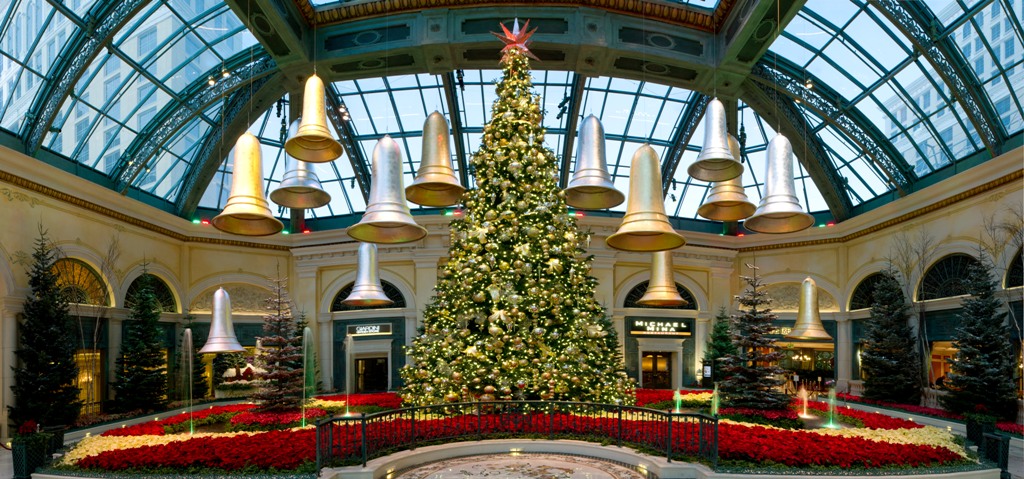 Bellagio Conservatory & Botanical Gardens - Holiday Tree

Bellagio Conservatory & Botanical Gardens - Holiday Tree
LAS VEGAS – Transforming into a magical winter wonderland, Bellagio's Conservatory & Botanical Gardens unveiled its spectacular holiday display, rich in tradition and filled with picture-perfect botanical creations, on Dec 2. In the center of it all, a magnificent holiday tree stands tall sending gazes soaring while musical sounds and seasonal colors evoke the holiday spirit.
The majestic centerpiece of the winter exhibit, a stately 42-foot Shasta White Fir, is decorated with more than 1,700 gold and silver holiday ornaments and ablaze in more than 13,500 twinkling white lights. Overhead, 24 over-sized gold and silver bells hang gracefully from the Conservatory's all-glass ceiling.
"The winter display at Bellagio's Conservatory & Botanical Gardens is our most popular display of the year, exhibiting the spirit and traditions of the holiday season," said Randy Morton, President and COO of Bellagio. "Each day more than 22,000 visitors visit the Conservatory to enjoy this spectacular setting and commemorate a special time of year."
New to the display this year, a group of five animated penguins ice skate on a patch of arctic terrain among a life-like family of 34 adult and baby penguins. Inside an igloo nearby, a curious animated penguin pops out its snow-covered head to greet guests.
In the north garden, a scene of family bonding plays out with a trio of topiary polar bears adorned with "fur" coats made of more than 35,000 hand-applied white carnations. A whimsical five-car toy train, equipped with a live camera, whirls on its tracks in the midst of three illuminated white trees.
Upon entering the Conservatory, a brick-lined path is surrounded by pink and red poinsettias, inviting guests to stroll underneath eight streams of dancing water and two pergolas adorned with sparkling white lights. In the Giardini corner, a floral greeting card made of more than 3,000 carnations, bestows well wishes for the holiday season.
Inquisitive guests strolling through the Conservatory are invited to visit with Bellagio horticulturists designated as "Mr. and Mrs. Green Thumb" from 10:30 a.m. to 11:30 a.m. daily to receive holiday decorating tips along with additional information about the exhibit.
On view through Jan. 2, 2012, the winter exhibit within Bellagio's Conservatory & Botanical Gardens is complimentary to the public and open seven days a week, 24 hours a day.
###
Winter Exhibit Fast Facts:
Holiday Tree:
Origin Mount Shasta, Calif.
Height 42 feet
Lights Approx. 13,500
Ornaments Over 1,800
Penguins: 34, of which nine are animated
Polar bears Covered with hand-applied white carnations
Father bear: 18,000 flowers
Mother bear: 12,000 flowers
Baby bear: 5,000 flowers
Media Contact:
Shant Apelian
MGM Resorts International Public Relations
(702) 891-1887