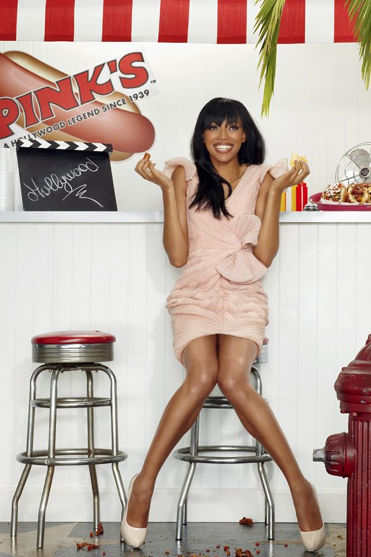 (New York, NY) November 1, 2011 - The most talked about breakout personality of the America's Next Top Model franchise, Bianca Golden, is moving on to the next phase in her life with the latest elimination on ANTM All-Stars. A flawless final photo doesn't always mean, "you're still in the running to be America's Next Top Model."
Bianca's first appearance on ANTM was in 2007 for Cycle 9 and immediately won fans both on and off the show. Most commonly known for her bold, sassy and candid comments, having been given a dramatic makeover taking her from red long locks to no locks at all, Bianca was able to work her new 'do! This Turks and Caicos/Queens, NY girl placed 4th in the competition while being unapologetic about her "tell it like it is" persona.
Since Cycle 9 Bianca has gone on to do commercials as a Ford model for Macy's, Apple, Sears and others, has appeared on the pages of Essence, Vibe, Source, Style Bermuda and Cosmopolitan and has even been a red carpet correspondent for E! Television and The Tyra Banks Show. Bianca has definitely been a force to be reckoned with in the N.Y., L.A. and Chicago markets.
Cycle 17, also known as ANTM All-Stars, was the very first time model turned media mogul, Tyra Banks, brought back some of the franchise's favorite and most hopeful models for a second chance to take home the crown of ANTM. Bianca was one of the firsts asked to return for this special season and she gladly accepted. As a working model already signed with Ford, Bianca stated it would be great to jump back into competition because "in this business you may be given a platform but it is up to you to stay on it. You can't expect someone to baby walk you through this industry." While on the show she was able to connect with friends and foes, causing quite a bit a stir within the model house, on challenges and even during panel judging. Even though there was some drama, Bianca delivered gorgeous and stunning photos evident that she is great at getting the job done.
With every experience comes a lesson and ANTM All-Stars was no different for Bianca. In the 7th and final episode, Bianca was given the task of embodying "Jersey Shore" reality TV star, Snooki, while on the back of a motorcycle. Being a reality TV junkie, this was a walk in the park for her and although she produced an amazing photo her previous challenge of creating and selling a fragrance left the judges with doubts when they expected more than she was willing to deliver.
"I think I made the mistake of taking ANTM too serious in the sense that I over analyzed the fragrance challenge. When you're on a reality show you struggle with wanting people to take you serious so when I heard we were going to be in a tub in a convention center to sell our fragrance I just felt like it would hurt rather than help my career. I believed in something and stood by my decision," says Bianca.
There were sides of Bianca that ANTM did not show and also sides they overemphasized on, not giving fans the REAL personality behind this reality TV star.
Bianca's next move will be to continue working with Ford Modeling Agency, as she was prior to Cycle 17, revisiting the world of red carpet correspondent work and becoming the face of a global brand. In addition, she has taken the initiative to giving back to the community via the Police Athletic League in New York City, also known widely as P.A.L., an after-school program that keeps kids off the street and focused on extra-curricular activities and school work. It was a program she was a part of as a child and couldn't think of a better project to be involved with.
This working model is set to become a household name in years to come so this elimination for Bianca is not a goodbye but merely a hello to the brand new opportunities currently at her door.