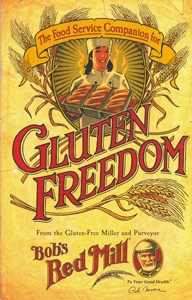 Portland, Ore - Bob's Red Mill Natural Foods, a leading provider of safe, gluten free whole grain foods, today announces the release of a new booklet that offers assistance and education for foodservice outlets interested in offering gluten free menu options. "The Food Service Companion for Gluten Freedom," which the company is offering free of charge, is intended to serve as a valuable tool for hospitals, universities, school cafeterias and restaurants looking to set up safe, gluten free commercial kitchens.
"For more than 30 years, we have been dedicated to producing products that are safely free from gluten, whether they are enjoyed in the home or when dining out," said Bob Moore, president and founder of employee-owned Bob's Red Mill. "We know going gluten free can be daunting, so we want to do all that we can to help our food service customers do so as easily and as safely as possible."
The new "Gluten Freedom" guide provides tips on avoiding cross-contact, advice on safely selecting foods and ingredients, advice on gluten free food storage and preparations and tips for safe gluten free baking. The booklet also comes with a fold-out "Kitchen Assistant" poster intended to be displayed in food prep areas for ongoing reference.
Bob's Red Mill has been a leader in old-world stone milling for the past three decades and has led the way in providing safe and delicious gluten free products. Each of its more than 70 gluten free products is produced in its 23,000 square-foot dedicated gluten free production facility and then tested several times before, during and after production according to Enzyme-linked immunosorbent assay (ELISA) standards in the onsite gluten testing laboratory. The company has provided gluten free products to hundreds of food service outlets, including educational institutions, healthcare providers, hotels, restaurants, bakeries and corporate cafeterias.
"With the rise of gluten sensitivities and those with Celiac disease, we are seeing significant increases in demand for gluten free products, including from the food service sector," said Dennis Gilliam, vice president of sales and marketing at Bob's Red Mill. "As more and more commercial outlets begin to offer gluten free choices, we are looking to share with them knowledge that we've gained over the past 30 years."
To request a complimentary copy of "The Food Service Companion for Gluten Freedom," please call Bob's Red Mill customer service at 800-349-2173, or email the sales department at sales@bobsredmill.com. More information about Bob's Red Mill's wide range of gluten free products and its dedication to providing safe and delicious gluten free foods can also be found at www.bobsredmill.com.
About Bob's Red Mill
Bob's Red Mill Natural Foods, a distinctive stone grinding miller of whole grains, was founded in 1978 with the mission of moving people back to the basics with healthy whole grains, high-fiber and complex carbohydrates. Bob's Red Mill, an employee-owned company, offers a diverse line of more than 400 all natural, organic and gluten-free flours, cereals, meals and mixes for pancakes, breads and soups that are available throughout the U.S. and the world. With its dedicated gluten-free manufacturing facility, strict organic protocols and dedication to meeting the highest food safety standards in the country, the company has obtained its HACCP certification and is a leader in providing safe and delicious natural, organic and gluten-free products. For more information, please visit www.bobsredmill.com. Additional information is available at www.Facebook.com/BobsRedMillNaturalFoods, www.Twitter.com/Bobs_Red_Mill and www.bobsredmill.com/blog/.
###