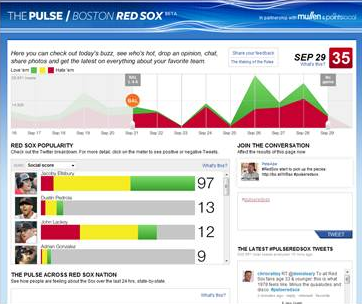 Boston - The Red Sox may not be heading to the post-season, but the team is still the talk of the town as fans vent their frustrations, so
Boston.com
,
Mullen
, and
PointsLocal
together have launched a beta version of a Twitter-monitoring service called
The Pulse/Boston Red Sox
. The new feature, which is hosted on Boston.com, scores how the Red Sox team and players are faring in terms of positive or negative Twitter comments made at home and across the country.
The Pulse/Boston Red Sox
provides up-to-the- minute rankings and graphs them over time, so fans can see how opinions change from day to day. The software was built to sift through commentary for the sentiments behind the words. For better or worse, for some players, it can even detect sarcasm (a critical part of sports talk in Boston).
Boston.com, Mullen and PointsLocal will follow
The Pulse/Boston Red Sox
with a New England Patriots version beginning next week, and are also launching a version for the Bruins shortly after. They are contemplating pages for additional local teams as well as the presidential campaign in 2012.
The single page feature combines fan participation, social media analytics, Boston.com sports coverage, blog posts, even Instagram photos. It lets readers share Tweets, post images, follow conversations and see what other fans are saying - good or bad - about their favorite players.
The Pulse
analyzes social media conversation by player, by game, even by state by taking advantage of PointsLocal's natural language processing and ability to geo-code locations, topics and sentiments.
The platform also offers a sponsoring advertiser the chance to interact with the community in real time and even create advertising using the popular iPhone photo application, Instagram.
"The lines between content and readers, brands and customers, old media and new media are blurring," explained Edward Boches, Mullen's chief innovation officer. "The Pulse is an experiment in tearing down any remaining walls between `us and them.'"
Commenting on the beta site, Jeff Moriarty, vice president, digital for the Globe and Boston.com, said "We believe that this site really shows how Boston.com can provide analysis and context to the ever-growing streams of social information. In the spirit of the site itself, we'll be looking for fan feedback to help us continue the evolution of
The Pulse/Boston Red Sox
."
Boston.com
is hosting
The Pulse
as part of its new media lab and its interest in creating innovative, digital experiences. Boston Globe and Boston.com sportswriters will be featured on The Pulse.
###
Boston.com
is wholly owned by The New York Times Company (NYSE: NYT), a leading media company with 2010 revenues of $2.4 billion, which includes The New York Times, the International Herald Tribune, The Boston Globe, 15 other daily newspapers and more than 50 Web sites, including NYTimes.com, Boston.com and About.com. The Company's core purpose is to enhance society by creating, collecting and distributing high-quality news, information and entertainment.
Mullen is a leading, Ad Age A-list advertising agency, named the fourth most innovative marketing company in America by Fast Company. The Pulse/Boston Red Sox emerged from its innovation lab.
PointsLocal is a pioneer in the emergent field of extracting geosocial business intelligence. Using natural language processing to geo-locate and to distill topics and sentiment in social and traditional content, it's an ideal partner for media, brand marketing, political campaigns, and the entertainment industry.
For information about The Pulse/Boston Red Sox you may contact the following people.
Boston.com: Chris Rattey,
rattey@boston.com
@chrisrattey
Mullen: Edward Boches,
eboches@mullen.com
617-226-9000 @edwardboches
PointsLocal: Michael Schlein,
michael@pointslocal.com
813-995-4636