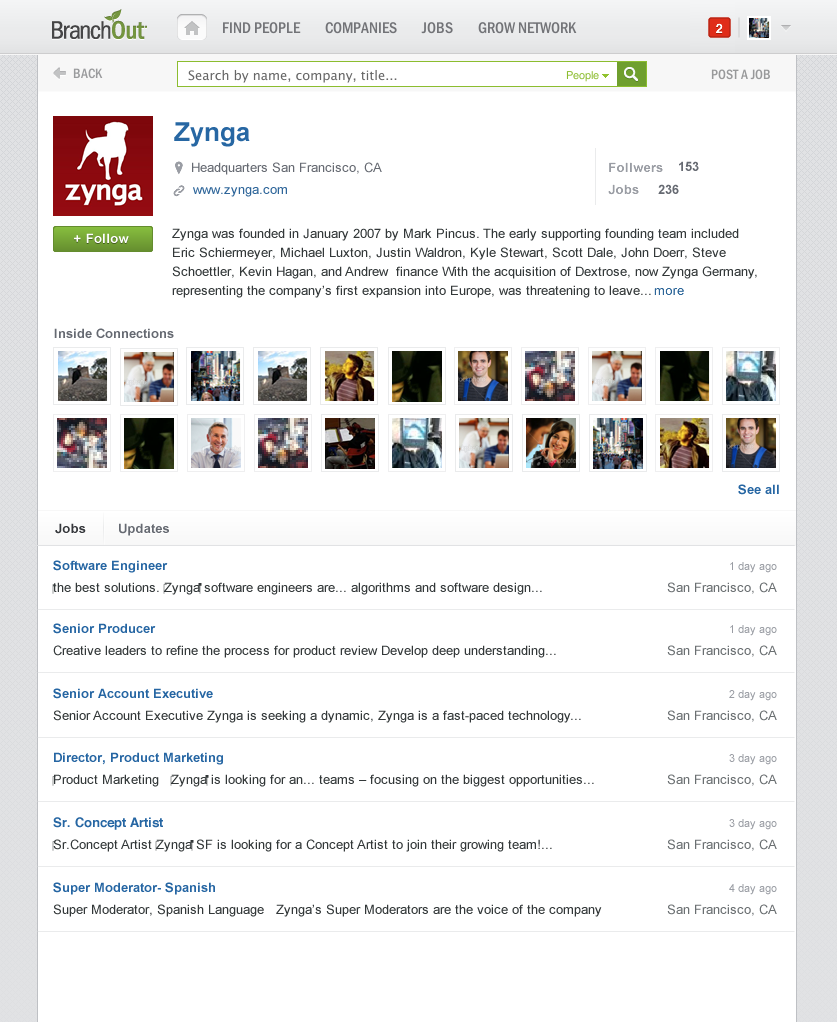 For many, New Year's resolutions will be nothing new: lose weight, stop smoking or exercise more. Millions of people, however, are hoping 2012 will bring about something more fundamental and necessary: finding a decent job.
BranchOut, the largest professional network on Facebook, is helping millions of people globally network with their established circles – as well as friends of friends – to land jobs at companies where they want to work or identify brands that are hiring.
We've compiled several 2012 predictions and job search strategies that will help improve and simplify the process.
Prediction #1: It's all about social media.
Job hunting has become all about leveraging your social media channels to find your next position. With more than 18 million Americans crediting Facebook for helping them land their current job, eight million to Twitter and 10.2 million to LinkedIn, these are clearly indications that the right places to look for employment nowadays is via social media.
BranchOut Tips:
You should have a basic understanding of the target audiences for each social media channel.

While Facebook primarily serves as your personal profile to engage with friends, the BranchOut app on Facebook serves as your professional face to your personal friends.
Twitter allows you to broadcast to a vast number of people, though most information is publicly available to everyone.
LinkedIn helps you communicate with professional contacts you've made through your career, though these may not be people you're comfortable adding on Facebook.

Follow companies that interest you, as this will not only keep you in the loop on their activities, but it will also give you a chance to directly interact with them.
Prediction #2: A favorable online identity will be key to employment success.
With social networking playing an increasingly important role in the employment process, it's important to clearly identify which networks you want to participate in and mold your online identities accordingly. More than 90 percent of recruiters check social networks before hiring a candidate, which means that your online persona should properly represent who you are offline and show that you're the right person for the job.
BranchOut Tips:
Use the endorsement options on BranchOut and LinkedIn to your advantage to show potential employers how you may fit culturally within a company.
While important, leverage Twitter as a secondary social network to share insight into trends that pertain to your experience. Use the network to engage with the company you're interested in and to show them you understand their space well.
Activate the correct privacy settings, especially on Facebook, and hide images or comments that you don't want a future employer to see.
Your public identity is an extension of your resume. Therefore, keep you public posts as professional as possible.
Prediction #3: Now more than ever, it's all about mobile.
The explosion of mobile usage will continue to grow in 2012, causing a shift in the way people exchange information. The ever-increasing use of smartphones means people are foregoing traditional networking avenues like exchanging business cards in favor of connecting digitally. More than 75 percent of jobseekers are already incorporating mobile apps into their searches, and this figure will undoubtedly rise in the coming year.
BranchOut Tips:
Download apps on your mobile device that allow you to instantly exchange contact information with new people. A few of our favorites include the following:
Use QR (quick response) codes to quickly share your personal information and link to your social networks
Prediction #4: The "unhappy employee" group of jobseekers will begin seeking better pastures.
The economic downturn led to people taking positions that weren't necessarily ideal, simply because they needed a job. As the economy improves and unemployment rates decrease, more people will look to change to a job that makes them happier. Though this group has always existed, their numbers are expected to grow since the number of underemployed is higher now than in previous years.
BranchOut Tips:
Leverage Facebook to be your catalyst for change as it's the most obvious and natural place to turn too, since it houses all of your authentic personal connections.
Look to your friends who are happy at their place of employment to see if there are openings where they work. If there's an open position, ask them to recommend you. Companies look strongly at referrals from current employees when interviewing candidates. If a position doesn't currently exist, leverage your friendship to ensure the hiring manager reviews your resume. If a position opens, you have a stronger likelihood of it being reviewed first.
Happy New Year and good luck on your job search!
-The BranchOut Family