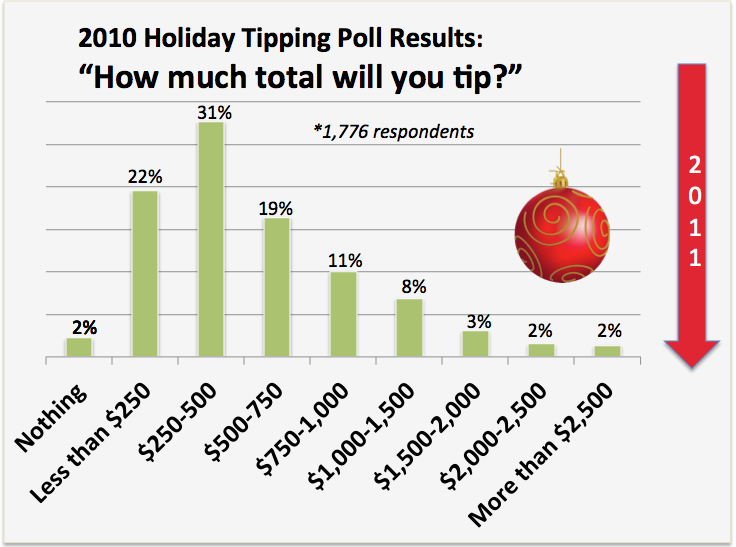 11.28.11, New York City - BrickUnderground.com, the online survival guide to New York City real estate and apartment living, released its 2011 Holiday Tipping Guide today.
Demystifying one of the most vexing and misunderstood rites of urban apartment living, the insider's guide to tipping addresses how much to tip doormen, supers, porters, mail carriers and more; the consequences of undertipping; cash versus checks (or cookies); and many other nuances surrounding the annual tipping ritual.
The site also predicts that holiday tipping will be flat to down this year.
"Three-quarters of 20 Manhattan doormen told us they expected tips to stay the same or go down this year," says BrickUnderground's founder and editor Teri Rogers.
Rogers predicts that tips will dip as much as 10% this year.
"This tracks with the gloomy economy and jobs picture as well as contracting Wall Street bonuses," she says. "It's also consistent with the fact that renters are paying nearly 5% more in median rent than last year, while co-op and condo owners deal with soaring property taxes and flat-lining property values. There's just not a lot of extra cash or confidence to go around."
Along with its 2011 Holiday Tipping Guide, BrickUnderground.com also launched its second annual Holiday Tipping Poll.
Last year's poll found that 55% of around 1,800 people planned to tip building staff no more than $500 total. Thirty percent said they would tip $500-$1,000, while just 14% said they would tip more than $1,000.
This year's two-click poll attempts to tease out the differences between renters versus owners, and residents who live in doormen versus non-doorman buildings.
About BrickUnderground.com: Founded in 2009, BrickUnderground.com is the online survival guide to buying, selling and renting a New York City apartment--and living through the aftermath.

About Teri Karush Rogers: Veteran real estate journalist Teri Karush Rogers is the founder of and CEO of BrickUnderground.com, New York City's richest repository of practical real estate advice and firsthand experience. Prior to launching BrickUnderground from her Upper West Side co-op in 2009, she wrote more than 60 cover stories for The New York Times real estate section. The longtime Manhattan resident, five-time renter and first-time co-op owner is frequently sought out as an expert on New York City real estate trends and apartment-dwelling issues.
CONTACT:
Teri Rogers
w 646-701-7038
c 917-757-9090
teri@brickunderground.com