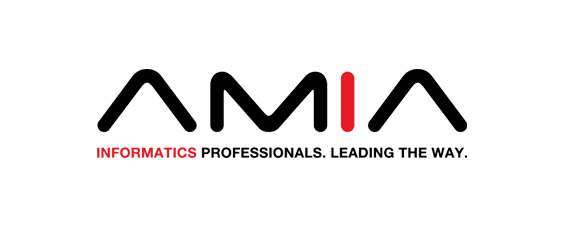 Chapter kicks off at CHOP's Healthcare Informatics Symposium
Philadelphia, PA – April 17, 2013
– The
American Medical Informatics Association
(AMIA), a national network of more than 4,000 health care professionals, announced the formation of its Mid-Atlantic Chapter, headquartered in Philadelphia. AMIA will officially welcome the new chapter from the floor of the
6th Annual Mid-Atlantic Healthcare Informatics Symposium
, an event run by the
Center for Biomedical Informatics
at the
Children's Hospital of Philadelphia
, later this month.
AMIA – whose members include clinicians, scientists, researchers, information technologists, educators and students in the fields of biomedicine, health care and science – promotes the improvement of patient care and medical research through innovative uses of data and technology. The Mid-Atlantic chapter is the inaugural chapter of the organization.
"The strength and depth among AMIA's multidisciplinary membership is amazing," said Kevin Fickenscher, MD, President and CEO of AMIA. "Our annual meetings are top notch-venues for learning and networking, but there is an absolute need to connect people more frequently around collaboration, education, career opportunities and programming that are regional and local."
Nine committee members joined the AMIA Membership and Education staff to develop and propose the plan for the Mid-Atlantic Chapter, which was approved by the board of directors on March 19. Committee members include: Dan F. Foltz of Anexinet; Prudence Dalrymple of Drexel University's Institute for Healthcare Informatics; John H. Holmes of Perelman School of Medicine; Jonathan Sternlieb of Holy Redeemer Health System; and the Children's Hospital of Philadelphia's Bimal Desai, Mark Diltz, Tony Luberti and Peter White.
"Chapters represent a clear opportunity to strengthen the field and grow AMIA membership," said Dan F. Foltz, Chair of AMIA's Mid-Atlantic Chapter and Vice President, Healthcare & Life Sciences at Greater Philadelphia information technology firm
Anexinet
, a sponsor of the Healthcare Informatics Symposium.
The kick-off reception for the AMIA's Mid-Atlantic Chapter will take place on Friday, April 26, 2013 from 5-7 p.m. at the Sheraton Philadelphia Downtown (201 North 17th Street, Philadelphia, PA 19103). Members of the media and health care community are invited to attend, free of charge. Attendees can
RSVP here.
"We're excited to launch our chapter at the CHOP Annual Symposium and invite everyone to attend the reception to hear more about the chapter and our early program planning ideas," said Foltz.
About AMIA
AMIA, the leading professional association for informatics professionals, serves as the voice of the nation's top biomedical and health informatics professionals and plays an important role in medicine, health care, and science, encouraging the use of data, information and knowledge to improve both human health and delivery of healthcare services. More about AMIA is online at
www.amia.org
.
About Anexinet in Healthcare
Anexinet (
www.anexinet.com
) is an award-winning systems integrator and technology management company. Anexinet's dedicated healthcare practice brings systems integration and technology management experience serving Healthcare Providers, Health Plans, Managed Care Organizations, Specialty Pharmacies, Contract Research Organizations and Pharmaceutical Companies. Anexinet recommends, designs, delivers and supports systems integration with leading technology partners. An innovator for aligning IT with business goals, Anexinet assures results through accountability backed by certified consultants, industry best practices and proven delivery models. Anexinet is headquartered in Greater Philadelphia with offices serving the Northeast and Mid-Atlantic regions.