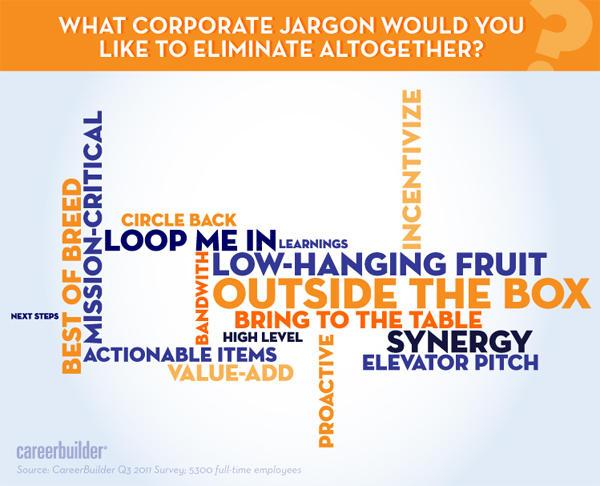 INFOGRAPHIC:
What corporate jargon would you like to eliminate altogether?
(Source: CareerBuilder Q3 2011 Survey; 5300 Full-Time Workers)
Outside the Box (31%)
Low-hanging fruit (24%)
Synergy (23%)
Loop me in (22%)
Best of breed (19%)
Incentivize (19%)
Mission-critical (19 %)
Bring to the table (18%)
Value-add (17%)
Elevator pitch (16%)
Actionable Items (15%)
Proactive (15%)
Circle back (13%)
Bandwith (13%)
High Level (10%)
Learnings (9%)
Next Steps (6%)
About CareerBuilder
CareerBuilder is the global leader in human capital solutions, helping companies target and attract their most important asset - their people. Its online career site, CareerBuilder.com®, is the largest in the United States with more than 24 million unique visitors, 1 million jobs and 40 million resumes. CareerBuilder works with the world's top employers, providing resources for everything from employment branding and data analysis to recruitment support. More than 9,000 websites, including 140 newspapers and broadband portals such as MSN and AOL, feature CareerBuilder's proprietary job search technology on their career sites. Owned by Gannett Co., Inc. (NYSE:GCI), Tribune Company and The McClatchy Company (NYSE:MNI), CareerBuilder and its subsidiaries operate in the United States, Europe, Canada and Asia. For more information, visit www.careerbuilder.com.
Contact:
Ryan Hunt
CareerBuilder
773.527.6923
ryan.hunt@careerbuilder.com
@careerbuilderPR