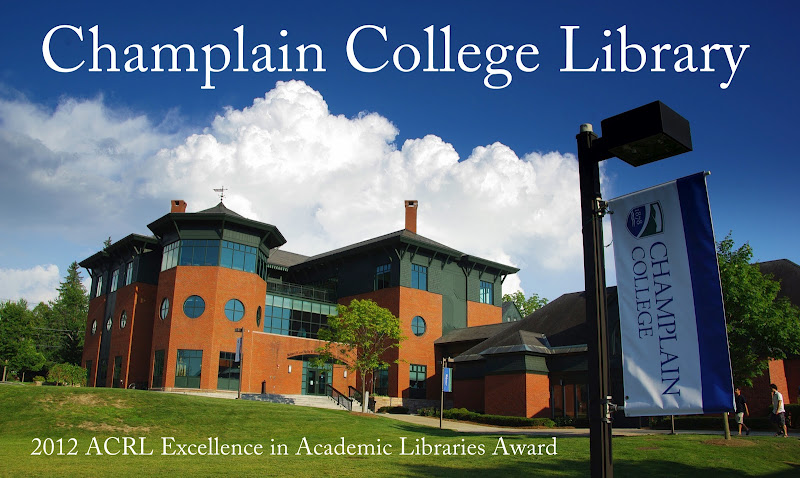 BURLINGTON, Vt. (April 11, 2012) – Champlain College will be presented with the Association of College and Research Libraries (ACRL) 2012 Excellence in Academic Libraries Award on Monday, April 16th. Sponsored by ACRL and YBP Library Services, the award recognizes the staff of a college, university and community college library for programs that deliver exemplary services and resources to further the educational mission of the institution; Champlain is the 2012 recipient in the college library category.
ACRL President Joyce Ogburn, Dean and University Librarian of the University of Utah, will present the award at a ceremony to be held Monday, April 16, 5 p.m., with a reception from 4-6 p.m., in the Robert E. and Holly D. Miller Information Commons on the Champlain College campus.
"This year's award recipients exemplify the commitment of today's academic and research librarians to providing quality, innovative student learning experiences," said ACRL Executive Director Mary Ellen K. Davis. "Receiving an Excellence in Academic Libraries Award is a national tribute to each library and its staff for outstanding services, programs and leadership."
Past recipients of the college library award since its inception in 2000 include Wellesley College, Earlham College, Oberlin College, Baruch College, Hope College, Mount Holyoke College, Augustana College, Trinity University, Carleton College, Hollins College, Elmhurst College, and Grinnell College.
The Champlain College Library impressed the selection committee with its nontraditional approach to instruction and positive student-driven environment.
"The library's small but mighty staff have a big impact on campus, and they have fun as well, fostering community through inventive social and cultural events," noted Lori Goetsch, chair of the award selection committee. "The campus has adopted technology and information literacy as a core competency, and the library provides leadership through an information literacy program that is incremental, inquiry-based, embedded in the core curriculum and assessed through established rubrics. Surveys indicate that students have come to recognize the technology and information literacy core competency as most important to their academic success. It is clear that these librarians love what they do and spark creativity by working as team."
"The Champlain College Library is deeply honored to receive this award," said Janet Cottrell, director of the library at Champlain College. "This recognition from ACRL is a tribute to the enthusiasm, creativity and hard work of everyone in the library, and to the collaborative spirit of our campus. Our work is — and will remain — challenging, and this honor is a testament to what a small group of people can accomplish through innovation and dedication as we aspire to embody Champlain College's motto: 'Audeamus — Let us dare!' We are deeply grateful to ACRL and YBP."
Additional Champlain College Library Photos are available at: https://picasaweb.google.com/101160914000741506452/ChamplainLibraryAward#
Additional information on the award, along with the list of past winners and links to their applications, is available online at http://www.ala.org/acrl/awards/achievementawards/excellenceacademic.
About ACRL
ACRL is a division of the American Library Association (ALA), representing more than 12,000 academic and research librarians and interested individuals. ACRL is the only individual membership organization in North America that develops programs, products and services to meet the unique needs of academic and research librarians. Its initiatives enable the higher education community to understand the role that academic libraries play in the teaching, learning and research environments. ACRL is on the Web at http://www.acrl.org/, Facebook at http://www.facebook.com/ala.acrl and Twitter at @ala_acrl.
About YBP Library Services
YBP Library Services, a Baker & Taylor company, provides books and supporting collection management and technical services to academic, research and special libraries in the Americas, Asia, Middle East, Australia and the Pacific Rim. GOBI, YBP Library Services' online, interactive bibliographic information service, provides access to 4 million titles in an English language database. YBP is located in Contoocook, NH, USA. For more on the company, visit http://www.ybp.com.