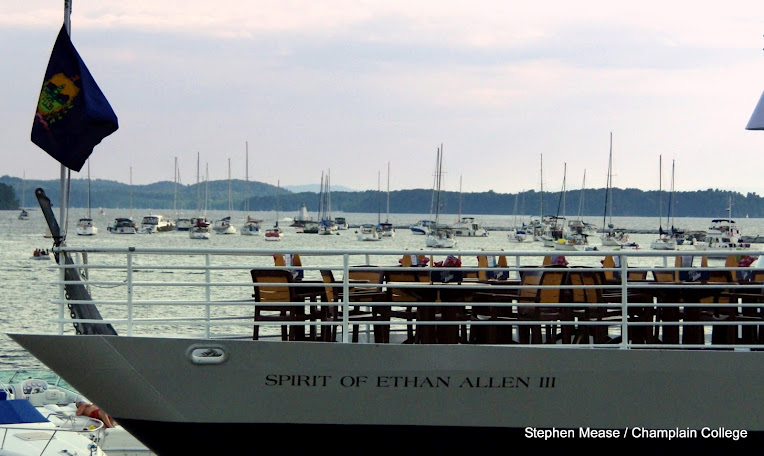 Spirit of Ethan Allen III sails on Lake Champlain every day. Champlain College students experience the lake cruise during orientations, retreats, and senior night, but it is a great affordable summer activity.

Spirit of Ethan Allen III sails on Lake Champlain every day. Champlain College students experience the lake cruise during orientations, retreats, and senior night, but it is a great affordable summer activity.
For those college students who chose to catch up or get ahead by taking courses or working in Burlington over the summer, all work and no play is no way to spend the summer. There are plenty of simple or inventive activities to pursue in your free time, and for FREE!
Whether you are interested in art, music, food, the outdoors, or an active lifestyle, the city has something to offer every week.
For the artist, there is:
First Friday Art Walk – On the first Friday of every month, between thirty and forty art venues are open from 5-8 p.m. for the Art Walk in Burlington. Some venues have openings, talks, music, or other special activities. Others are simply open late. Check out the Art Map Burlington to plan your Art Walk, or if you prefer, guided tours are led at 6 p.m., starting at The BCA Center, during each First Friday.
For the musician, or music audience, there is:
Battery Park Free Concert Series is held each Thursday at 6:30p.m. at Battery Park. Burlington City Arts (BCA) and Independent Radio the Point present the concert series.
City Hall Park Lunchtime Performances – Every Tuesday and Thursday May 22-June 28, 12-1 p.m. in Burlington's City Hall park.
Poe Jam with Dug Nap – Every other Wednesday from 8-11 p.m. on the Second Floor of the BCA (135 Church St, Burlington), dug Nap hosts an open mike night of mostly poetry, spoken word, and some music.
Open Mic Night at the Radio Bean, 8 North Winooski Ave. on Monday nights. Sign-ups begin at 7 p.m. and open mic session begins at 8 p.m. Free and open to the public with food and beverages for sale.
Burlington's Discover Jazz Festival (http://discoverjazz.com/) does a great job of starting the summer by bringing in legendary jazz acts and promoting local jazz groups. Some concert events require tickets and/or are 21+ while others are free and open to the public. In any case, the city, especially Church Street Marketplace, will be buzzing with brass and thumping on a standing bass; the ambience of jazz will be plenty.
Lake Champlain Maritime Festival (http://www.lcmfestival.com/), held Aug. 9-12, celebrates Burlington's waterfront with boats, music, food, activities including a 5K Pirate Run, and more! Admission during the day is free; nightly concerts and select events during the day require a paid ticket.
For the active, outdoorsy person:
For the foodie:
Sam Mazza Farm's Summer Festivals, including the 17th Annual Strawberry Festival (June 23), Taste of Vermont Day (Aug. 4), Blueberry Social (Aug. 12), and the 2nd Annual Saucy Salsa Saturday (Aug. 18) offer food tastings, music, activities, and discounts on peak seasonal fruits, vegetables and baked goods. For more information on any of these festivals and events, visit http://www.sammazzafarms.com/festivals.shtml
First Thursdays at Shelburne Vineyards is a live music concert series that is taken outdoors throughout the summer. Every first Thursday of the month from 6-8:30 p.m., venture to the vineyard for some music, wine (if you're of age!), and food. Admission is free, oven-fresh flatbread and wine are extra. 10% of proceeds each First Thursday will be donated to a local charity. Don't forget your picnic blanket, feel free to bring other treats, and enjoy listening to the sounds of local artists and watching the sunset over the vines. More info at http://shelburnevineyard.com/blog/events-calendar/summer-concert-series-hardscrabble-june-7/
Farmers Markets in Burlington and surrounding communities offer a great way to eliminate the middleman when it comes to getting local food direct from the source. The biggest one is the Burlington Farmers Market on Saturdays from 9 to 2 p.m. in City Hall Park. The Vermont Agency of Agriculture has a webpage devoted to local agriculture and farmers markets around the state. Visit www.vermontagriculture.com/buylocal/buy/farmersmarkets_map.html
For the fashionista:
Church Street Marketplace hosts their annual Sidewalk Sale July 25-27. Starting as early as 8 a.m., merchants display their wares both in front and inside their stores. There are great bargains to be found all weekend!
For the rainy days:
Free classic movies at Main Street Landing – Shown weekly, the classic movie series is a free event open to the public on a first come first served basis. They accept donations at the door to benefit a local non-profit. Caddyshack, to be screened on June 19, is sure to be a night of laughs!
Payday? Check out these great events:
Summer is known for summer blockbusters under the stars or on rainy days. Check out movies at Merrill's Roxy Cinema for $6.25 (matinee) -$8.50 (p.m.) for student admission, or at the Sunset Drive-In Theatre (Colchester, VT) where you can get a double feature for $7.50.
Vermont Lake Monsters have 38 home games this season, beginning June 18. They play at Centennial Field on Colchester Ave and tickets cost about $7; parking is $3 per car. http://www.milb.com/index.jsp?sid=t462
Concerts at Higher Ground are popular for college students year-round. This summer, the ballroom features Michael Franti & Spearhead, Cake, Mishka & Anuhea, Ingrid Michaelson, Saving Abel, Skrillex, Rufus Wainwright, Citizen Cope and more. Tickets range from $6 to $50+. Check out http://www.highergroundmusic.com/events/event-list for the schedule.
Get out on the Lake! Spirit of the Ethan Allen III has daily and weekly themed boat cruises that include a 2.5 hour cruise, a meal, a dance floor, entertainment, and more! Visit the website for schedules and fares http://www.soea.com/index.html.
Queen City Ghostwalk – Admission is $15. Various tours highlight different haunted spots in Burlington. Tours begin Friday the 13 of July and end in October. For more information, visit www.queencityghostwalk.com/
Saint Michael's Playhouse presents four summer shows, Nunsense (June 19-30), Unnecessary Farce (July 5-14), Over the Pub (July 18-28), and Forever Plaid (Aug. 1-11). For ticket information (sold individually and per season), visit http://academics.smcvt.edu/playhouse/
Vermont Shakespeare Company presents The Tempest in Oakledge Park Aug. 17-19. For more information, tickets, and times, visit www.vermontshakespeare.org.
Curious what's at the bottom of Lake Champlain? Shipwreck Tours at Lake Champlain Maritime Museum (Vergennes) will show and inform you of the 300+ historic shipwrecks in Lake Champlain. Cost is $22, tours begin June 30. (http://www.lcmm.org/museum_info/shipwreck_tours.html)
For local upcoming events, resources like Seven Days VT (
http://www.7dvt.com/
) or
www.experienceburlington.org
are great for planning your summer of fun. The Lake Champlain Regional Chamber of Commerce also offers a calendar of events at
www.vermont.org
.
About Champlain College:
Since 1878, Champlain College has provided career-focused education to students from its hilltop campus in Burlington, Vt. Champlain's distinctive educational approach embodies the notion that true learning only occurs when information and experience come together to create knowledge. Champlain offers traditional undergraduate and online undergraduate courses, along with online certificate and degree programs and eight master's degree programs. Champlain offers study abroad programs at its campuses in Montreal, Quebec and Dublin, Ireland. Champlain College is included in the Princeton Review's "The Best 376 Colleges: 2012 Edition." Champlain was named a "Top-Up-and-Coming School" by U.S. News & World Report's America's Best Colleges and is ranked in the top tier of 2012 Regional Colleges in the North. For more information, visit
www.champlain.edu
.
By Kayla Hedman '14 / Champlain College News