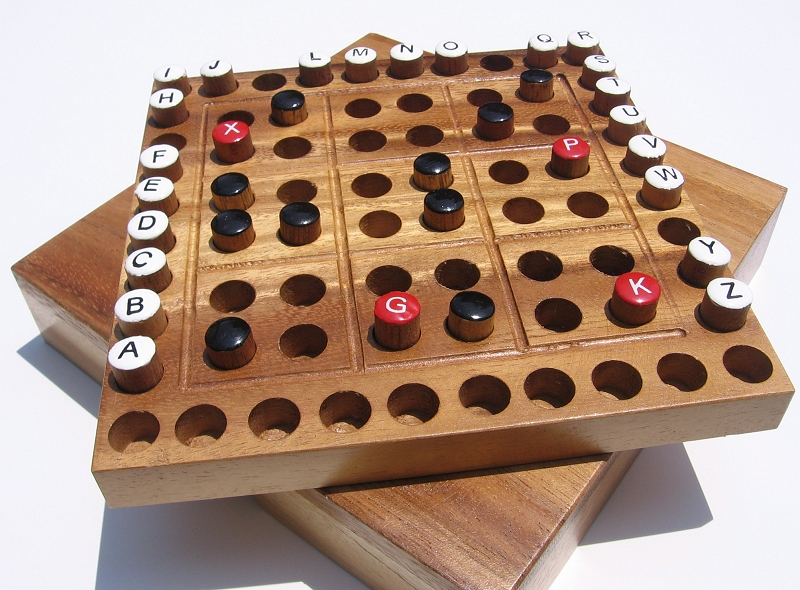 The Mentagy puzzle is available as a hardwood game board, book, or eBook.

The Mentagy puzzle is available as a hardwood game board, book, or eBook.
By Kayla Hedman '14 / Champlain College News
BURLINGTON, Vt. – Champlain College Continuing Professional Studies Professor Allyn Kahn, of New Port Richey, FL, online instructor of math, statistics, philosophy and critical thinking since 2000, has received multiple awards for the puzzle he developed to help his chess students improve their decision-making. The puzzle, Mentagy, is now available as a game board, puzzle book, and on a digital puzzle platform.
This year Mentagy has received multiple awards for its educational benefits and entertainment. Tillywig, a company that provides product information and reviews of superior children's products, awarded Mentagy with their "Brain Child Award" for effectively promoting a high level of face-to-face interaction, inspiring creativity, fueling imagination, encouraging new ways of thinking, and promoting physical development of the brain. Creative Child Magazine, a national bi-monthly publication that provides parents with the latest information on how to nurture their child's creativity, also awarded Mentagy with Puzzle of the Year.
The Mentagy Puzzle and Mentagy Videos were introduced at the 2012 International New York Toy Fair, and the puzzle was selected out of several hundred entries by TechMoola to be featured on their new crowdfunding website. In July, Kahn spoke at he FPEA (Florida Parent Education Association) Tampa convention, presenting on the educational benefits of Mentagy. The puzzle was also featured in the What's Hot section of the September issue of Creative Play Magazine.
Increasing Mentagy's exposure, on Sept. 17, two Mentagy Puzzle eBooks were released as part of an Apple iOS app launched by the Puzzazz eBookStore for iPhone and iPad. It will soon be launched for Kindle and Android devices, too. Puzzazz is a free app that contains 29 puzzle eBooks, including Mentagy Jump-Start, featuring 40 puzzles for $0.99, and Mentagy Challenge with 120 puzzles for $2.99. Since its launch, the Mentagy Challenge eBook has been ranked in the top ten eBooks in Puzzazz in-app purchases.
The Puzzazz app features author bios, instructions on how to solve each puzzle, tutorials for each puzzle, and several free sample puzzles. Puzzazz also offers unique
TouchWrite technology
where users can write the letter or number in the puzzle like in a print book on their device rather than using a keyboard.
For information on the Puzzazz app, visit:
http://itunes.apple.com/us/app/puzzazz/id516440494?mt=8&ign-mpt=uo%3D4
The hard copy book: Mentagy - The Next Puzzle Craze, is available on the
Mentagy website
and at major online bookstores. ?It has been given a five-star rating on
Amazon
.
About Mentagy:
Mentagy appeals to all ages – kids, teenagers, adults, and seniors who want to keep their brains sharp and it offers a relaxing break from your daily routine. Scientific studies show that, just as you benefit from physical exercise, doing puzzles at any age provides a workout for your brain. The hardwood version of the Mentagy puzzle is also used in physical and occupational therapy with rehabilitation for stroke patients and other conditions.
For more information, visit
http://www.mentagy.com/default.asp?pgrm=home
About Champlain College:
Since 1878, Champlain College has provided career-focused education to students from its hilltop campus in Burlington, Vt. Champlain's distinctive educational approach embodies the notion that true learning only occurs when information and experience come together to create knowledge. Champlain offers traditional undergraduate and online undergraduate courses, along with online certificate and degree programs and eight master's degree programs. Champlain offers study abroad programs at its campuses in Montreal, Quebec and Dublin, Ireland. Champlain College will be included in the Princeton Review's "best colleges" guidebook, "The Best 377 Colleges: 2013 Edition." Champlain was named a "Top-Up-and-Coming School" by U.S. News & World Report's "America's Best Colleges" and was ranked in the top tier of 2013 Regional Colleges in the North. For more information, visit www.champlain.edu.