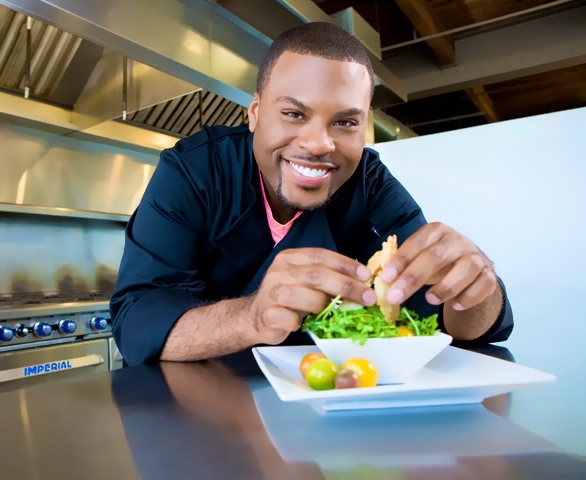 Chicago native, Judson Todd Allen realized early in life his passion for preparing exquisite cuisine. This love for food led him to earn a degree in Food Science & Human Nutrition at the University of Illinois at Urbana-Champaign. Additionally, Judson has traveled the world in search of knowledge, experiences and culinary hidden treasures. He has studied at the world-renowned, Le Cordon Bleu in Paris, as well as the Ritz in Paris.
Having struggled with weight issues for a large part of his life, Judson experienced a significant 70 plus pound weight gain during his college years. After graduation, he decided to apply his advanced knowledge in food science & nutrition and thus began his personal journey towards adopting a healthy lifestyle change. With a palate that craved flavorful cuisine, Judson created recipes that highlighted his favorite foods infusing them with a healthier twist, all while providing an eating experience. Over a 2-year period, Judson lost over 100 lbs, dispelling the myth that healthy food is boring and unpalatable.
Judson was able to bring life, creativity and flavor to healthier cuisine and began introducing this concept to others.
Judson started Healthy Infused Cuisine, LLC in 2007 cuisine offering healthier upscale meal delivery, personal chef, and cuisine services. His mission is to transform the way people think and feel about healthy cuisine.
Enthusiastically serving as personal chef to some of Chicago's most elite, as well as offering cuisine services to powerhouse organizations, Judson operates with a spirit of humility, excellence and professionalism. He has been afforded the opportunity to offer cuisine services for such clients as NFL Player Donovan McNabb, Radio Personalities Doug Banks and DeDe McGuire, National Recording Artist Lupe Fiasco, The United Negro College Fund, Space Stage Movie Studios, Bain and Company, Northwestern Memorial Hospital and The National Association for Health Services Executives. Judson also serves as a Medical Ambassador for the American Cancer Society.
With aspiration of bringing his personality and love for food to television, Judson debuted his own live cooking show platform at Kenmore Live Studios in Chicago, Illinois, which peaked as the highest rated, viewed, and attended show in Kenmore history. He was also featured in Kelsey Grammer's television series "Boss".
Most recently, Judson is a finalist on Food Network's hit show, Next Food Network Star, Season 8. As the "Architect of Flavor" on this season, Judson builds in powerhouse flavor & culture influence into the kitchen. The show airs May 13th at 8pm CST.
Judson has also completed a Master of Science in Public Health from the University of Illinois at Chicago and is currently completing a Master of Business Administration program at DePaul University, Kellstadt Graduate School of Business.