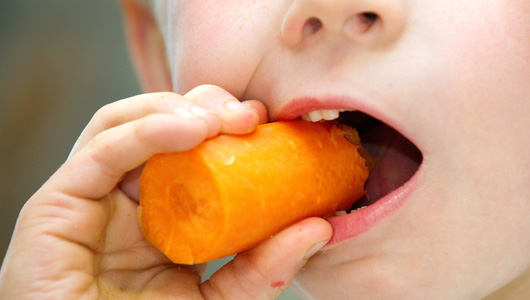 Most families are conscientious about providing a healthy mix of foods during mealtimes, but what about snack time? Some of the most convenient, child-pleasing snacks can have terrible repercussions on children's oral health.

In the fall of 2011, the Chicago Dental Society surveyed more than 100 of its members to find out their best advice for how parents can pick tooth-friendly snacks for their kids.
It's cheesy, but true. It's a standard practice for parents to encourage kids to finish their milk. Why? It's a great resource of calcium and builds strong bones, including teeth. The same holds true for cheese. In fact, some cheeses can slow the activity of bacteria that cause tooth decay.
The juice box blues. Dentists stress choosing water over sugary beverages, like fruit juice or soda. Aside from containing high amounts of sugar, they're also acidic, which causes cavities. If allowing a sugary drink as a treat for your child, try serving with a straw to reduce impact on teeth and avoid continuous sipping.
Finish your fruit and veggies. Not only will your child stock up on vitamins A and C, munching on fresh fruit and vegetables stimulates the gums and the flow of saliva, helping to wash away food participles and harmful acids. The majority of CDS dentists surveyed say crunchy fruits and veggies, like apples, celery and carrots, are your best bet for healthy snacks.
Peel away from sticky candy. Gummies and sticky candies, such as dry fruit or suckers, are dangerous to teeth. When chewing, they get stuck on surfaces and in between crevices, causing bacteria to feed on the candy and produce more cavity-causing acids. The dentists we surveyed recommend "sticking" to healthier snacks, like fruits, veggies, nuts, yogurt, and cheese.
Watch out for carbs. Starchy snacks, like chips and crackers, even if low in refined sugars, can contribute to tooth decay if left in the mouth for long periods of time. The complex starches break down into sugars that feed cavity-causing acids in the mouth. Don't let children graze between meals on sugary or starchy snacks. Instead, include them with other more tooth-friendly foods.
The survey was conducted for the Chicago Dental Society's 147th annual Midwinter Meeting, which will bring more than 30,000 dental professionals to Chicago this February. The Midwinter Meeting is a forum for dentists to learn about new products, technologies and methods.