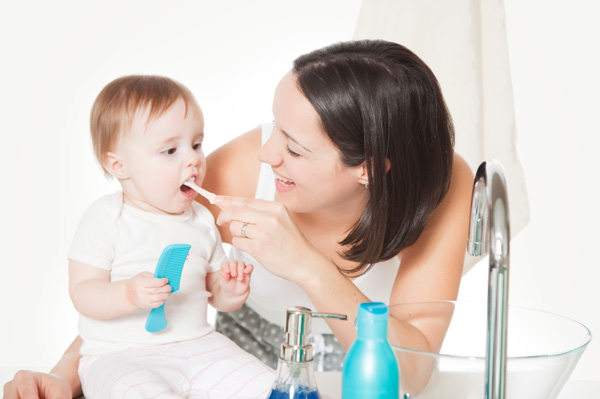 Did you know that when it comes to childhood illness, tooth decay is one of the most common, second only to the common cold? Nearly 30 percent of children will have a cavity by the time they reach age 5, and an estimated 52 million schools hours are missed each year to oral disease.
With statistics like these, it's easy to see why it's so important for parents to start caring for children's oral health at birth.
Chicago Dental Society surveyed more than 100 member dentists to collect tips on the most important steps to start your child on a lifetime of good oral health. If you're expecting or have questions on how to keep your little one's smile healthy, read on to see what dentists are saying.
It's never too early. Starting at birth, you can begin wiping your baby's gums with moistened gauze. Once a child's diet includes anything but breast milk or formula, you need to start brushing their teeth or cleaning their mouth twice a day to remove sugars and bits of food.
Pick the right tool. Before a baby has teeth, you can use cotton gauze moistened with water to clean the mouth; once teeth appear a soft infant toothbrush with the slightest smear of toothpaste is an ideal choice.
See the dentist within the first year. Dentists recommend parents take their baby to the dentist by one year of age, or within six months of cutting their first tooth, whichever comes first. Seeing a dentist within that first year is crucial for catching any early tooth decay or other oral problems.
Avoid sugars. Caring for primary teeth is just as important as permanent teeth. That said, managing a low-sugar intake for your baby is crucial. For example, fruit juices, which are high in sugar and can cause tooth decay, should be limited or even eliminated from your child's diet. A better choice is to eat the actual fruit than to drink it in juice form.
Take care of teeth at nighttime. Once babies have their first tooth, it's important to brush at least twice daily, including once before bedtime. Letting a baby fall asleep sucking on a bottle can result in early tooth decay, known as "baby bottle tooth decay." If your baby uses a pacifier, always use a clean one—never give a baby one that has been dipped in sugar or honey.
Expectant mothers can also take precautionary measures, not only to protect their teeth, but their baby's, too. Research in recent years has found correlations between gum disease in pregnant mothers and low birth weight and preterm delivery. Expectant mothers should make sure to visit the dentist during pregnancy and stay on top of their own oral health regimen at home. View additional oral health care tips during pregnancy.
The survey was conducted for the Chicago Dental Society's 147th annual Midwinter Meeting, which will bring more than 30,000 dental professionals to Chicago this February. The Midwinter Meeting is a forum for dentists to learn about new products, technologies, and methods.