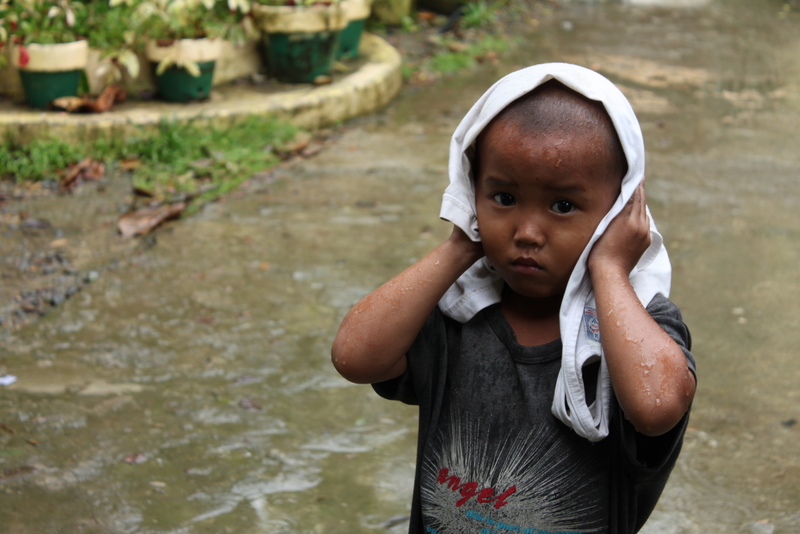 A boy arrives at a distribution of food after floodwaters forced him from his home.

A boy arrives at a distribution of food after floodwaters forced him from his home.
Kansas City, MO (October 27, 2011) – For the second consecutive year, Children International, a U.S.-based charity, is awarded the best humanitarian assistance performance of a non-government organization from the Philippine National Disaster Coordinating Council (NDCC).
The Philippine NDCC recognized Children International for three reasons:
1. The charity's management of the socio-economic impact of natural disasters on poor families and communities in the Bicol region plagued by hurricanes, typhoons and flooding.
2. Children International consistently sustains child- and youth-based programs and services.
3. The organization's willingness to explore new methods to help families in a more holistic and community approach.
The U.S.-based humanitarian organization helps more than 340,000 children globally and more than 70,000 of those reside in the Philippines. Their volunteer network of 10,000 parents and community members are motivated to help based on the spirit of their communities.
The evaluating team also took into consideration the success of Children International's Youth Program. The Youth Health Corps, one of many youth programs implemented by Children International, consists of more than 500 trained youth volunteers trained to help their peers in the community overcome hardships. These youth are trained in psychosocial therapy and health awareness. In post-disaster response, they facilitated many psychosocial play therapy sessions for children dramatically impacted by typhoons, hurricanes, flooding and fires.
"I am proud of the work our staff, youth and volunteers do every day to help poor children facing the devastation left behind after natural disasters," said Children International President and CEO Jim Cook. "This award is acknowledgment of their quick response when people of the community need it the most."
The Gawad Kalasag Award is the Philippine government's recognition of outstanding performance of partners and stakeholders in disaster-management programs. The award also highlights cases of extraordinary courage, heroism, self-sacrifice, and bravery against all odds in times of natural and man-made disasters and emergencies.
About Children International:
Established in 1936, Children International is a humanitarian organization with its headquarters in Kansas City, Missouri. Children International's programs help more than 340,000 children and their families in 11 countries around the world including Chile, Colombia, the Dominican Republic, Ecuador, Guatemala, Honduras, India, Mexico, the Philippines, the United States, and Zambia. For more information about Children International or to sponsor a child, visit www.children.org
###