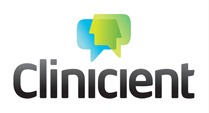 Portland, ORE. – February 29, 2012 – Clinicient, Inc., a leader in Outpatient Rehabilitation EMR, Practice Management and Billing Service solutions, announced today the publication of a report summary "7 Critical Metrics that Healthy Practices Monitor", recommending what outpatient rehabilitation practices should monitor to remain healthy in today's business climate. The report captures a compilation of key metrics commonly measured by some of Clinicient's best performing Outpatient Rehabilitation practices across the nation to anticipate cash flow, estimate business performance, and track staff productivity.
As more and more Outpatient Rehabilitation practices move to Physical Therapy EMR and Practice Management systems, the next challenge becomes how to use the information provided by these systems to help manage a successful practice. Now more than ever, practice owners and administrators need to know the important business metrics, or key performance indicators ("KPIs") to monitor, and understand what these metrics tell them about the health of their practice and what changes can be made in the practice to improve.
"Our system gives us a unique advantage to aggregate data from multiple practices and identify the business metrics obtained by the most successful practices" reports Jim Plymale, CEO of Clinicient. "Beyond providing our customers with software, we can provide benchmarking information to help guide in the management of their practices. For example, we can provide regional benchmarks for important business metrics such as average payment per visit that help our clients understand how they are getting paid in comparison to other clinics in their region."
Mining through the data and identifying patterns makes reporting a challenge for many practice owners. Clinicient removes that challenge by explaining which metrics are important to track and why. "We've helped hundreds of practices across the nation narrow down the most important metrics to measure, understand what they mean, and identify and address issues that could potentially become problems if not acted upon. In collaborating with both large and small practices, we've been able to identify what is important to measure and analyze, and have witnessed struggling practices turn things around to improve their performance by doing so" states Plymale.
When asked "how did you identify these metrics?" Plymale answers: "In addition to providing web-based EMR and practice management software to customers who do their own billing, we also provide billing and collections services, managing millions of visits and close to $100 million in accounts receivable. This makes us accountable for helping our customers to get paid the most they can for every visit and helping them to implement new processes and workflows to ensure that each patient visit is a profitable one. We've learned which factors influence this the most: identifying the best referral sources, implementing best practices for helping patients keep their appointments and collecting patient due balances, monitoring therapist productivity, and of course tracking payment cycles and payer rules. When tracking the results of our most successful practices these metrics stand out as the most critical to track. As outpatient rehabilitation practices begin to adopt EMR and Practice Management systems, it's critical that they are aware of what information they need to track with their system, whether they use Clinicient or any other system."
Helping Outpatient Rehabilitation practices be successful is Clinicient's core mission. In a climate of declining reimbursement rates, increasingly complex regulations and new mandates to move to EMR systems, many practices owners, who most often are busy managing their own patient load, are looking for help. "We want to share this information with as many practices as we can. We are all in this together."
Clinicient has published a "Metric Tip Sheet" on their website at http://www.clinicient.com/7-critical-metrics-that-healthy-practices-monitor/. In addition, they are offering free clinic comparisons for practices interested in learning what the averages are for each of these metrics, both across the nation, and at state levels.
Clinicient is a leading provider of Outpatient Rehabilitation EMR, Practice Management and Revenue Cycle Management solutions that help practices achieve compliant documentation, faster payments, fewer denials and higher collections per visit. They provide fully integrated, web-based software for Physical Therapy, Occupational Therapy, and Speech Therapy practices seeking clinical docuementation, scheduling, billing and reporting solutions. They also provide billing services that include free use of their EMR software. For more information please visit www.clinicient.com or call (877)312-6494.