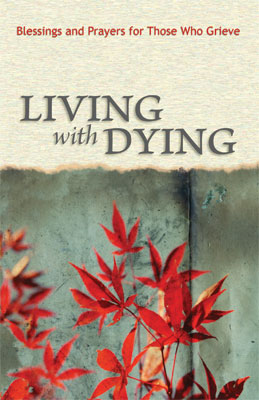 Saint Louis, MO—
Anyone who has experienced the death of a loved one knows that grief, with its sense of loss and loneliness, comes with agonizing moments of doubt and anger—even the feeling of being sick with emptiness and guilt.
Concordia Publishing House's
new resource,
Living with Dying: Blessings and Prayers for Those Who Grieve
, is a pocket-sized devotional that assists readers in navigating the reality of death, whether the death of a loved one or the shadow of one's own mortality.
"Death is one of the essential topics the Church has to address for God's people," said Rev. Scot A. Kinnaman, editor of
Living with Dying
. "However, another essential topic is life. Christ's death gives us eternal life. This hope gives us a way to deal with our natural fear of death."
Kinnaman continued, "We know what is beyond the grave. God's Word of promise helps us set our eyes on Him even as we know we are dying. This book handles the topic in a frank and compassionate way."
Within
Living with Dying
, readers will find devotions, prayers, Scripture, and poetry to support and strengthen faith while presenting a way to continue on the path ahead. In addition, throughout the devotions readers will recognize the echo of Scripture and the themes heard in the Church's worship and Sacraments.
"This will bring a grieving person the comfort and peace that the world itself cannot give, offer ways to confront God with questions and pain, and help the person hear the hope of a life beyond death with the God who cared enough to die so that we would not have to die forever," explained Kinnaman.
Living with Dying
is part of the
Blessings and Prayers series
. Other titles in the series provide encouragement and guidance for those in a variety of life situations such as
going to college
,
expecting a baby
,
being a caregiver
, and more.
Measuring only 3" x 5",
Living with Dying
is a convenient resource to keep in a purse, pocket, or on a nightstand.
"It brings light and hope into the otherwise dark recesses of our grief and shows us the path to move on, to live with dying," said Kinnaman.
To order
Living with Dying
, visit
cph.org
or call 1-800-325-3040. To request a review copy, please contact Rosemary.Parkinson@cph.org. To schedule an interview with Kinnaman, please contact Emily.Barlean@cph.org.