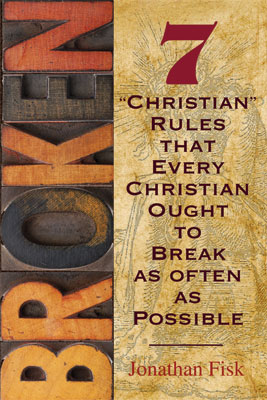 Saint Louis, MO
—If you've never heard of Rev. Jonathan Fisk, don't miss this opportunity to get to know him in this Q&A style interview with
Concordia Publishing House (CPH)
. Why don't you want to miss the chance? Because this
Lutheran Church—Missouri Synod
pastor of Bethany Lutheran Church in Naperville, IL, is an eccentric and energetic blogger with some BIG ideas to share.
It all started with Fisk's YouTube channel,
Worldview Everlasting
, a page he uses to post fast-paced and bold videos that talk bluntly about the issues in the Christian world. Fisk's channel is wildly popular among the Lutheran community and he will release his first book in early December 2012. The book is called
BROKEN: 7 "Christian" Rules That Every Christian Ought to Break as Often as Possible
.
BROKEN
may have a long, intriguing title, but the straightforward book tells it like it is—addressing today's Christian church and unveiling false truths that have infiltrated the churches of our age. The seven false truths that Fisk presents are ones that he says are being taught as if they were doctrine, but are really nothing more than the traditions of men.
To learn more about the book and pre-order your copy today, visit
cph.org
or call 1-800-325-3040. Plus, follow the
BROKEN Facebook page
and check out the
Worldview Everlasting YouTube channel
for even more Fisk.
An Interview with Rev. Jonathan Fisk
Concordia Publishing House:
When and why did you start your blog/YouTube channel?
Rev. Jonathan Fisk:
I started the YouTube channel after discovering the vast reach that some of the more popular YouTube shows have. Larry King reaches several hundred thousand people a week, while a 24-year-old kid reaches 2.5 million three times a week. Wow! Why aren't we using this? Why aren't there any solid Christian YouTube shows out there? So, I turned on my camera and started talking. Everything else has grown out of that.
CPH
: Why did you name it "Worldview Everlasting?" What does that mean to you?
Rev. Fisk:
"Worldview" is a philosophical term that means "the system of thought through which a person views the world." It is often used as a way of advancing postmodern relativism, or the idea that there is no one truth. But it can also be a shorthand way for describing a total system of thought. Well, what is Christianity if it is not God's eternally true worldview, the way that God sees the world, which is also the way that it really is because it's the way he spoke it to be? So . . . that's what I called the show.
CPH
: Your videos are pretty intense. . . . how long does it take you to make each one?
Rev. Fisk:
Too long—3 to 5 hours. The most energy goes into the 20–25 minutes it takes to shoot the clip. I have to be "on" that whole time, and keep up my spontaneity. It's mostly natural, but some days I don't really feel up to it and I need to do it anyway. The rest of the time is editing, which is, literally, "ungodly." I've recently recruited some of my youth to help out after school, which has made a real difference, but it's always a chore. Tuesday and Friday are always long days. And that's before I have to upload it, which is a war in itself!
CPH
: What kind of response have you gotten to your videos?
Rev. Fisk:
Responses are wide and varied. Little kids, grandmas, young adults—all sorts of people. I get a lot of positive feedback from those who are hungry for solid Bible teaching. But I certainly have detractors. Not only do some very angry atheists and homosexual advocates sometimes make death threats and tell me I ought to be "gassed," but even the occasional Christian brother or sister will write me and chastise me for this or that. I think part of it is that the Internet encourages people to speak their minds, which is great. Part of it is that our sin is always in rebellion against God's truth, and at times can really be in a rage. Other times, it's just people who want to make sure I don't make the same mistake twice.
CPH:
In your own words, what is your new book,
BROKEN
, all about?
Rev. Fisk:
BROKEN
is about Scripture's message and doctrine of Law and Gospel, and justification by grace through faith.
BROKEN
is also about confessing that theology without getting bogged down in jargon. It's about where this theology intersects with real life, and how real faith is affected by the ways the devil twists our hearts, minds, and hands away from that theology. All of this is to say that it is a book about Jesus—who he is, what he has done, and what he is coming again to do—and how that Word impacts you, now, by setting you free from your sin.
CPH:
We've had a huge reaction to
BROKEN
already, before it has even been released—how does that make you feel?
Rev. Fisk:
Excited. I've wanted to write a book since I was in high school. My undergrad degree is in creative writing, if you can imagine that. I always wanted to write science fiction or fantasy. But I remember one professor college saying to me, "There is more than one kind of creative writing." At the time I didn't know what he meant, but now I do.
BROKEN
isn't about creative theology, but it certainly is about speaking the age-old truths one more time, and there is an element of creativity connected to that. So, having wanted to be an author my whole life, it's pretty neat to see it actually happening.
CPH:
How do you think people will react to
BROKEN
once it's in their hands?
Rev. Fisk:
I'm kind of terrified of it. There's potential for fans of the show to love it, and then again, they might just hate it since it's not quite as off the wall as the show tends to be. The pre-release reaction has been very good, which is encouraging. American Christianity today is broken—it is built on lies cooked up by the devil being passed off as truth. Exposing the truth will make some people angry. For many more,
BROKEN
will help them finally make sense of what has been missing in church. But for me personally, the book won't be a success until it makes its way into the hands of my generation, 20–40 year old evangelicals who are starving in the sea of half-truths that are causing many of them to become atheists or agnostics. That doesn't mean it's not for grandmas and high school kids. It is! It's for you, whoever "you" are. But that will be how I measure its true success.
CPH:
BROKEN
features some bold ideas and accusations. How and when did you come up with or realize these issues and ideas?
Rev. Fisk:
Well, they're not my ideas. If this book was just about what I think, then the best thing you could do would be stay away from it. That's what is so sad about much of what passes for Christian spirituality in America today: it's a bunch of opinions camouflaged as revelations from God, loosely connected to the Bible but more so connected to the classic heresy of justification by works. All I'm doing is taking a classic Scripture message and speaking it with an American accent. It's not something I have to try to do. I'm an American. I grew up on video games and Sour Patch Kids. It's only sad that there has been a generation before us that has tried to foist this shift on our churches, and in so doing brought in the Trojan horse of revivalism instead.
CPH:
What's something important that you think people should know about
BROKEN
?
Rev. Fisk:
That it's beautiful. We've only talked about the theology so far, but this book is a work of art. When I first started working with the editor on it, I pitched him some ideas for art based on a few chicken scratches I'd done. I was blown away by how he and the graphic designers at CPH ran with it. The book is gorgeous, filled with all sorts of woodcuts and imagery that make it fun just to flip through. It's the kind of book that once you pick it up, you're going to be, like, "I want this on my coffee table." But it's not a coffee table book. Once you start reading it, you're going to finish it.
CPH:
We're a couple of months away from releasing the book—what should people be doing while they wait for their book?
Rev. Fisk:
Certainly following the Facebook page, because there we're posting teaser quotes, memes, and videos. We'll be doing a live broadcast called the "BROKEN Break Out Party" before the release date, and all the info for watching it live on YouTube will be available on the Facebook page. Also, if you haven't tuned into Worldview Everlasting or spent some time digging around worldvieweverlasting.com, now would be a good time to do it. Which reminds me, the radio show Issues, Etc. will be doing a series of four interviews on the book during the month of October. Oh, and go to church, receive the Sacrament, attend adult Bible study, obey your parents, and support a pastor/missionary with extra offerings! :D
CPH:
Is there anything about yourself that you'd particularly like to share with our audience?
Rev. Fisk:
I really don't enjoy talking about myself at all. Maybe just that when it comes down to it, I don't matter, and you don't matter. Jesus matters, and because of him, you and I are free, redeemed, and able to see each other in the foreshadowing light of the world to come.
###