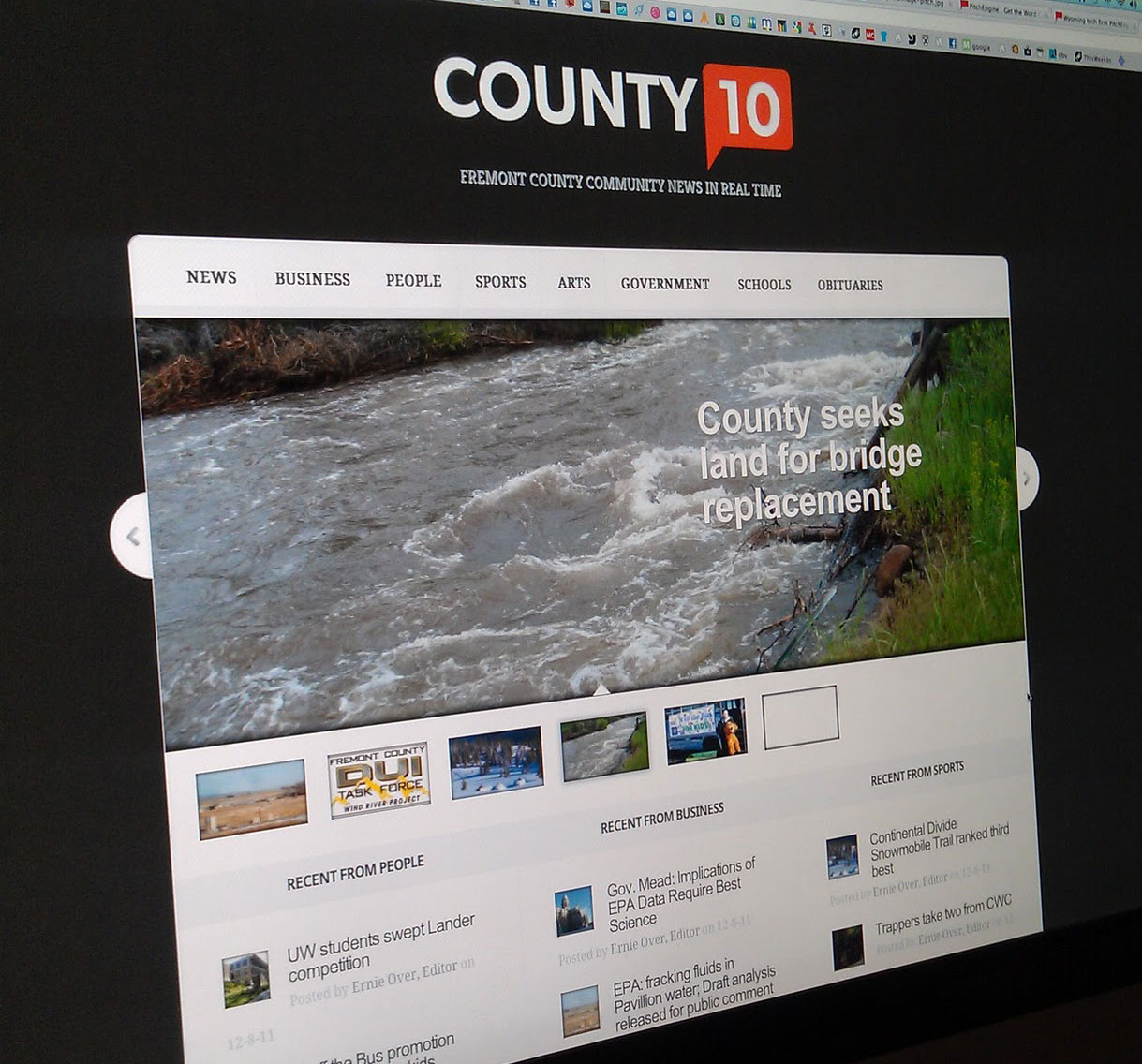 PitchEngine, a thriving online marketing software company serving more than 45,000 companies worldwide, has launched a media publishing business.
County 10
is billed as a "next-generation news outlet" and is fueled by both editors and community members alike. The model for County 10 incorporates community-driven stories fed to the County 10 newsroom via
PitchEngine.com,
an online publishing platform. The publication plans to cover Riverton, Lander and other Fremont County communities.
"This is an idea we've had formulating for a couple years," explained
Jason Kintzler
, Founder and CEO of PitchEngine, "I think we have the opportunity to do some things that have never been done."

In addition to enabling businesses and organizations a channel for their content, the County 10 website and news feed will be shaped by viewership. The stories that garner the most attention from readers will eventually rise to the top of the County 10 Weekly Digest, which is delivered once-per-week via email for free.

"Our content will be free, user-based and delivered instantly in whatever digital format our readers prefer - email, social networks or even on mobile devices," Kintzler said, "It's unlike anything people have seen locally."

PitchEngine COO, Fabian Lobera, touts the promise of a new kind of advertising model as well.
"Sponsored stories, deep analytics data and measurable return on investment will have local businesses excited," said Lobera.

County 10 will begin opening up advertising opportunities in the coming days.


Ernie Over edits County 10

A local journalism veteran, Ernie Over is the first hire for County 10.

"We couldn't possibly have found a better person," said Kintzler, "he was really the catalyst for us taking this leap."

Ernie is a
former member of the Wyoming Press Association Board of Directors and the recipient of dozens of WPA Pacemaker awards for writing excellence, Over is a former editor of the Wyoming State Journal and Wind River News newspapers in Lander, and former senior staff writer at The Ranger, the daily newspaper in Riverton. He is a regular contributor to the Wyoming Business Report. His news writing career began at KOVE in Lander and subsequently at KVOW in Riverton as well as radio stations in Casper, Cheyenne and Fort Collins.
A former professional staff member at the Wyoming Travel Commission where he was the Chief of News and Information, Over also served as a career development consultant in Dallas and was the personal assistant to Star Trek's movie and television creator and executive producer Gene Roddenberry at Paramount Studios in Hollywood. For the last eight years, Over was the Public Relations Director at Wyoming Inc., a Lander-based marketing and communication firm.
About County 10

County 10 is a web-based media outlet providing Fremont County, Wyoming and surrounding communities with instant news and updates. Sign up to receive our weekly and real time instant updates about the people, organizations and places around you by email at
http://county10.com
About PitchEngine

PitchEngine is a social platform that enables businesses and organizations to get the word out using social and search optimization. Founded in 2008, PitchEngine serves more than 45,000 brands worldwide.