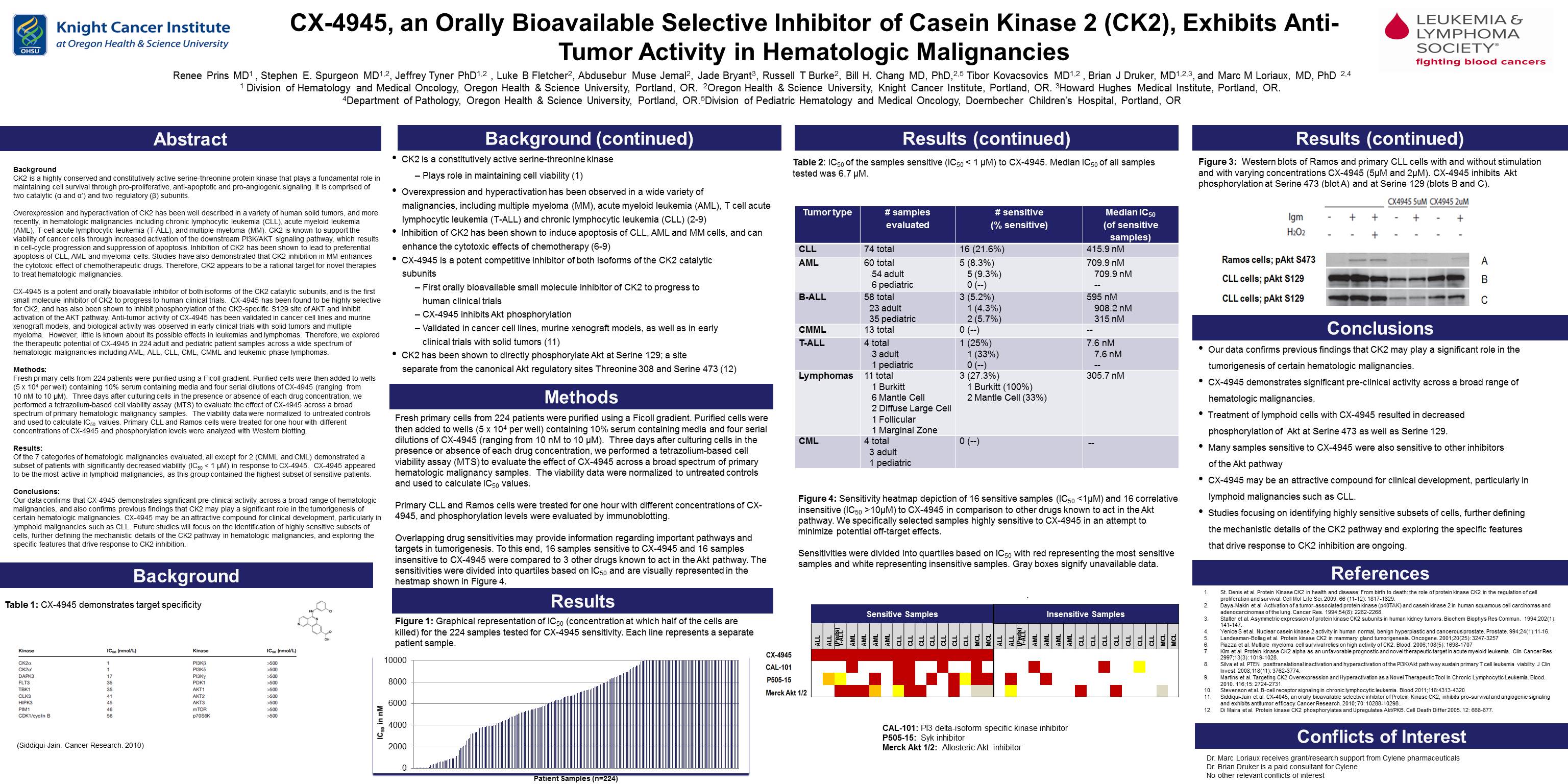 San Diego – Cylene Pharmaceuticals, Inc. announced today that two of its first-in-class agents, both inhibitors of newly-validated targets, have demonstrated encouraging activity in several preclinical models of high risk leukemias, cancers for which there are limited clinical treatment options. Dr. Ross Hannan of the Peter MacCallum Cancer Centre (PMCC), Melbourne, Australia, reported how CX-5461, a targeted inhibitor of RNA Polymerase I (Pol I), safely triggers the non-genotoxic activation of p53 and outperforms standard of care agents in models of MLL-rearranged Acute Myeloid Leukemias (AML), a subset of AML where there is a clear unmet medical need. Separately, Dr. Renee Prins M.D. and colleagues of the Division of Hematology and Medical Oncology, Oregon Health & Science University (OHSU), Portland, OR, reported that CX-4945, the first clinical stage inhibitor of CK2, demonstrated significant preclinical activity in patient samples of Chronic Lymphocytic Leukemia (CLL), including those with high risk features. The data presented at the 53rd Annual Meeting of the American Society of Hematology (ASH), held on December 10-13 in San Diego, CA., highlight the value of Cylene's approach to exploiting newly-validated targets and underscore that CK2 and Pol I inhibitors provide exciting new agents in the battle against difficult to treat blood cancers.
"We are increasingly excited about the novel mechanism and compelling preclinical profile of CX-5461 and are eagerly anticipating the launch of CX-5461 into clinical trials for the treatment of patients with hematological malignancies," stated Prof. Grant McArthur, Head of the Cancer Therapeutics Program at PMCC. "As well as the broad potential of Pol I inhibitors for use in cancers with wild-type p53, we have identified a subset of AML, those possessing MLL-rearrangements, which are highly responsive to CX-5461. We are hopeful this innovative approach may provide benefit to these patients, who currently have no viable clinical options."
In other studies, researchers at OHSU profiled CX-4945, an orally delivered small molecule that inhibits the protein kinase CK2, in a panel of 224 primary isolates including 74 CLL patient samples. CX-4945 has already shown single agent antitumor activity in a Phase I trial with solid tumors and the OHSU results indicate that it may be an attractive agent for use in lymphoid malignancies such as CLL. They found CX-4945 to demonstrate significant preclinical activity across a broad range of hematologic malignancies, including those with high risk features such as advanced Rai stage, CD38, Zap70, unmutated IgVH, chromosome 11q and chromosome 17p deletion. This research confirms previous findings that CK2 plays a critical role in the tumorigenesis of certain hematologic malignancies and positions CX-4945 as a dynamic new agent for the treatment of CLL and other cancers.
About Pol I and CX-5461
CX-5461 represents an innovative targeted agent, currently in advanced preclinical development, with numerous differentiating features when compared to current options for treatment of hematologic cancers. CX-5461 is a first-in-class small molecule inhibitor of RNA polymerase I (Pol I) that triggers the nucleolar stress surveillance pathways to activate p53, without causing direct DNA damage. The tumor suppressor protein p53, known as "the guardian of the genome," orchestrates cellular responses to diverse stress factors. Activation of this protein can lead to cell cycle arrest or cell death and it is pivotal in determining whether cancer cells proliferate or die. In particular, activation of p53 is relevant for hematologic malignancies, in which the vast majority of cancers have wild-type p53 status. CX-5461 inhibits upregulated Pol I transcription in cancer cells, causing the release of ribosomal proteins (RP) from the nucleolus. These RP then bind to Mdm2, liberating p53 from the Mdm2-p53 complex, to induce apoptosis in cancer cells. Inhibition of the newly validated Pol I target by CX-5461 provides an innovative path to activate p53 and treat hematologic malignancies.
About CK2 and CX-4945
Protein kinase CK2 has emerged as a validated drug target for cancer therapy due to its dysregulation and overexpression in tumors. Elevated activity of CK2 potentiates multiple oncogenic pathways including EGFR-regulated pathways, Akt and WNT signaling cascades, NF-κB transcription, angiogenesis, Hsp90 chaperone pathway and the DNA damage response. CK2 activity and levels are elevated in many cancers of diverse genetic background and this leads to a dependence on its continued expression and activity. Because CK2 is essential for the continued activation of key cancer pathways, it is a cancer target ideally suited for the development of a dynamic combination agent. CX-4945, for which Cylene owns all IP, is a potent and selective inhibitor of CK2. Phase I clinical trial data indicate that CX-4945 inhibits CK2 and downstream pathways in patients, produces stable disease and single agent tumor reductions. These observations have positioned CX-4945 for advancement to Phase II combination trials.