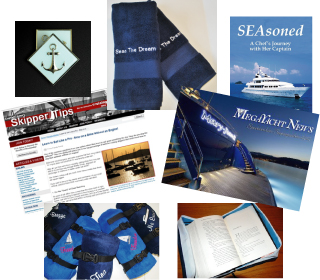 Newington, CT - The Daily Boater, a blog that features the latest news, tips and trends from the world of boating, has released its 2011 holiday gift guide for boaters. This year, every item featured in the guide is available for less than $50. Several of the items can be personalized with a boat name, and at the time of this release, all can be ordered online and delivered to any location within the United States by Christmas. Products were handpicked from various authors and contributors to the DailyBoater, as well as from partner sites such as BoatNameGear.
The following items are featured in the 2011 Daily Boater Holiday Gift Guide:
Since their introduction earlier this year, no product has been more popular at BoatNameGear than these personalized fleece blankets. At under $40, including personalized text and stock embroidered image, these blankets are perfect for storing on the boat for cool nights on the water, or for keeping on the couch. Source: BoatNameGear.com
Spectacular Superyachts Wall Calendar
The Spectacular Superyachts wall calendar was designed by MegaYacht News - a leading superyacht publication. This 2012 calendar offers stunning photos of incredible yachts, and $5 from the sale of each calendar is going to the Jody Hill 2012 campaign to help a former yacht captain achieve his goal of competing in the Paralympic Games in London. Source: MegaYachtNews.com
SEAsoned - A Chef's Journey with Her Captain
If you are looking for the perfect gift for someone who enjoys either boating or cooking (or both!), then look no further than this tale from someone who has been there and done that. Author and yacht chef (and Daily Boater contributor) Victoria Allman's latest book, SEAsoned: A Chef's Journey With Her Captain, is sprinkled with over 30-mouthwatering recipes and spiced with tales of adventure. Source: victoriaallman.com
Keep your expensive hardcover books and vulnerable softcovers safe from water, sand and sun - on the boat, at the beach or by the pool - no more wrinkled pages and ruined covers. This sailcloth book cover has interior elastic straps that slide over the front and back covers of the book. You can read without taking the book out of the cover, or simply use the cover for protective storage. Front cover can be embroidered with monogram, boat name or any text. Source: SailorBags
A Year's Worth of "Skipper Tips"
How would you like to help somebody gain the skills needed to become a masterful sailing skipper, or give them the confidence they need to fulfill their lifelong sailboat cruising dreams? An annual membership to SkipperTips is like having your own professional maritime instructor. Your gift recipient will have access to 425+ articles, sailing video tutorials, 125+ newsletters, and sailing topic eBooks authored by Coast Guard veteran (and Daily Boater contributor) Captain John Jamieson. Source: SkipperTips.com
Thick, soft hand towels, embroidered with a boat name, make the perfect accent for any bathroom - on or off the boat. Sold as a set of two, and made of 100% Turkish combed cotton, these towels come in your choice of four colors and your choice of text. Source: BoatNameGear.com
These functional and elegant devices look great with their nautical anchor or star design, but more importantly, they keep your hand towels from falling on the floor - perfect for the head or galley on a boat, or a nautical decor bathroom or kitchen at home. These make a nice finishing touch for the aforementioned Boat Name Hand Towels. Source: ToweLocs
The full Gift Guide, complete with photos and links to each product, is available at DailyBoater.com.
About the Daily Boater
The Daily Boater, the official blog and newsletter partner of FirstBoat.com, delivers boating news and information daily. The publication's goal is to help people have fun and boat safely. The Daily Boater is one of several websites that comprise Nautical Sites Media, which brings information and resources to recreational boaters through its online publications. To learn more about the Daily Boater and other properties in the Nautical Sites Media network, visit NauticalSites.com or call 800-306-8708.