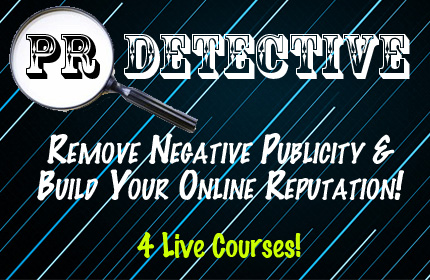 Attention: Marketing Professionals, Small Business Owners, Book Authors and Even Celebrities! Finally….PR Detective Blueprint Reveals a Step By Step Guide To Quickly Investigate, Find and Remove Negative Publicity… Plus…Build Your Solid Online Reputation!
"A good reputation is more valuable than money." - Publilius Syrus
Are you ready to learn how to win positive media, create the best impression and become a thought leader even in the most crisis situation? Have you been a victim of the misleading and the negative reviews and ready to get your name restored?
Well, it's time to be in charge by learning how you can help your clients and yourself with removing harmful information and rebuilding a reputable name.
"A single lie destroys a whole reputation of integrity." - Baltasar Gracian
Who can benefit from PR Detective Blueprint?
Business owners who have bad publicity or even the ones who have NO publicity.
Credible small business owners who want to clean their name after being wrongly accused in social media, forums and review sites.
Online marketing and SEO professionals who want to help their clients to build a local authority status and build their brand.
Book authors who want to protect their name and establish good reputation
Medical professionals (doctors, dentists, etc) who have received negative reviews online and need some guidance what to do next.
What online reputation management strategies will you have access to?
Easiest PR and SEO tactics to remove negative information from the 1st page of Google plus sites like Rip off Report and Scam.com.
Proven PR strategies to handle the hardest crisis situations based on a true story.
Simple ways to establish a good image online.
You will receive the exact step by step instructions on how to craft SEO press releases to build authority and why you must use high authority PR services to to rebuild your name.
Get instant access to social media monitoring and PR tools that can help you to manage your online reputation and deal with your competition.
The exact list of the top PR sites that can do magic in your online reputation (VALUE $197).
Social media and PR tools to build your brand, so you can sleep peacefully at night.
How to protect your intellectual property in social networks.
Purchase "PR Detective Blueprint: Guide To Clean Online Reputation" TODAY and you'll be registered to attend a special previewcall in addition to the 4 session course. We will cover the most common mistakes online business owners make to destroy their name and what you can do to correct it in your first 30 days.
Plus…get access to the special bonuses list and gifts you will receive with our mini course, but you must be on the call to get all information.
Here's what you get:
Access to Tatyana's 4 week course starting on March 5th, 2012 at 8pm CST.
Course dates are 3/5, 3/12, 3/19, 3/26 at 8pm CST.
Access to Tatyana's preview call on Feb. 29th at 8pm CST.
Access to online reputation management strategies.
Social media and PR tools to build your brand.
Step by step instructions on how to craft SEO press releases.
Ways to establish a good image online!
It's an offer you can't refuse,
The Daily Gangster
http://dailygangster.com