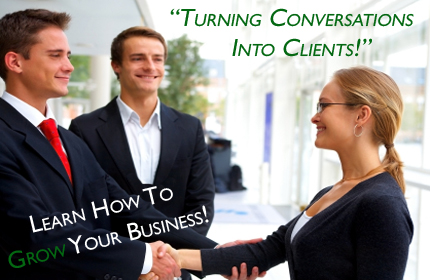 Since you're going to have conversations every single day, put yourself ahead of the rest. Turn everyday conversations into engaging, curiosity–creating, mini promos of yourself. You could earn new clients every month from this one technique. Ask yourself, what is one new client worth to you over the course of your relationship? This one hour workshop will help your business grow over night!
It's not who you know but who knows what you do!
Do you dream of growing your business? Expanding to a new level? Opening another office? Then this one hour workshop is for YOU! Learn how to talk to people about what you do so that they want to know more.
(Don't own a business? It's the perfect gift for your parents, silblings, spouse, boss and entrepreneur friends!)
You've heard that your only six degrees of separation from anyone, and you never know who the person you're speaking to has connections with. If you don't learn how to talk about who you are and what you have to offer, it will be impossible to find that perfect client that needs exactly the service you provide.
Forget Google Ads, Facebook Ads and other expensive advertising tools. This one hour workshop (valued at $47) will help you create long lasting relationships beneficial to both you and your client.
Purchase "Turning Conversations into Clients" and start growing your business TODAY! (Or just give your friends some direction? It's the perfect gift!)
This easy to use MP3 workshop includes examples to make it easier for you to create your own conversational dialogue that will have people asking you for more information. And the more they know about who you help and how you help, the easier it is for them to refer new clients to you!
Grow your business TODAY!
Here is what you get:
MP3 Version of "Turning Conversations into Clients" by Theresa Whiteside
Knowledge on controlling the conversation for your benefit
Skills to expand your business
It's an offer you can't refuse,
The Daily Gangster
http://dailygangster.com