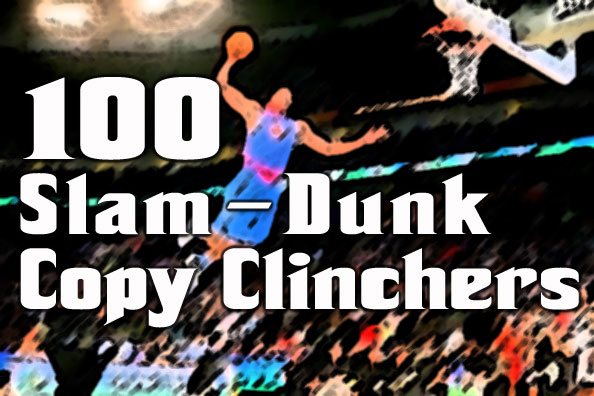 Nothing (let me repeat) nothing is more important than HOW YOU CLOSE your sales copy. And if you're not a seasoned sales copy writer, all your gallant efforts could be flushed by you're inability to clinch the close. Even one-on-one, if you're talking to a client... you can either CLOSE or you leave with your pockets empty.
Imaging if you could CLOSE every landing page, every opt-in box, every shopping cart, every email, every pitch you made! SLAM-DUNK, you can do it... in 100 ways!
This is a collection of "Sales Clincher" ideas from various brilliant minds collected over the years conveniently listed... 1 through 100 for easy implimentation.
Regardless of how you are reaching your prospect, regarless of what you are selling, regardless of your ultimate goal... you eventually have to close the deal.
These "100 Slam-Dunk Copy Clinchers" are like having a bottle of magic pixie dust on your shelf...
Grab it

Sprinkle it

Close the sale
EXAMPLE:
Start your ad with a story. It draws people right into your ad and they forget they're being sold to. For example, you could start your ad, "Once upon a time ..." Another example would be, "Last year, one of my friends and I were..." ..............
EXAMPLE:
Get your audience involved in your ad by asking them questions. They'll automatically want to answer the questions in their mind. For example, you could say in your ad copy, "Where do you want to be weight-wise in the next 5 months?" Another example, "Do you want to weigh that much or more 2 years from now?" ..............
EXAMPLE:
Challenge your readers at the end of your ad (or copy). Make a bet with them; if your product doesn't solve their problem, offer them a free product in return. People love to gamble and most are greedy. You're just using it to your advantage so you can sell them your product or service. Some people like to gamble just because it's fun...............
YOU GET
100 Slam-Dunk Copy Clinchers
A beefy 17 pages of killer copy ideas (5,350 words)
Just one clincher, could make you $1000s
Great for any situation (landing page, newsletter, shopping cart, one-on-one)
A deal you can't refuse
DAILY GANGSTER
http://dailygangster.com