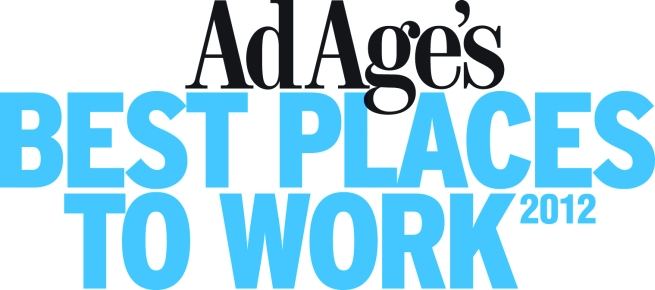 BOSTON – Top global integrated brand agency Digitas has been named one of Advertising Age's "Best Places to Work in Marketing & Media" for the second consecutive year. Nearly 185 companies applied for the honor, with over 15,000 employees surveyed across the industry. With only a total of 40 companies selected, Digitas was honored for its widespread employee engagement, strong leadership, and numerous work-life benefits.
This award comes on the heels of a number of other accolades for the agency. Digitas has won 30 "Best Places to Work" awards in just over three years, with individual honors for every office in the U.S. Just last week The Hartford Business Journal honored Digitas' Stamford office in the top five for the "Best Places to Work in Connecticut," making the list for a third consecutive year. And recently the Chicago office was honored for the second time as one of Brill Street + Company's "Top 50 Employers for Generation Y Chicago," moving up the ranks to #2 on the list.
Unique Benefits and Digital Innovation
As written in Advertising Age's winner description, "Digital is the heart of Digitas." In the last year alone, the agency has opened up a Mobile Lab (to touch and test the latest mobile innovations), a Digitas Technology Lab (staying on the cutting edge of technology overall), and an Always-On room (keeping a full-time watch on the social conversations surrounding clients). Digitas also drives cutting-edge innovation through partnerships with digital leaders—in just a few weeks, the agency will kick off the first annual Digital Content NewFronts with founding partners AOL, Google/YouTube, Hulu, Microsoft Advertising, and Yahoo!.
Advertising Age further highlights that "at Digitas, the room to innovate is supplemented by flexible schedules and social areas with pool tables and basketball nets." The agency brings its large workforce together with initiatives such as a strong mentor program, new hire cocktail parties, and one of the most robust learning and development programs in the industry. And as part of its leading Corporate Social Responsibility platform, every employee across the U.S. has the opportunity to volunteer their passions, from pro-bono work to Community Service Day events.
The agency also inspires creativity and bold thinking—Digitas was recently named one of "15 Digital Agency Work Spaces That Evoke Creativity" by Mashable.