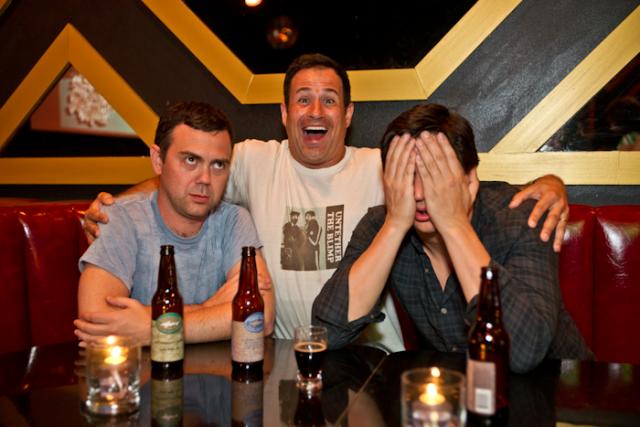 Austin, TX -- Alamo Drafthouse and Dogfish Head Craft Brewery have teamed up for the 5th annual "Off-Centered Film Fest," a celebration of off-centered films for off-centered people.
The three-day festival for film and beer lovers will take place April 19, 20 & 21 in Austin, TX. Submissions are now being accepted for the short film competition, with a deadline of Monday, March 5, to enter. Rules and submission instructions can be found here. Traditionally, the theme for the short film competition has been "off-centered," but this year the panel of Alamo and Dogfish Head judges have decided to mix things up with the theme "Western, Off-Centered."
The short film competition is an opportunity for aspiring filmmakers to showcase their filmmaking through unique and creative interpretations of the "Western, Off-Centered" theme. The short film competition has been expanded this year with the addition of an audience award. The top films selected for the shorts screening, determined by the panel of Alamo and Dogfish Head film lovers, will be made available for viewing and voting prior to the awards ceremony. The finalist's film that receives the most votes will be the winner of the first "Off-Centered Film Fest" audience award.
In addition to the audience award cash prizes will be awarded to the top three finalists. The first place film will receive $1,000 cash, $750 cash will go to second prize, and third prize will walk away with a $500 cash prize. In addition to the cash prizes the top three winners will receive airfare to Austin, TX, two nights in a hotel, admission to both nights of the Off-Centered Film Fest, and a bag full of Dogfish Head awesomeness. The finalists will also be promoted online through the Alamo Drafthouse & Dogfish Head Craft Brewery websites and social media channels.
"The Off-centered Film Fest is one of my favorite events every year and we love working with the guys from The Alamo on this -- the overlap between indie beer lovers and indie film lovers is very strong as is the DIY creative spirit in both communities," said Sam Calagione, Founder and President of Dogfish Head Craft Brewery. "As playwright Sam Shepard once wrote, 'It's the same love, it just got split in two.' "
"Sam Calagione is a well-deserved legend in the craft brewing world," said Tim League, Co-Founder/CEO Alamo Drafthouse. "It is an honor to work with him and his team to produce this annual event. The Off-centered Film Fest has become something of a beer-soaked Christmas for our team in Austin.
Additional information can be found on the official site for the Off-Centered Film Fest.
For more information
Contact: Brandy Fons
Phone: (310) 809-8882
Email: brandy@fonspr.com
About Dogfish Head Craft Brewery
When Sam Calagione opened Dogfish Head in 1995 it was the smallest commercial brewery in America making 10 gallons of beer at a time. Today Dogfish Head is among the fastest growing breweries in the country. Dogfish Head has focused on brewing stronger, more exotic beers since the day it opened, as the motto "Off-centered ales for off-centered people" attests to. Dogfish Head has grown into a 120-person company with a restaurant/brewery/distillery in Rehoboth Beach and a production brewery in Milton, Delaware, selling beer in 31 states and three countries. Sam authored "Brewing up a Business" and "Extreme Brewing," co-authored "He Said Beer, She Said Wine," and was the host of the Discovery Channel series, Brew Masters. He lives in Lewes, Delaware, with his wife Mariah and children, Sammy and Grier.
About Alamo Drafthouse
The Alamo Drafthouse is a lifestyle entertainment brand with an acclaimed cinema-eatery, the largest genre film festival in the United Sates and an online collectible art store. Named "the best theater ever" by Time Magazine, the Alamo Drafthouse Cinema has built a reputation as a movie lover's oasis not only by combining food and drink service with the movie-going experience, but also introducing unique programming and high-profile, star studded special events. Alamo Drafthouse Founder & CEO, Tim League, created Fantastic Fest, a world renowned film festival dubbed "The Geek Telluride" by Variety. Fantastic Fest showcases eight days of offbeat cinema from independents, international filmmakers and major Hollywood studios. The Alamo Drafthouse's collectible art boutique, Mondo, offers breathtaking, original products featuring designs from world-famous artists based on licenses for popular TV and Movie properties including Star Wars, Star Trek & Universal Monsters. The Alamo Drafthouse Cinema is expanding its brand in new and exciting ways, including the launch of Drafthouse Films, a new film distribution label and plans to extend its theaters and unique programming philosophy to additional markets across the United States. More information about Alamo Drafthouse franchise opportunities are available on the official website.