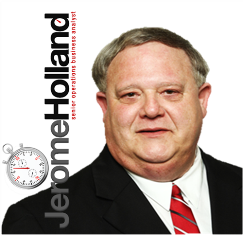 WHY ISN'T THE PHONE RINGING?
After a 20+ year tenure as a Business Analyst with a global manufacturing and retail firm, Jerome Holland found himself displaced as a result of a corporate downsizing. Jerome quickly polished up his resume and LinkedIn profile and commenced his search for new opportunities in the traditional approach of applying to positions on the job boards and company websites. Jerome soon found that, even though he was extremely qualified, the phone was not ringing!
TIRED OF "FREE JOB SEARCH WEBINARS?" HECK YEAH!
While surfing through the job announcements on LinkedIn, Jerome found an announcement for a "Free Job Search Webinar" offered by Emprove Performance Group. He was reluctant at first due to the countless "career gurus" out there who offer like programs, which are ultimately just a bunch of sales garbage attempting to sell a "magic system to land your dream job." After doing some research on Emprove and the program, he felt it was worth a shot...after all, what could he lose other than a couple of hours right?
NO "BAIT AND SWITCH." THE WHOLE DARN FISH!
Within the first 15 minutes, Jerome was hooked and instantly realized that today's job search requires a completely different approach. He, like thousands of other professionals who've engaged in the program, launched a powerful and progressive branding and social media marketing strategy and is now in command of his search! And best of all, it was completely free, without the ridiculous and pushy info-mercial!

NOT ALL CAREER COACHES ARE THE SAME
After attending Emprove's complimentary, 3-hour webcast, Jerome contacted the nation's top-endorsed Career Marketing and Branding Coach, Dieter Hertling (Emprove's CEO) to see how he could take his search to the next level by utilizing the tools and strategies introduced in the webinar. After engaging in a strategic coaching session and some of the professional branding and resume services from Emprove, Jerome now had not only a strategy, but the tactical execution components to implement his new career marketing campaign.
THE REAL DEAL
Jerome states, "It's a rarity throughout one's professional life to find a service or individual that exceeds all your expectations. Dieter Hertling is one of those people. He and Emprove's Career Marketing Coaches have given me many phenomenal experiences. After I completed my initial conversation with Dieter, we immediately got down to work. Dieter coached me on how to write my resume to gets results in today's job market. We worked together on creating a career search marketing strategy that included my personal brand and a website that markets me. Satisfying his customer does not always mean saying YES. When it's time to say no, he is always prepared to reason with alternatives and provide options that produce similar or better expected results. Dieter and his team of experts are the kind of those people at the end of the day that you call a true partner and friend!"
HOLLAND IS THE GUY TO BEAT!
Emprove's CEO, Dieter Hertling comments, "Having coached hundreds of professionals over the years, I have yet to meet a more qualified, educated and dynamic Business Analyst than Jerome. He is strategic, yet tactical and continues to impress me with his willingness to learn. In fact, Jerome has taken advantage of his downtime and just completed a series of certification courses to achieve his Lean Six Sigma Black Belt!"
Hertling also adds, "Since our program is all about paying it forward, Jerome lives and breathes this each and every day. His willingness to support his colleagues in our LinkedIn career networking and support group is amazing and is always there to support and motivate his fellow job seeking associates! He is not only extremely talented, by experience and education; he is a true gentleman and a team player!"


THE CAREER SEARCH STRATEGIES 2.0 SYSTEM WORKS!
To learn more about Emprove's Career Search Strategies 2.0 System and how you can implement the most cutting-edge personal branding, marketing and social media strategies into your job search, go to their website, www.emprovegroup.com. Their program is free and offers 3 hours of in-depth training via live webinars and local full-day seminars! The program also offers access to a powerful resource library, full of scripts, templates, training videos and other resources to assist their growing membership in landing jobs in today's tough market. Furthermore, members of the CSS 2.0 system receive access to weekly group coaching sessions and other web-based training programs on website development, SEO, interview skills, resume writing and advanced social media tools.

Hertling also adds, "Since we launched the program in March of 2010, we have assisted just over 4,500 professionals land jobs! The program is designed for any level. We've had administrative professionals, recent college graduates, attorneys and CEOs land jobs with our program!"
ABOUT JEROME HOLLAND
Jerome Holland is a Lean Six Sigma certified operations and distribution professional with demonstrated accomplishments and 15+ years experience in global warehouse management for multi-channel distribution enterprises. As one of LinkedIn's "Top Recommended People," he has proven success in technology/business solutions in a vast array of processes across multiple business verticals and platforms. With direct accountabilities to IT Managers, Project Managers, Operations Directors and General Managers, Holland is a performance coach, mentor and thought leader who relentlessly seeks to improve revenue streams, secures long-term customer value and fosters relationships on core values of trust, integrity and responsiveness.
You can learn more about Jerome via his website, www.jeromeholland.com
ABOUT EMPROVE'S CAREER SEARCH STRATEGIES 2.0 PROGRAM
Learn more about Emprove's complimentary CSS 2.0 Webinar and register for their next free event at www.emprovegroup.com
ABOUT DIETER HERTLING
Dieter Hertling is the CEO and Chief Learning Officer of Seattle-based career coaching and corporate training firm, Emprove Performance Group, LLC. Hertling has been recognized as the "Top Recommended" and endorsed Career Coach on LinkedIn and is an internationally-recognized motivational speaker and branding strategist. Dieter is available for keynote events, career seminars and individual/group coaching via live events or virtual/web-based venues. Details on Hertling's accomplishments and client endorsements can be found on his LinkedIn Profile, www.linkedin.com/in/dieterhertling . Dieter can also be found and booked through the prestigious SpeakerMatch bureau or by contacting him directly via Emprove's corporate website, www.emprovegroup.com