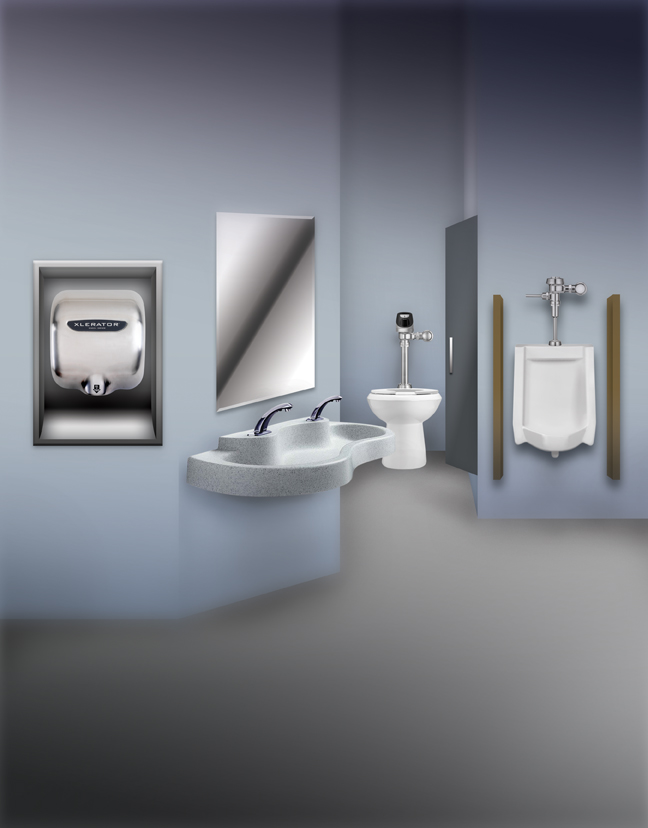 FOR IMMEDIATE RELEASE
East Longmeadow, Mass. – April 24, 2012 – Excel Dryer, Inc., manufacturer of the high-speed, energy-efficient XLERATOR® hand dryer has teamed up with Newton Distributing and RMSe to exhibit its Next Generation Green Restroom Design concept at the National Restaurant Association Show in Chicago, IL, May 5-8. The companies will be exhibiting collaboratively at booth #3943.
Newton Distributing, a supplier of washroom products, specializing in complete green restroom solutions and RMSe, a retail construction, project management and fixture installation firm are exhibiting with Excel Dryer to promote the cost-saving and environmental benefits of green restroom design and installation. Together, the companies offer a turnkey solution for the specification, sale and nationwide installation of today's latest green restroom technology.
The Next Generation Green Restroom Design suite of products includes high-efficiency hand dryers and plumbing fixtures that reduce water usage up to 50%, cost and maintenance by more than 90%, carbon footprint of hand drying by 70%, and help qualify for multiple LEED and LEED-EB credits.
"This partnership provides our customers with a single contact and turnkey solution for retrofitting restrooms with the latest in green restroom technology. It's ideal for restaurant owners that want to take the next step in greening their restrooms, but aren't sure where to start," said William Gagnon, vice president of sales and key accounts, Excel Dryer. Through this partnership, Excel, Newton and RMSe are able to work together to provide a complete green restroom package that can be rolled out for clients with retail locations nationwide.
RMSe leverages its national buying power to lower material costs, reduce fees and ensure proper fixture installation. Prior to this partnership, customers had to work with separate installation vendors in each market; managing contacts, delivery, installation dates, and invoices. "This is the most cost effective, hygienic and sustainable way to update a restaurant or bar with the latest in green restroom technology," added Gagnon.
# # #
About XLERATOR
XLERATOR completely dries hands in 10 to 15 seconds—three times faster than conventional dryers. It uses 80% less energy and delivers a 95% cost savings versus paper towels, while creating a more hygienic restroom environment. It is the only hand dryer to be MADE in USA CERTIFIED™, the first hand dryer to be GreenSpec® Listed and helps facilities qualify for multiple LEED® (Leadership in Energy and Environmental Design) credits by the U.S. Green Building Council. A peer reviewed ISO 14040 Life Cycle Assessment, of XLERATOR confirmed it reduces the carbon footprint of hand drying by 50-70% when compared to traditional hand dryers and paper towels. www.exceldryer.com, 1.800.255.9235, sales@exceldryer.com
About RMSe
RMSe, Inc. is a privately held company headquartered in Newark, OH. Representing the best in class, for managing and executing large-scale implementation rollouts, retrofits, resets, and remodel projects for a variety of high-volume retail clientele; RMSe has the experience and expertise to provide clients with a quality, professional outcome, on time and on budget. www.rmse.com, 1.800.643.3180, info@rmse.com
About Newton Distributing
Newton Distributing Company, Inc. specializes in supplying top-quality washroom products at the best possible prices. Best selling items include hand dryers, lavatory faucets, automatic flush valves, baby changing stations, waterless urinals, washroom accessories and toilet partitions. www.newtondistributing.com , 1-877.837.7745, sales@newtondistributing.com