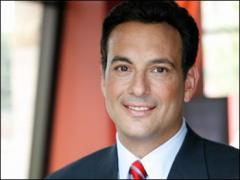 MINNEAPOLIS - As the seasons change, so do hair trends. This fall, many Twin Cities' news personalities are making headlines - and making the cut - with the latest looks and locks. Just in time for its Fall Haircut Sale, Fantastic Sams of Minnesota notes several news-making hair trends among local anchors and reporters-from new twists on the classic bob for women to shaggier, grown-out looks for men.

During the Oct. 5-18 sale, Fantastic Sams of Minnesota will offer all of the latest haircut styles for $9.99, including a complimentary massaging shampoo, conditioning rinse and blow dry. Mary Jo McGinnity, regional educator and trend expert for Fantastic Sams of Minnesota, has "eye-witnessed" the latest haircut trends on Twin Cities' TV personalities:

The Long and Short of the Classic Bob: The timeless bob, which looks great on many face shapes, goes up and down a few inches this fall. This classic "do" looks better than ever on WCCO-TV anchor Amelia Santaniello who sports a longer version as well as WCCO reporter Jamie Yuccas who has a chin-length style. Another variation that is popular this fall, featuring subtle texturing, can be seen on FOX 9 Morning News anchor Alix Kendall and KARE 11 meteorologist Belinda Jenson.

Big Bang Theory: This season, heavy bangs are in style as well as more subtle, face-framing fringe. KARE-11 anchor Julie Nelson, WCCO's Esme Murphy and the FOX 9 Buzz "Cheap Chick" Erin Schneider all look great with trendy bangs that help frame the face.

Loose Locks: Medium-length hair worn loose around the face with a little wave looks great on women, such as KSTP anchor Jennifer Copeland, KARE 11's Rena Sarigianopoulos and WCCO's Natalie Kane.

Mad Men Inspired: Fresh off his Emmy win for best regional anchor, WCCO's Frank Vascellaro also get accolades for his slick hair style that is right on trend with the Mad Men influenced styles of today. FOX 9 Buzz anchor and myTalk 107.1 host Jason Matheson and KARE 11 anchor Mike Pomeranz also sport well-groomed looks with on-air flare.

Shaggy D.A.: Several local male anchors are "sporting" more grown-out looks that are also popular this fall including WCCO's Mark Rosen. Others who can pull off a shaggier look with style, include John Hanson of KSTP's Twin Cities Live as well as Randy Meier, who recently made a return to local TV news on FOX 9.

Other fall hair trends include buns and chignons, loose braids and side parts as well as feathers, headbands and other hair pieces that give hair extra personality.

The Fantastic Sams Fall Haircut Sale gives value-conscious guests the opportunity to save on already low prices for haircuts at Fantastic Sams, the national franchise with more than 100 locally- owned and operated salons. According to the 2011 Green Book*, the average price of a haircut ranges from $29 for men to $44 for women. While chain or "value" salons charge less, many of them tack on additional charges for shampoo and blow-dry services.

"Fall is the perfect time for a new look and feel, and this year everyone can have a lot of fun with up-dos, pretty braids, face-framing bangs and twists on the traditional bob," said McGinnity. "At Fantastic Sams, we enjoy serving our guests through all seasons with the latest in affordable hair care services."

Beyond the Fall Haircut Sale, Fantastic Sams offers professional, affordable hair care year-round with ongoing discounts for kids and seniors as well as monthly coupons available via coupon inserts mailed to consumers' homes. The full service salons provide color, waxing and texturizing services at a fraction of the cost of independent salons.

About Fantastic Sams
Fantastic Sams, a nationwide franchise with nearly 1,300 salons throughout the United States, provides a wide variety of affordable hair services for the whole family. More than 100 Fantastic Sams salons are located in Minnesota, employing more than 1,000 stylists. For more information, visit www.fantasticsams.com.


* The Green Book includes data collected and analyzed by Ad Management Insights (AMI). Data was provided by American Salon magazine/Questex Media (research conducted by AMI), Multi-sponsor Surveys, The Nielsen Company, the Professional Beauty Association (PBA), The Day Spa Association and Coyle Hospitality Group/WTS International.