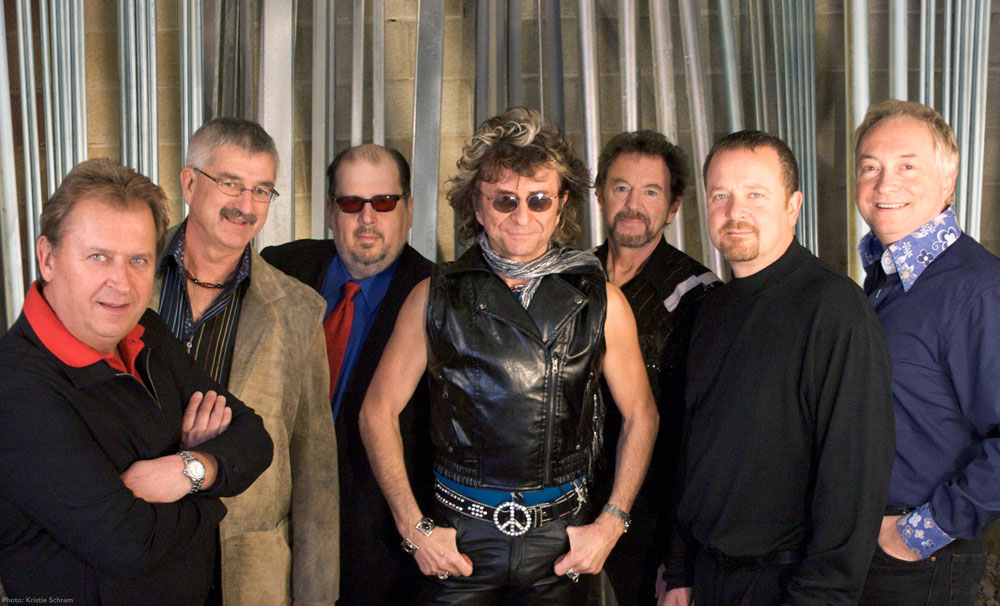 Over 35 various artists will perform on five different stages along Milwaukee's lakefront for the 35th anniversary celebration of
Festa Italiana
. The four-day event, taking place July 19-22 at the Henry W. Maier Festival Park, includes a wide range of music acts and performers that guests of all ages are sure to enjoy.
Festival-goers can look forward to headliners including popular swing band
Big Bad Voodoo Daddy,
award-winning classic rock band from Chicago
Ides of March
, Las Vegas-based entertainer
Louis Prima Jr. Band
,
Sam Llanas
, founding member of the BoDeans, Independent classical-crossover artist
Micheal Castaldo
, Chicago-based singer, dancer and actress
Iliana Incandela
, classical singer/songwriter
Alfio
, up-and-coming country singer
Charissa Mrowka
and Escape Artist
Mario Manzini
–
Houdini Tribute Act
. Also a
SURPRISE award-winning Nashville recording artist and songwriter
will headline Festa this year at the
Spiked Island
Adult Lemonade Launch Party. The surprise performer will be announced exclusively on
FM 106.1 WMIL
on Monday, July 9!
"As we celebrate 35 years of Festa, we have an entertainment line-up that represents all areas of music from opera and song to dance, swing, country and even magic," said Dave Spano, president of Festa Italiana. "With such a broad range of talented performers, this year's outstanding entertainment lineup will cater to families of all ages and interests."
Headliners
Known as "America's favorite little big band," the
Big Bad Voodoo Daddy's
deliver a fusion of classical American sounds from jazz, swing, Dixieland and big-band music, along with their own original dance tunes. Their aggressive, musically perceptive approach has proven them to be a standout among the bands that launched the Nineties swing revival. See them live right on the
Miller Stage
at 9:00 p.m. on Friday only.
A vital, powerhouse rock and roll band sure to knock audiences off their seats, Chicago's own
Ides of March
have maintained their original band members for nearly 50 years. Having earned several platinum hits and Grammy awards, the band from Berwyn, Illinois, have sung at Chicago's Holy Name Cathedral at Christmas Eve Mass, the National Anthem for the Chicago Cubs, Bears, Bulls, Fire and White Sox and have over 35 visits to Comiskey Park/U.S. Cellular Field. Singing hits such as "The Search is Over," "L.A. Goodbye," "Eye of the Tiger," "High on You," and "Hold on Loosely," their encores are always the strongest songs of the night. Don't miss this thrilling group as they promise to keep you moving all night long on the
Spiked Island Stage
at 8:30 p.m. Friday and Saturday.
The
Louis Prima Jr. Band
is making their Festa debut with vocalist Sara Spiegel. Best known for carrying on the legacy of his late father, Louis Prima, the original "King of Swing," the Las Vegas-based entertainer Louis Prima Jr. is the youngest of Prima's children. The Louis Prima Jr. Band promises an exciting show with amazing music and dance. Hits include "Jump, Jive an' Wail," "That Old Black Magic," "I've Got the World on a String," and "I've Got You under My Skin." The band is bringing this energetic music to Festa on the
Briggs Brothers Stage
at 9:00 p.m. on Friday, Saturday and Sunday.
Sam Llanas,
founding member of the BoDeans, is a singer, acoustic guitarist and songwriter known for his unusual and distinctive voice. Llanas will be playing songs from throughout his entire career, including songs from his recently released album "4 a.m." The show will start with a solo set and then Llanas will be joined by his new backup band. You can find him performing on the
Briggs Brothers Stage
at 10:30 p.m. on both Friday and Saturday.
Opera enthusiasts can look forward to
Michael Castaldo
, an Italian-born Canadian who is trained in opera and performs as a classical crossover pop artist. His music is known to be similar to those of Andrea Bocelli, Josh Groban and II Divo. In addition to singing, Castaldo is an award-winning songwriter, producer and arranger. He has served as a producer/mixer and songwriter for six-time Grammy award-winner Jose Feliciano. His fourth album, titled "Olive You – Classic Italian Songs to Feed the Heart and Soul" was released on January 31. Enjoy Castaldo's rich performance on the
Miller Stage
at 1:30 p.m. on Friday, Saturday and Sunday.
Don't miss the young, talented, independent recording artist,
Iliana Incandela,
who also calls Chicago home. A singer and songwriter of pop, hip hop and R&B music, Iliana is sure to wow audiences as she did in 2011 as the opening act for the Italian Community Center sponsored performance of tenor sensations IL VOLO. In 2010, Iliana was chosen to represent the Italian-American community in Chicago's Columbus Day Parade as the Columbus Day Queen and has sung for various events around the Chicago area, including the Driehaus Design Initiative's annual fashion show. Iliana will perform Friday, Saturday and Sunday on the
Briggs Brothers Stage
at 3:00 p.m.
Alfio
, native of Sydney, Australia, who released his new album "Tutta Italiana," in March will remind fans of a young Dean Martin. His new CD showcases his innate passion for Italian songs as his Italian heritage never strays from his heart or his music. Alfio's vocals are clear and strong and he is often compared to Italian singers like legends Claudio Villa and Mario Lanza. No matter how large the venue, he will captivate audiences. Alfio will perform for the first time at Festa on the
T.J. Bartolotta Stage
at 4:30 p.m. Friday, Saturday and Sunday.
Hailed to be the next "Taylor Swift,"
Charissa Mrowka
, 16 years old, has a dream of becoming a famous country star. Having already shared the stage with many country performers, she has sung at venues such as House of Blues, Nashville Palace, Genesee Theatre and Tootsie's Orchid Lounge. Don't miss this up-and-coming talented singer/songwriter/guitarist and recording artist on the
Briggs Brothers Stage
at 9:00 p.m. on Thursday and the
Spiked Island Stage
at 7:00 p.m. on Sunday.
And new this year Festa is bringing magic to the entertainment line-up! Guinness World Champion Escapologist
Mario Manzini
is bringing his awe-inspiring, family-friendly show to Milwaukee for audiences of all ages to enjoy. Manzini has performed his "Tribute to Houdini" act across the United States and Canada. Festival-goers can find his illusions, magic and levitation tricks and dramatic escapes on the
Briggs Brothers Stage
at 7:30 p.m. on Friday, Saturday and Sunday.
A SURPRISE country recording artist and songwriter
will be announced exclusively on Monday, July 9, 2012 on
FM 106.1 WMIL
. The American country music star will headline Festa at 8:30 p.m. at the
Spiked Island Adult Lemonade Launch Party
on Sunday at the
Spiked Island Stage
. Country act
Old Dominion
will open the show at 7:30 p.m. Stay tuned for more information on this surprise performance!
Popular Returning Artists
Back by popular demand,
ABBA Arrival from Sweden
was one of the main hits of Festa in 2011 bringing audiences to their feet for hours! Performing well-know ABBA hits, such as "Dancing Queen," "Mamma Mia," "Take a Chance on Me" and many more, audiences will love the opportunity to sing along. The band has toured over 35 nations, has appeared on several TV and radio shows around the world and will be performing right on the
Miller Stage
at 9:00 p.m. on both Saturday and Sunday.
Other popular acts returning to Festa include
Dick Contino, The Bronx Wanderers, Tony Spavone, Frank Tenaglia, Christopher Macchio, John Ciotta
and
the Russo Brothers.
Italian Idol
And back for its 7th year is the annual
Italian Idol Karaoke Contest
returning to Festa Italiana all four nights! In a new venue this year, the Cucina Showcase, Idol will encompass a night-club atmosphere, complete with singing and dancing all night long. Come and join the fun – listen and dance along as contestants compete Thursday through Saturday at 8:00 p.m. Three finalists and an alternate will be selected each night to compete in the finals on Sunday, July 22. Nine finalists will sing a portion of an Italian song along with their own song selection to win cash prizes. Contestants must be 14 years of age and are judged using a scoring rubric based on voice quality, rhythm and tempo, vocal expression, stage presence and entertainment value.
To learn more about additional entertainment and performers, please visit http://www.festaitaliana.com/entertainment_1.html.
*Editors Note: For interview requests or high-resolution photographs, please contact Jessica Vollrath at 414-221-0218 or jvollrath@vollrathpr.com.
About Festa Italiana
Festa Italiana takes place at Henry W. Maier Festival Park (Summerfest grounds) on Milwaukee's lakefront. The festival runs Thursday, July 19 to Sunday, July 22.
Celebrating its 35th anniversary, Festa Italiana is the largest Italian event of its kind in America today. The Festival began in 1978 for the purpose of reuniting an Italian community torn apart by urban renewal projects and was the first ethnic festival in Milwaukee. Today, several ethic festivals are celebrated on Milwaukee's lakefront and the city is now widely known as the City of Festivals. Through the dedication of more than 2,000 volunteers, the annual Festa Italiana has become a favorite family event to Milwaukee and surrounding areas. This year, Festa will feature even more new attractions, exciting entertainment, delicious food, Italian history and family-filled events as it celebrates its 35th anniversary. Please follow Festa Italiana on twitter @FestaMKE and become a fan of Festa Italiana on Facebook at http://www.facebook.com/festaitalianamilwaukee. For more information on the festival, please visit www.FestaItaliana.com or call 414-223-2808.
Festa Italiana is sponsored in part by MillerCoors, Spiked Island, BP Team USA Experience, Potawatomi Bingo Casino, International Autos Group, LoDuca Bros., Inc., Piggly Wiggly, Major Goolsby's, Pyramax Bank, Catholic Financial Life, Red Gold, Milwaukee Journal Sentinel, The Bartolotta Restaurant Group and Oldies 95.7.
# # #