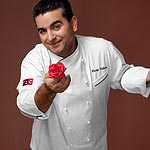 Over 25 various artists will perform on six different stages along Milwaukee's lakefront at the 34th annual
Festa Italiana
. The four day event, taking place July 21-24 at the Henry W. Maier Festival Park, includes a wide range of music acts and performers that all guests can enjoy.
Headliners performing at the Marcus Amphitheater stage include
Buddy Valastro, TLC's Cake Boss
presented by Boelter SuperStore on Saturday, July 23 at 3:00 p.m.,
The Monkees 45th Anniversary Tour
on Saturday, July 23 at 7:30 p.m. and
Frankie Valli and the Four Seasons
on Sunday, July 24 at 6:30 p.m. The Monkees and Frankie Valli concerts are presented by the "Oldies 95.7 Super-Sized Summer Bash." Tickets for all three shows are on sale now and can be purchased at the Marcus Amphitheater Box Office, online at Ticketmaster.com and at the Italian Community Center office located at 631 E. Chicago Street, Milwaukee, Wis.
"Festa Italiana has always been about celebrating Italian food, culture and entertainment," said Dave Spano, president of Festa Italiana. "This year we have an outstanding entertainment lineup for audiences of all ages to enjoy. The Coro Polifonico Flegreco choir and Gruppo Bandistico G. Verdi marching band are coming all the way from Italy to perform at Festa and we are extremely honored to have these special acts make this year's festival memorable."
In addition to Festa's headliner performers, there are many great acts on the ground stages for attendees to enjoy all four days and nights. Highlighting homegrown talent,
Anthony Crivello
, a Milwaukee native and Marquette University alum, will perform on the U.S. Cellular Stage both Friday and Saturday night at 9:00 p.m. As "The Phantom" in the current Las Vegas production of THE PHANTOM OF THE OPERA, he has been recognized as one of the best and most moving and compelling Phantoms in the shows history! He has received a Tony Awardr for Best Featured Actor in a Musical in "Kiss of the Spider Woman," an LA Ovation Award nomination, a Garland Award, a Robby Award nomination, and an LA Drama Critics Award nomination for Outstanding Performance by a Lead Actor in a Musical for "Do I Hear a Waltz."
If you are looking to sing-along don't miss
ABBA Arrival from Sweden
on the Harley Davidson stage at 9:00 p.m. both Saturday and Sunday night. Audiences will sing-along to popular songs including "Dancing Queen," "Mamma Mia," "Take a Chance on Me" and many other ABBA hits. ABBA Arrival from Sweden is one of the world's most popular and best selling ABBA show bands, and the only band that has exclusive rights to make exact copies of the design protected stage clothes. The band has toured over 35 nations and has appeared on several TV and radio shows around the world.
To bring a bit of rock and roll to the lineup,
Fran Cosmo
, the former lead singer of the band Boston and
Steve Augeri
, the former lead singer of the rock group Journey, both have multiple performances during the week at the Briggs Big Back Yard stage. Fran Cosmo will perform some of his greatest hits as well as new songs Thursday and Friday night at 9:00 p.m. and Steve Augeri will showcase material from his career and songs from his first solo album In the Moment on Saturday and Sunday at 9:00 p.m.
Another new and exciting addition to the Festa Italiana lineup in 2011 is
Bella Donna - A tribute to Stevie Nicks and Fleetwood Mac
. Recreating the music and persona of the reigning Queen of Rock, Bella Donna will perform various hits, including "Landslide," "Rhiannon," "Edge of Seventeen," "Gold Dust Woman" and more at 7:30 p.m. all four nights at the Briggs Big Back Yard stage.
Festa Italiana will bring traditional Italian musicians who will entertain attendees of all ages to the festival this year. Traveling to Festa Italiana all the way from Italy is the
Il Coro Polifonico Flegreco choir from Naples and Gruppo Bandistico G. Verdi from the Sicily region
. Coro Polifonico Flegreco, one of Italy's best known choral groups, will be premiering at Festa this year. The group, which is comprised of 32 men and women, will perform nightly at 6:00 p.m. on the Briggs Big Back Yard stage under the direction of Maestro Nicola Capano. Additionally, the group will join the Festa Italiana choir to sing Pietro Mascagni's version of "Ave Maria" at the Sunday Mass in the Marcus Amphitheater on July 24.
Gruppo Bandistico G. Verdi will make a return visit to Festa Italiana this year. The band will be busy performing in formal concerts, impromptu shows across the festival grounds, daily afternoon parades and in the procession following the Festa Mass on Sunday. The band, comprised of 37 band members under the direction of Angelo Spicola, specialize in marching music in addition to opera overtures, Neapolitan songs and jazz.
Of course, Festa Italiana brings back the groups that have become favorites over the past few years including
Dick Contino, The Bronx Wanders, Tony Spavone, Frank Tenaglia, Christopher Macchio, Franco Corso, John Ciotta and the Russo Brothers
. Other bands to enjoy this year include the
Doo Wop Daddies, Greg Koch Trio and The Barbeez
.
And back for its 6th year is the annual
Italian Idol Karaoke Contest
returning to Festa Italiana all four nights! This exciting and popular event has become a favorite for nighttime visitors and singers. Contestants will compete Thursday through Saturday at 8:00 p.m. just east of the main entrance to the festival grounds. Three finalists and an alternate will be selected each night to compete in the finals on Sunday, July 24. Nine finalists will sing a portion of an Italian song along with their own song selection to win cash prizes. Contestants must be 14 years of age and are judged using a scoring rubric based on voice quality, rhythm and tempo, vocal expression, stage presence and entertainment value.
Festa Italiana is presented by U.S. Cellular and sponsored in part by Boelter SuperStore, MillerCoors Brewing, Piggly Wiggly, Potawatomi Bingo Casino and Pyramax Bank.
*Editors Note: For interview requests or high-resolution photographs, please contact Jessica Vollrath at 414-221-0218 or jvollrath@vollrathpr.com
About Festa Italiana
Festa Italiana takes place at Henry W. Maier Festival Park (Summerfest grounds) on Milwaukee's lakefront. The festival runs Thursday, July 21 from 2:00 p.m. to Midnight and Friday through Sunday, July 22 - 24 from 11:30 a.m. to Midnight.
Celebrating its 34th annual event, Festa Italiana is the largest Italian event of its kind in America today. The Festival began in 1978 for the purpose of reuniting an Italian community torn apart by urban renewal projects and was the first ethnic festival in Milwaukee. Today, several ethnic festivals are celebrated on Milwaukee's lakefront and the city is now widely known as the City of Festivals. Through the dedication of more than 2,000 volunteers, the annual Festa Italiana has become a favorite family event to Milwaukee
and surrounding areas. This year, Festa joins Italy in honoring its 150th anniversary of its unification as a nation. 2011 marks a special year as Italians across the world celebrate the courage, sacrifice and vision of the patriots who gave birth to the Italian nation.
Please follow Festa Italiana on twitter @FestaMKE and become a fan of Festa Italiana on facebook at http://www.facebook.com/festaitalianamilwaukee. For more information on the festival, please visit www.FestaItaliana.com or call 414-223-2808
.