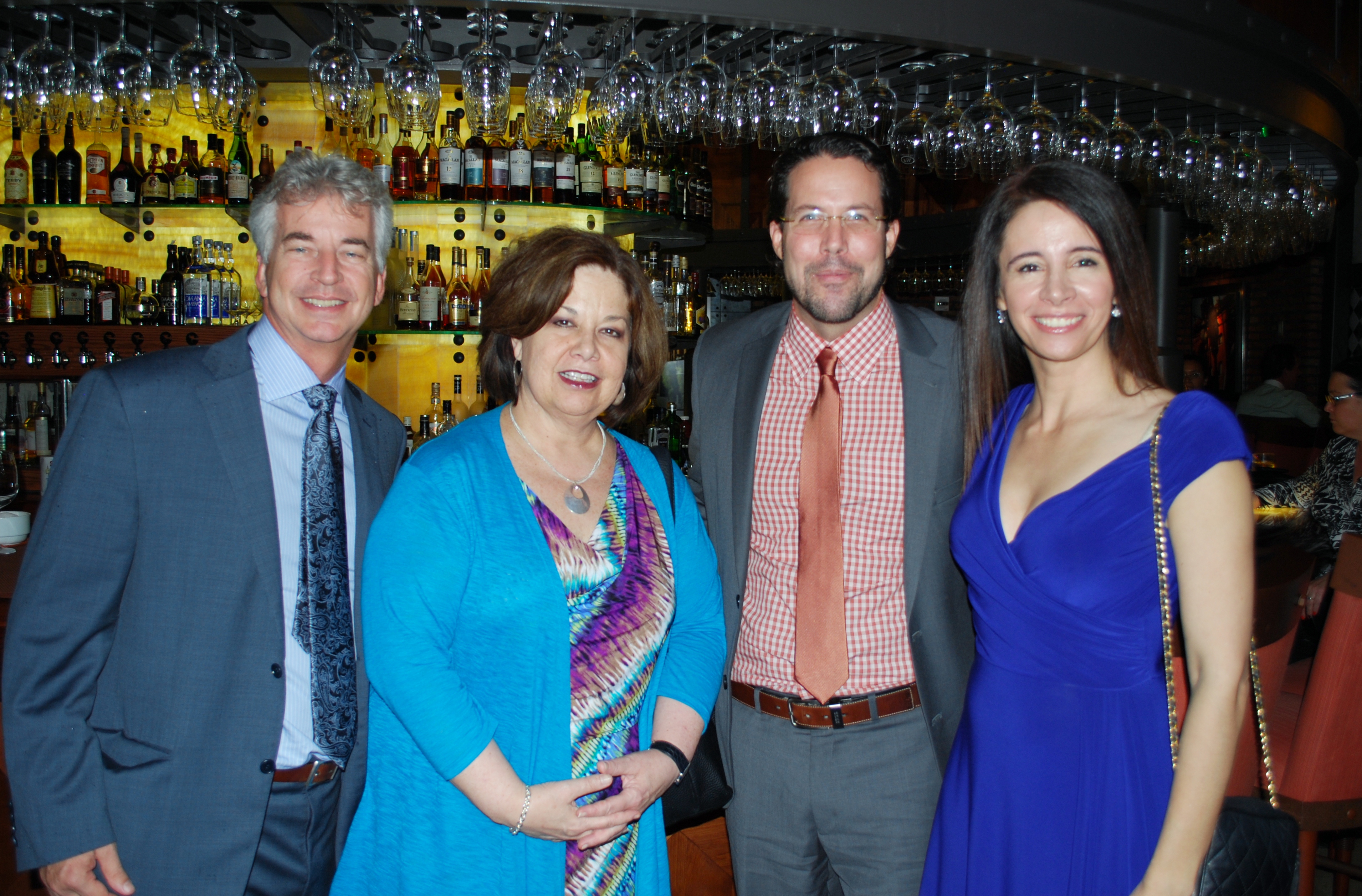 MIAMI
-
October 26, 2012
- On October 25, 2012, Crescendo Circle, Florida Grand Opera's young professional group, celebrated the start of the 2012-2013 opera season with an evening of opera and wine at PM Fish and Steak House.
Crescendo Circle's blue-jean-wearing, black-tie-loving members had their senses delighted with the finest wines, exquisite fare and beautiful selections from FGO's upcoming season. Armando Olmedo, Crescendo Circle President, thanked guests for braving the weather to spend an evening with Florida Grand Opera. The company's new General Director /CEO, Susan T. Danis, received a very warm welcome after an introduction by William Hill, Chairman of the Board of FGO.
The hip, young crowd was treated to the fresh voices of the company's Young Artists Studio, featuring Lacy Sauter, Matthew Newlin, Matthew Maness, and Hye Jung Lee,to the accompaniment of Lyndon Meyer. For information about Crescendo Circle membership and events, please contact us at 305.854.1643 or email us at crescendocircle@fgo.org.  
Click here to download photos
About Florida Grand Opera
Florida Grand Opera (FGO), the oldest performing arts organizations in Florida, celebrates its 72nd year of continuously producing grand opera during the 2012-2013 season, which features: Puccini's
La bohème
, Nov. 17 through Dec. 8; Mozart's
The Magic Flute
, Jan. 29 through Feb. 23; Bellini's
La sonnambula
, Feb. 9 through Feb. 17; and Verdi's
La traviata
, Apr. 20 through May 5. Subscriptions for all four operas of the season start at $36 and single tickets start as low as $11. Tickets may be purchased by phone at (800) 741-1010 or online at
www.FGO.org
.
Founded in 1941 as Greater Miami Opera and later merging with The Opera Guild Inc. in 1994, FGO presents a mixture of standard repertoire and contemporary works as well as commissions new productions – all featuring projected translations in English and Spanish. FGO, recognized for funding by the State of Florida, Department of State, Division of Cultural Affairs, the Florida Arts Council, and the National Endowment for the Arts. Funding is also provided, in part, by the Broward County Board of County Commissioners as recommended by the Broward Cultural Council and the Greater Fort Lauderdale Convention & Visitors Bureau, the Miami-Dade County Department of Cultural Affairs, Cultural Affairs Council, the Mayor and the Miami-Dade County Board of County Commissioners and the Miami-Dade County Tourist Development Council. Program support is provided by the City of Miami Beach, Cultural Affairs Program, Cultural Arts Council. Florida Grand Opera is a Resident Company of the Adrienne Arsht Center for the Performing Arts of Miami-Dade County and a member company of OPERA America. American Airlines is the Official Airline, Intercontinental Miami is the Official Hotel and Steinway & Sons is the Official Piano of Florida Grand Opera.
# # #