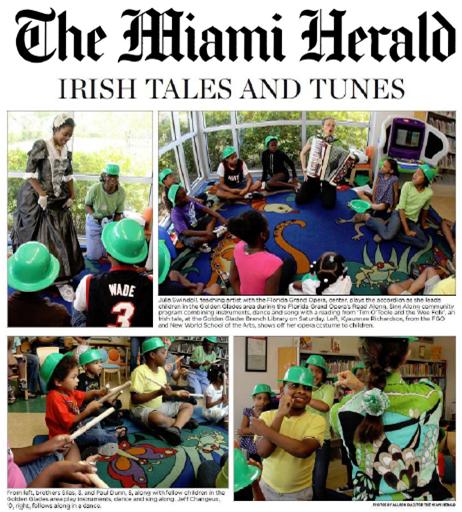 MIAMI
–
November 8, 2012
– Florida Grand Opera (FGO) continues to solidify its commitment to education and the community by partnering with the Miami-Dade County and Broward County Public Library Systems to offer a FREE literacy program running through the 2012-2013 season.
The "Read Along, Sing a Song" program is designed for elementary school aged children, walking them through a pre-selected story and incorporating elements from different artistic disciplines found within opera. As the children read, they may be instructed to pick up an instrument, follow a dance or sing to a melody during a high point of the story, making reading even more engaging and fun.
The sessions will be led by FGO's Teaching Artist, Jean Sensale, or "Miss Jeannie," is an enthusiastic educator and the co-founder and music director of Tandem Theatre Project, a children's theatre company. She earned a degree in vocal performance from Miami Dade College, and later earned a degree in Occupational Therapy working as a pediatric Occupational Therapist. She has also worked in recent years as an independent musical director at both the high school and middle school level, and as a private vocal coach.
Catering to underserved communities, the program is offered at no cost. To maximize the learning experience, sessions are limited to 25 children each. Reservations can be made in advance by contacting FGO Education Manager, Cerise Sutton, at csutton@fgo.org or 305-854-1643 ext. 1100. For specific dates and other details, please visit
www.FGO.org/education
.  
MIAMI-DADE COUNTY EVENTS:
November 19
, 2012
6:00 - 7:00 p.m.
The Story of Ferdinand by Munro Leaf
Miami Beach Regional Library, 227 22nd St., Miami Beach, FL
December 6
, 2012
6:30 -7:30 p.m.
A House for Hermit Crab by Eric Carle
West Flagler Branch, 5050 West Flagler St., Miami, FL
January 5
, 2013
2:00 - 3:00 p.m.
Crictor
by Tomi Ungerer
Coral Gables Branch, 3443 Segovia St., Coral Gables, FL
February 12
, 2013
10:30 -11:30 a.m.
Skit-Scat Raggedy Cat: Ella Fitzgerald by Rozane Orgill
Arcola Lakes Branch, 8240 NW 7 Ave., Miami, FL
March 27
, 2013
3:00 - 4:00 p.m.
Carnival of the Animals by John Lithgow
Kendale Lakes Branch, 15205 SW 88 ST., Miami, FL
April 13
, 2013
10:30 -11:30 a.m.
Click, Clack, Moo, Cows That Type by Doreen Cronin
Sunny Isles Beach Branch, 18070 Collins Ave., Sunny Isles Beach, FL
BROWARD COUNTY EVENTS:
November 24
, 2012
1:00 - 2:00 p.m.
The Story of Ferdinand by Munro Leaf
Lauderhill Towne Centre, 6399 W. Oakland Park. Blvd., Lauderhill, FL
954-497-1630
December 12
, 2012
3:30 -4:30 p.m.
A House for Hermit Crab by Eric Carle
Northwest Branch Library, 1580 NW 3 Ave., Pompano Beach, FL
954-786-2186
January 17
, 2013
3:00 - 4:00 p.m.
Crictor by Tomi Ungerer
Jan Moran Collier City Learning Library, 2800 NW 9 Court, Pompano Beach, FL
954-986-3820
February 23
, 2013
2:00 - 3:00 p.m.
Skit-Scat Raggedy Cat: Ella Fitzgerald by Rozane Orgill
Hollywood Branch Library, 2600 Hollywood Blvd., Hollywood, FL
954-926-2430
March 21
, 2013
2:00 - 3:00 p.m.
Carnival of the Animals by John Lithgow
Riverland Branch Library, 2710 W. Davie Blvd, Ft. Lauderdale, FL
954-791-1085
April 5
, 2013
4:00 - 5:00 p.m.
Click, Clack, Moo, Cows That Type by Doreen Cronin
Pompano Beach Branch Library, 1213 E. Atlantic Blvd., Pompano beach, FL
954-786-2181
About Florida Grand Opera
Florida Grand Opera (FGO), the oldest performing arts organizations in Florida, celebrates its 72nd year of continuously producing grand opera during the 2012-2013 season, which features: Puccini's
La bohème
, Nov. 17 through Dec. 8; Mozart's
The Magic Flute
, Jan. 29 through Feb. 23; Bellini's
La sonnambula
, Feb. 9 through Feb. 17; and Verdi's
La traviata
, Apr. 20 through May 5. Subscriptions for all four operas of the season start at $36 and single tickets start as low as $11. Tickets may be purchased by phone at (800) 741-1010 or online at
www.FGO.org
.
Founded in 1941 as Greater Miami Opera and later merging with The Opera Guild Inc. in 1994, FGO presents a mixture of standard repertoire and contemporary works as well as commissions new productions – all featuring projected translations in English and Spanish. FGO, recognized for funding by the State of Florida, Department of State, Division of Cultural Affairs, the Florida Arts Council, and the National Endowment for the Arts. Funding is also provided, in part, by the Broward County Board of County Commissioners as recommended by the Broward Cultural Council and the Greater Fort Lauderdale Convention & Visitors Bureau, the Miami-Dade County Department of Cultural Affairs, Cultural Affairs Council, the Mayor and the Miami-Dade County Board of County Commissioners and the Miami-Dade County Tourist Development Council. Program support is provided by the City of Miami Beach, Cultural Affairs Program, and Cultural Arts Council. Florida Grand Opera is a Resident Company of the Adrienne Arsht Center for the Performing Arts of Miami-Dade County and a member company of OPERA America. American Airlines is the Official Airline, Intercontinental Miami is the Official Hotel and Steinway & Sons is the Official Piano of Florida Grand Opera.
About the Miami-Dade Public Library System
The Miami-Dade Public Library System, the 8th largest in the U.S., and a recipient of the
2008 National Medal for Museum and Library Service
, strives to be the compelling community destination by providing a five-star customer service experience. With 49 branches and two bookmobiles, the library aims to reach every resident of Miami-Dade County who has a desire for informational, educational or recreational materials. The library offers access to a collection of more than 3.5 million books and materials, 1,735 public computers, 120 Self-Checkout machines and Wi-Fi at every location. Each year, the library system presents thousands of public programs, including
the Art of Storytelling
International Festival, literacy programs for adults and children, art exhibitions and classes in technology. The library proudly serves more than eight million visitors who come through its doors annually, and another 4.4 million who access collections and services through its website
www.mdpls.org
.
About the Broward County Public Library System:
The award-winning Broward County Libraries Division, founded in 1974, is the ninth largest library system in the nation by population served and one of the busiest, with more than 9 million walk-in customers visiting its 36 locations annually. The library has more than 3.4 million items and 2,000 computers for public use and offers hundreds of events and programs to meet the needs of the Broward County's diverse community. The library continues its strong emphasis on literacy, after-school programs and electronic access. A comprehensive Web site, www.broward.org, provides information about library activities and links to online catalogs, reference information and databases, and customers are also encouraged to follow Libraries on Facebook and Twitter. Libraries Division also administers the services, programs, collections and exhibits of the Historical Commission.
# # #