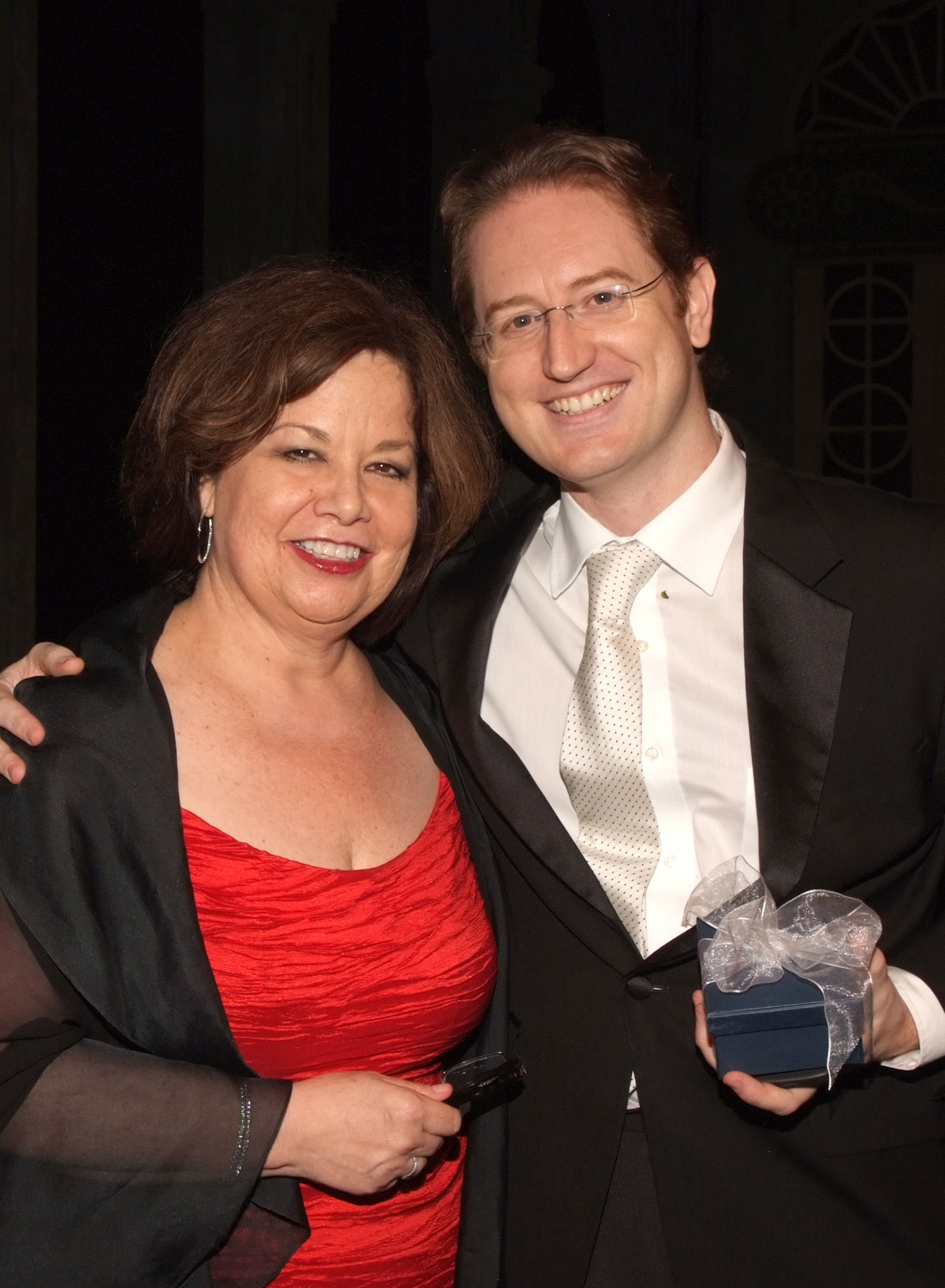 Florida Grand Opera's General Director and CEO, Susan T. Danis, with Maestro Ramon Tebar, FGO's Music Director and conductor of La bohème

Florida Grand Opera's General Director and CEO, Susan T. Danis, with Maestro Ramon Tebar, FGO's Music Director and conductor of La bohème
Miami's elite gathered at the Adrienne Arsht Center for the Performing Arts of Miami-Dade County on November 17, 2012, to celebrate the start of the opera season with Florida Grand Opera's (FGO) annual gala, on the Lynn Wolfson Stage. Entitled "An Evening at the Café Momus," this themed event welcomed patrons into the world of Puccini's
La bohème
as they dined and danced amidst the production's scenery and cast.
Excitement filled the Ziff Ballet Opera House lobby as guests entered in floor-length gowns and tuxedos, ready to enjoy the opening night performance of
La bohème
, starring internationally renowned singers Ailyn Pérez and Arturo Chacón-Cruz. Before the show and throughout each intermission, patrons were treated to lavish cocktail receptions and a silent auction filled with exclusive items. The silent auction was a true success, with the highest bid going for a private dinner prepared by the FGO's new General Director and CEO, Susan T. Danis, who is as passionate about gourmet cooking as opera.
After the final bows, guests were invited to ascend to the Lynn Wolfson stage where they were immersed in the world of
La bohème
. Following a tree-laden, red carpet path, guests came upon the sight of two immense crystal chandeliers hung over the stage, glimmering in soft candlelight. Scenery from the production was rearranged to create the intimate yet elegant feel of a Parisian street. The John Bauer Group Orchestra played as guests found their seats, where a sumptuous three-course meal by Barton G. awaited them. Following the theme of the evening, the tables were named after famous Parisian neighborhoods of the bohemian era, such as Latin Quarter, Moulin Rouge, and Place Pigalle.
As an official start to the dinner, the new Chairman of the Board, William K. Hill, gave a warm welcome to the company's new CEO and General Director, Susan T. Danis, as well as FGO's Music Director and conductor for
La bohème
, Maestro Ramon Tebar. Danis took the podium to thank sponsors and noted donors. Among the guests recognized were Gala Co-Chairs Charlene and Ronald Esserman and Martaligia and Carlos Lopez-Cantera; Ellen and Louis Wolfson III, son of the late Lynn Wolfson; Randi Wolfson and fiancé Chris Adamo; as well as and Isa and Marvin Leibowitz.
Additional Sponsors:
Randy Gage, La bohème Production Sponsor
Charlene and Ronald Esserman, Gala Co-Chairs
Martaligia and Carlos Lopez-Cantera, Gala Co-Chairs
Latin Quarter Table Sponsors:
Fanny and Charles Dascal
Martaligia and Carlos Lopez-Cantera
Moulin Rouge Sponsor Table Sponsors:
Ruby Bacardi
Charlene and Ronald Esserman
Greenberg Traurig
Gunster, hosted by the Chairperson of the Board of Directors William Hill and his wife Laurie
Åsa and Per Loof
HEICO Corporation and the Mendelson Family
Dr. and Mrs. Morton J. Robinson
Florence and Robert Werner
Place Pigalle Table Sponsor:
Alicia Celorio, 'Do Unto Others Trust'
Other notable donors in attendance included:
Nora Bulnes, publisher of Selecta Magazine
Dr. Margaret Eidson and Mike Eidson
Dr. and Mrs. Lucien Gordon
Victor Kendall, President and CEO of Friends of WLRN
Isabel and Marvin Leibowitz
Olga and David Melin
Rosie Pachon and Charles E. Porter
John Richards, President and CEO of The Adrienne Arsht Center for the Performing Arts
Dr. Steven Sanders
Clara Toro, FGO Guild President and Juan Toro
Louis Wolfson III and Family
Florida Grand Opera sponsors and in-kind donors included: American Airlines, InterContinental Miami, Selecta Magazine, Steinway & Sons, Bacardi USA, Inc., Barry Gottlieb, Jenny's Flowers, Inc., Southern Wine and Spirits of America, Inc., and Maria Lucia Venegas.
About Florida Grand Opera
Florida Grand Opera (FGO), the oldest performing arts organizations in Florida, celebrates its 72nd year of continuously producing grand opera during the 2012-2013 season, which features: Puccini's
La bohème
, Nov. 17 through Dec. 8; Mozart's
The Magic Flute,
Jan. 29 through Feb. 23; Bellini's
La sonnambula
, Feb. 9 through Feb. 17; and Verdi's
La traviata
, Apr. 20 through May 5. Subscriptions for all four operas of the season start at $36 and single tickets start as low as $11. Tickets may be purchased by phone at (800) 741-1010 or online at
www.FGO.org
.
Founded in 1941 as Greater Miami Opera and later merging with The Opera Guild Inc. in 1994, FGO presents a mixture of standard repertoire and contemporary works as well as commissions new productions – all featuring projected translations in English and Spanish. FGO, recognized for funding by the State of Florida, Department of State, Division of Cultural Affairs, the Florida Arts Council, and the National Endowment for the Arts. Funding is also provided, in part, by the Broward County Board of County Commissioners as recommended by the Broward Cultural Council and the Greater Fort Lauderdale Convention & Visitors Bureau, the Miami-Dade County Department of Cultural Affairs, Cultural Affairs Council, the Mayor and the Miami-Dade County Board of County Commissioners and the Miami-Dade County Tourist Development Council. Program support is provided by the City of Miami Beach, Cultural Affairs Program, Cultural Arts Council. Florida Grand Opera is a Resident Company of the Adrienne Arsht Center for the Performing Arts of Miami-Dade County and a member company of OPERA America. American Airlines is the Official Airline, Intercontinental Miami is the Official Hotel and Steinway & Sons is the Official Piano of Florida Grand Opera.
# # #