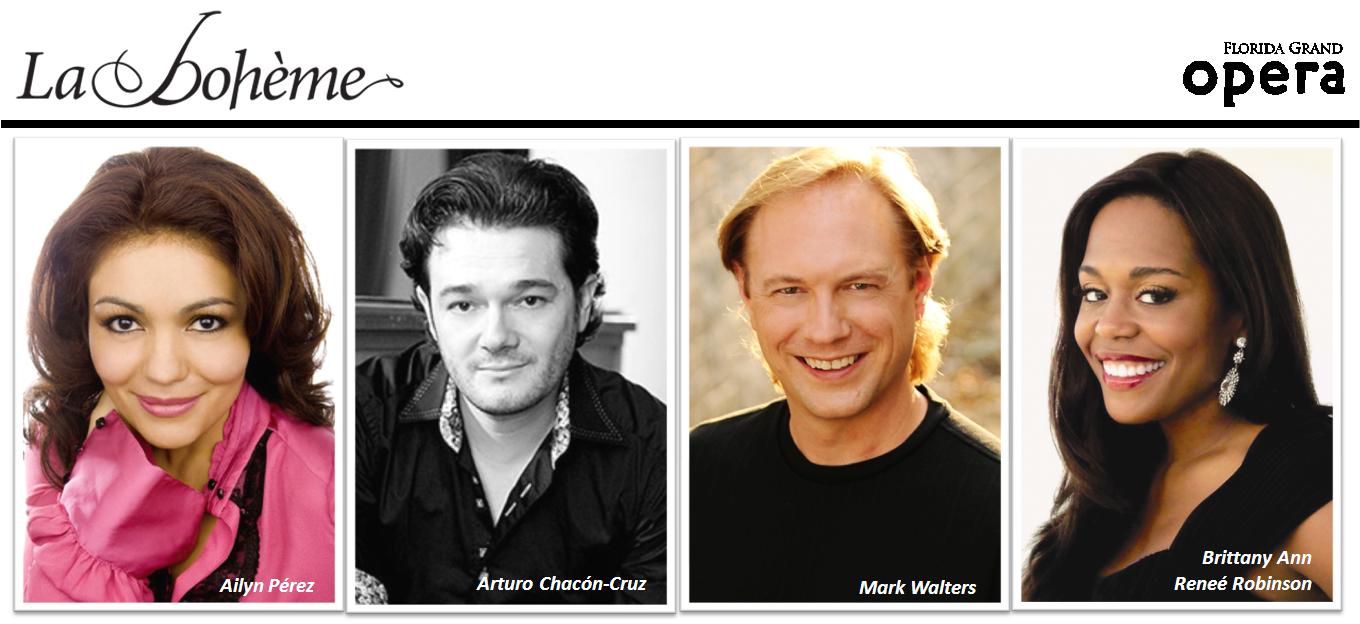 MIAMI
–
Oct. 30, 2012
– Florida Grand Opera's (FGO) 72nd season is marked by the return of company favorites. The company's season opener is none other than Puccini's internationally beloved
La bohème
, taking place at the Adrienne Arsht Center for the Performing Arts of Miami-Dade County on November 17, 2012. Leading the cast are two outstanding Hispanic voices: Mexican tenor
Arturo Chacón-Cruz
and Mexican-American soprano
Ailyn Pérez
.
Last produced by FGO in 2008, Puccini's
La bohème
is a standard in the Italian repertoire and one of the most frequently performed operas world-wide, known not only for its glorious arias and intoxicating melodies but for its poignant tale of friendship and doomed love. The inspiration for the widely popular musical
Rent
, the opera follows a group of young bohemians living in Paris in the 1830s, as a love story develops between the impoverished poet, Rodolfo, and the lovely, yet sickly, seamstress, Mimì.
In the role of Mimì, FGO is proud to welcome the return of bewitching Mexican-American soprano,
Ailyn Pérez
, who recently became the first Hispanic woman to win the coveted Richard Tucker Award; known in the industry as the "Heismann Trophy of opera." A noted talent, she has been featured in
Vanity Fair
magazine as well as on the cover of
Opera News
magazine, identified as being among the next wave of great opera singers.
She recently took her celebrated interpretation of Mimì to LA Opera, where she displayed a sense of "nuance and innate fragility," according to
Variety
. While singing the same role with Cincinnati Opera in 2010, she "displayed Mimì's vulnerability … [showcasing] the luster of her voice and depth of expression," said
The Enquirer
.
Mexican tenor
Arturo Chacón-Cruz
returns to the FGO stage to sing Rodolfo, a role he has made his signature and performed with Washington National Opera, LA Opera, Berlin State Opera, and other top companies. Called "an explosive tenor" by
La Nueva España
, he last sang the role of Rodolfo with Opera Royal de Wallonie in Belgium in 2010.
His most recent FGO performance was in 2009's
Madama Butterfly
, showcasing a "voice with worthy acting, bringing the requisite swagger and charm," according to
South Florida Classical Review
. A talent in high demand, his current schedule is taking him all over the world to some of the most important theaters and opera houses, including San Francisco Opera, Milan's La Scala, Munich's Bayerische Staatsoper, and Göteborg Opera, Sweden.
Following a highly successful performance as the title role in FGO's most recent
Rigoletto
,
Mark Walters
, the baritone
Opera News
calls "a force to be reckoned with," returns as Marcello. He has just finished a run as Enrico in
Lucia di Lammermoor
with Arizona Opera, where his "sturdy and strong baritone voice" shone through, according to
Concerto.net
.
Returning to South Florida immediately following a successful run in FGO's Young Artist Studio is
Brittany Ann Reneé Robinson
. The young soprano brings what
South Florida Classical Review
calls a "lush voice" to the role of Musetta.
The production is conducted by FGO Music Director
Ramon Tebar
, whose recent work in
La rondine
"stood out for the delicacy and transparency of the textures he drew from the ensemble," as per South Florida Classical Review. Director
David Gately
, who is much in demand, having staged works for almost 60 opera companies and festivals, will once again bring his vivid storytelling to FGO.
This production of
La bohème
, created by Lyric Opera of Kansas City in 2008, is made possible by a generous donation from Randy Gage. Fort Lauderdale performances are sponsored by Rose Miniaci.
THE GALA: "An Evening at the Café Momus"
This glamorous themed evening will follow the opening night performance of Puccini's
La bohème
on
November 17, 2012
, featuring
Ailyn Pérez
and
Arturo Chacón-Cruz
, along with the rest of the cast.
Step into the world of
La bohème
as the Lynn Wolfson Stage is transformed into Café Momus, a well-known gathering place of bohemian life for artists and writers in 19th century Paris. Located in the famed Latin Quarter, the Café is the romantic setting for Act II of Puccini's enduring musical masterpiece and the location of this one-of-a-kind dinner-dance.
Gala guests will also enjoy an elegant pre-performance VIP cocktail reception and silent auction as well as the opportunity to mingle with the opera's cast, including the stars of the evening. Pérez returns to FGO following a recent feature in
Vanity Fair
Magazine and the honor of receiving the 2012 Richard Tucker Award. Chacón-Cruz comes to FGO once again in a role he has made his signature and performed with top companies worldwide.
Tickets & Reservations
Gala reservations for the dinner-dance on the Lynn Wolfson Stage — inclusive of pre and post opera receptions, silent auction, and intermission — begin at $750 per person. Table reservations range from $7,500 to $100,000. Reservations are subject to availability. Tickets to the gala night performance of
La bohème
only, range in price from $21 to $250.
To reserve tables or individual tickets for the full gala evening as well as sponsorship or underwriting information, please contact Denise Courshon at (305) 854-1643 or dcourshon@fgo.org. For information about La bohème performances, contact the Box Office by phone at (800) 741-1010 or online at
www.FGO.org
.
SCHEDULE
**Sung in Italian with English and Spanish projected translations**
MIAMI - Adrienne Arsht Center for the Performing Arts of Miami-Dade County / Ziff Ballet Opera House
November 17, 2012, at 7 p.m. – Opening Night;
November 21, 24, 27, & 30, 2012, at 8 p.m.;
December 2, 2012, matinee at 2 p.m.
FORT LAUDERDALE - Broward Center for the Performing Arts / Au-Rene Theater
December 6, 2012, at 7:30 p.m.;
December 8, 2012, at 8 p.m.
CAST
Mimì - Ailyn Pérez
Rodolfo - Arturo Chacón-Cruz
Musetta - Brittany Ann Reneé Robinson ?
Marcello - Mark Walters
Colline - Adam Lau ? *
Schaunard - Ryan Milstead ?
Benoit - Craig Colcough ?
Alcindoro - Craig Colcough ?
Conductor - Ramon Tebar
Director - David Gately
Set Designer - R. Keith Brumley *
Costume Designer - Malabar, Ltd.
Lighting Designer - Mark Stanley *
* = FGO Debut ◊ = Former Young Artist ♦ = Current Young Artist
Subscriptions for the 2012-2013 season start at only $36 and single tickets are as low as $11. FGO's Box Office is located at the Doral Center on 8390 NW 25 St., Doral, FL 33122, and is open to the public from 10am to 4pm, Monday through Friday during the season. Offices are closed on Fridays in the summer. Tickets may also be purchased by phone at (800) 741-1010 or online at
www.FGO.org
.
Opera Preview lectures for the season are sponsored by Jeff and Cathy Bartel. Appearances by supernumeraries throughout the season are sponsored by Robert and Florence Werner. Sponsorship opportunities for productions and events throughout the season are still available. For more information, please contact Interim Director of Development Brendan Glynn at 305-854-1643 x 1601 or via email at bglynn@fgo.org.
About Florida Grand Opera
Florida Grand Opera (FGO), the oldest performing arts organizations in Florida, celebrates its 72nd year of continuously producing grand opera during the 2012-2013 season, which features: Puccini's
La bohème
, Nov. 17 through Dec. 8; Mozart's T
he Magic Flute
, Jan. 29 through Feb. 23; Bellini's
La sonnambula
, Feb. 9 through Feb. 17; and Verdi's
La traviata
, Apr. 20 through May 5. Subscriptions for all four operas of the season start at $36 and single tickets start as low as $11. Tickets may be purchased by phone at (800) 741-1010 or online at
www.FGO.org
.
Founded in 1941 as Greater Miami Opera and later merging with The Opera Guild Inc. in 1994, FGO presents a mixture of standard repertoire and contemporary works as well as commissions new productions – all featuring projected translations in English and Spanish. FGO, recognized for funding by the State of Florida, Department of State, Division of Cultural Affairs, the Florida Arts Council, and the National Endowment for the Arts. Funding is also provided, in part, by the Broward County Board of County Commissioners as recommended by the Broward Cultural Council and the Greater Fort Lauderdale Convention & Visitors Bureau, the Miami-Dade County Department of Cultural Affairs, Cultural Affairs Council, the Mayor and the Miami-Dade County Board of County Commissioners and the Miami-Dade County Tourist Development Council. Program support is provided by the City of Miami Beach, Cultural Affairs Program, Cultural Arts Council. Florida Grand Opera is a Resident Company of the Adrienne Arsht Center for the Performing Arts of Miami-Dade County and a member company of OPERA America. American Airlines is the Official Airline, Intercontinental Miami is the Official Hotel and Steinway & Sons is the Official Piano of Florida Grand Opera.
# # #