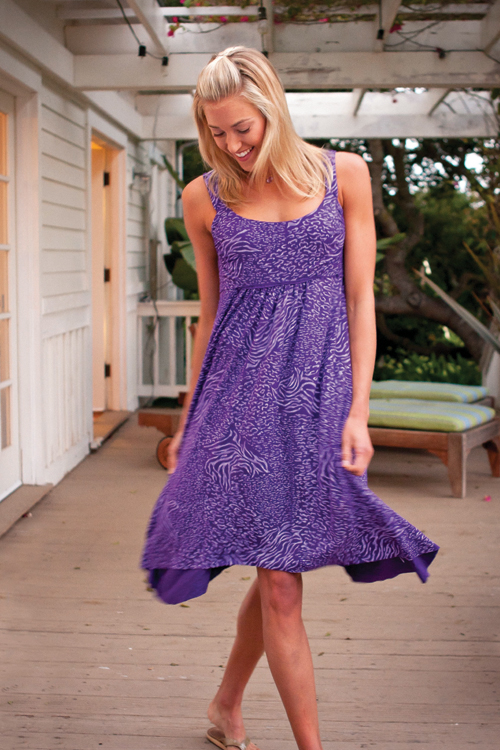 BOULDER, CO (April 16, 2012) - The new Fresh Produce Summer 2012 collection is now rolling into boutiques and online across North America. With six new prints, the summer fashions collection features neons, pastels, and stripes in addition to Fresh Produce's classic, colorful prints, in a variety of women's sun dresses, skirts, casual tops, and tees, all for under $100. Known for imaginative prints, vibrant color and stylish, comfortable silhouettes, Fresh Produce's Summer 2012 collection offers women and children stand out styles and must have wardrobe basics.
For the first time in the brand's nearly 30-year-old history, Fresh Produce introduces its first branded jewelry collection, including bracelets, necklaces and earrings in a variety of coastal-inspired colors motivated by the bright and vibrant Fresh Produce color palette. Highlights of the collection include silver-based jewelry embellished with natural and semi-precious stones and beach-inspired designs. The jewelry line is available in Fresh Produce retail locations now and online in late spring.
The new prints styles include:
Terrace: This feminine, modern pattern wears perfectly on a top with a pair of jeans, shorts, or white pants. Or, get the whole look with a comfortable, colorful dress – any easy go-to for both day and nighttime. Available in nine bright, on-trend colors.
Go Fish: This playful, coastal-inspired print brings a bit of the beach to every outfit, with tanks, tees, dresses and children's dresses available in nine warm, vibrant colors.
Tunisia: Soon to be a classic, the Tunisia print brings a bit of on-trend tribal flair to favorite scarves, tees, and dresses. With twenty colors to choose from, the Tunisia print is a staple for this season's warm weather wardrobe.
Summertime: Fresh Produce's most vibrant floral print, the beautiful peonies that color the dresses, skirts, tops and children's dresses of the Summertime collection are perfect for this spring and summer – or to add color to any fall and winter wardrobe. Available in ten fun, cheerful colors.
Nautical Rope: Embrace this season's nautical trend with this subtle take on stripes: a rope-inspired print, available in six shades of blue, green, and black on pants and skorts.
Calypso: This lush, floral-inspired abstract style brings a sophisticated touch and tropical flair to any spring or summer outfit. In tunics, dresses, and this year's must-have sarong, the calypso print is available in ten gorgeous shades.
About Fresh Produce
For nearly three decades, Fresh Produce has delighted women with vibrant prints, inspired color and stylish, comfortable clothing. Fresh Produce brings the emotions, colors and sensations of the coast to everyday life through classic, colorful wardrobe pieces that timelessly transition from season to season.
From casual tops and feminine dresses to decorative scarves and stylish pants, Fresh Produce has an extensive list of offerings, including Extra Fresh plus sizes as well as a children's dress collection. The coastal-inspired colors are created using Fresh Produce's reactive and pigment dying process, which gives each style a pre-shrunk, soft textured, vibrant look.
Fresh Produce is primarily made in the USA and is currently available at its 25 company-owned retail boutiques, online at freshproduceclothes.com and more than 500 independent retailers throughout the continental US, Hawaii and the Caribbean.