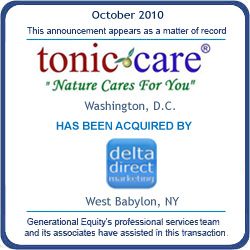 Generational Equity, a leading advisor to privately held and family-owned businesses for mergers, acquisitions, strategic growth initiatives, business valuation and exit planning announced the acquisition of its client, TonicCare, LLC, headquartered in Washington, D.C., by Delta Direct Marketing, LLC. The transaction closed on October 15, 2010.

TonicCare, LLC was founded in 2005 and develops, manufactures, and distributes a line of high-end natural skin care products for sale through primary retail channels. Its portfolio of 10 SKUs are made from all natural ingredients, without any unnecessary chemicals. TonicCare's product line benefits from more than 25 years of clinical research and development on the properties of olive oil, minerals, oligo-elements, algae, and specific herbal extracts for skin care purposes. TonicCare product formulations are based on extra quality olive oil, minerals, and trace elements from the Dead Sea, and plant extracts that provide tangible results in skin care.

Managing Director, Doug Smith and Assistant Vice President, Michael Goss, led the Generational Equity deal team that advised TonicCare, LLC on the transaction. "This transaction was the ideal situation in which an open-minded Seller and creative Buyer both worked together with determination to create a win-win scenario for all, with a unified goal of successfully launching TonicCare's all-natural skin care products into the retail market," said Michael Goss.

Delta Direct Marketing, LLC specializes in brand creation and management via performance-based television and online media. Since 2004, Delta Direct Marketing has discovered, developed, and launched high-quality consumer products in the beauty, health, and wellness categories. "Delta Direct Marketing utilizes every media platform available", said Clifford Morgan, Chief Executive Officer. "We believe TonicCare is uniquely positioned to benefit from our infrastructure. We specialize in gaining market share and distribution for ultra-high quality products."

About Generational Equity
Generational Equity provides mergers, acquisitions, strategic growth advisory services, and information for privately held and family-owned businesses to exit their business successfully. A unique, four-phase approach that includes education, financial analysis and reporting, sales documentation and deal-making ability combine to offer business owners an unparalleled level of commitment and experience, all focused on helping to release the generational equity and wealth in every business.

Headquartered in Dallas, TX, Generational Equity has over 200 professionals in the United States and Canada. For more information, contact Paul Blake at 877-213-1792 or info-us@genequityco.com. Generational Equity's website is www.genequityco.com and their online newsroom can be found at www.gecpress.com.