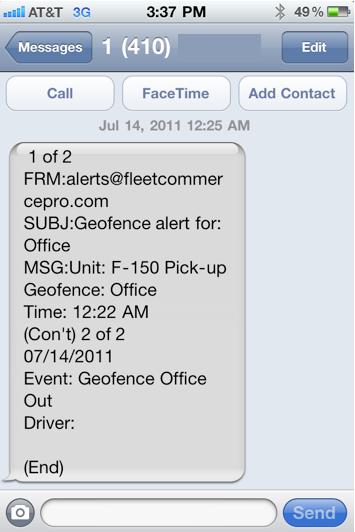 Temecula, Ca. - April 23, 2012 - Paul Johnston, owner of Landtech Field Services, LLC. contacted GPSTrackit to implement a GPS tracking solution for his small fleet of vehicles.
Established in Lafayette, Louisiana in 2007, Landtech Field Services, LLC, is a business dedicated to managing land surveying field crews. Based in Louisiana, they also do business in the surrounding states.
Mr. Johnston contacted GPSTrackit with concerns about asset monitoring and protection. Specifically, Mr. Johnston wanted a solution that would allow him to access information on his fleet regardless of where he was.
Outfitting his fleet with the L2000 GPS asset monitoring and protection device, GPSTrackit needed to provide LFS, LLC. with a solution allowing them to:
Obtain real-time vehicle location and status
Maintain historical movements of fleet vehicles
Be alerted using motion-sensors for anti-theft protection
Establishing a GPS tracking solution allowing Mr. Johnston to create geofence locations provided LFS, LLC. the opportunity to track and locate their fleet whether in Louisiana or another state.
On July 14, 2011, at 12:25 a.m., Mr. Johnston was in Texas when he received a text from his vehicle tracking software that his vehicle had left the geofence for his office.
Mr. Johnston was able to use the information from his GPS vehicle locator to contact his local sheriffs department to recover his vehicle.
"I was in Texas working & I received the text messages that my vehicle had left the geofence of my office. I called the local police back home and explained what was happening. They transferred me to the local sheriff as the thief crossed parish lines," stated Paul Johnston
At 1:45 a.m. police were able to recover his stolen vehicle parked behind a building among other stolen vehicles.
Using a vehicle monitoring system Mr. Johnston was able to save LFS, LLC time locating and retrieving their stolen property.
There was no money spent:
Replacing a stolen vehicle
Repairing any damages
On increases to insurance premiums
Not to mention, using the Idle and Geofence reports with scheduled time alerts, Mr. Johnston has also improved driver accountability, which also saves the company time and money on other operational expenses.
About GPSTrackit.com
Established in 1999, GPSTrackit is a leading North American supplier of GPS hardware and software technology located in Southern California. GPSTrackit is dedicated to providing the most cutting-edge GPS technology available in the marketplace today, backed by the best customer service in the industry.

About Landtech Field Services, LLC
Landtech Field Services, LLC , a Lafayette, Louisiana based company, is delivering solid management services for land surveying field crews. In businesses since 2007, LFS, LLC manages crews in Louisiana and the surrounding states.