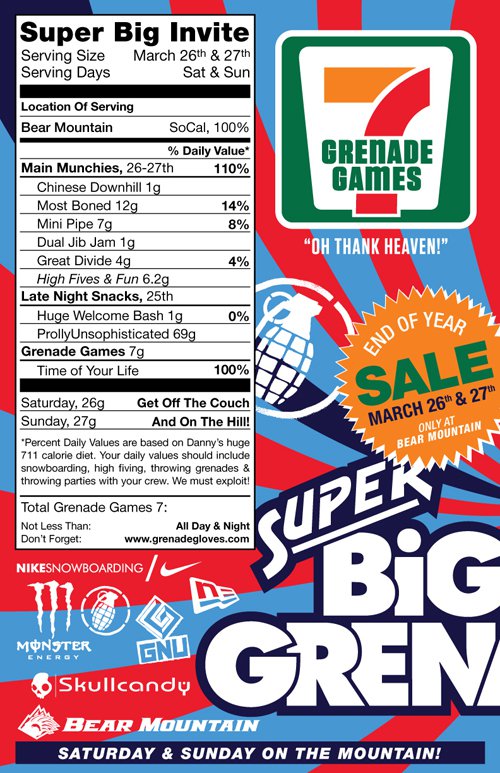 BIG BEAR, CA - GRENADE GAMES 7 is taking over Bear Mountain Resort in Big Bear, California on March 26-27. GRENADE GAMES is the brainchild of two-time Olympic silver medalist Danny Kass. Kass holds one of the most successful competition records in snowboarding and is one of the sport's most exciting athletes.
The snowboarding industry will meet up with the top athletes and fans to celebrate the sport in what's referred to as the ultimate in shredding, partying and utter debauchery.
RSVP to Grenade Games 7
here
.
GRENADE GAMES is produced by Grenade Gloves, founded by Kass in 2004. Based in Portland, Oregon, Grenade is one of the most coveted brands in the snowboarding industry for its irreverent outerwear, street-wear, and signature gloves. It has also been highly publicized for its collaboration products with other globally recognized brands, such as Oakley and Skullcandy headwear.
Grenade is sold in over forty countries and is renowned for birthing FUEL TV's #1 rated show, "The Adventures of Danny and The Dingo," now in its 5th season. The show profiles the on-the-go lifestyle and shenanigans of Grenade's owner Danny Kass and Grenade-sponsored riders, including Scotty Lago, Lucas Magoon, and, of course, everyone's favorite Aussie, The Dingo.
Past locations have included Whistler/ Blackcomb, Mammoth Mountain and The Summit at Snoqualmie, and the Games have been sponsored by New Era Caps, Monster Energy Drink, Nike, GNU and Boost Mobile.
Over the years this multi-tiered experience has successfully meshed industry celebrities, live music events, VIP after-parties and thrilling outdoor competition. Past Grenade Games attendees include snowboarding superstars Danny Kass, The Dingo, Mason Aguirre, Eric Messier, Ikka Backstrom, Eero Niemela, Dustin Craven, Gigi Ruf, Mark Sollars, Darrel Mathes, DCP and Romain DeMarchi, among others.
Follow the Grenade Gloves blog for news & updates:
www.grenadegloves.com