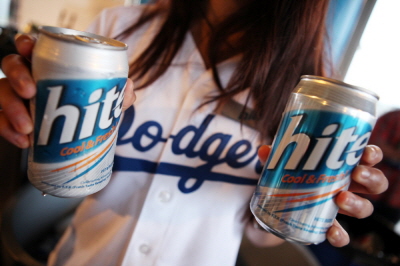 They did it again. That's right. Hite Beer held another free taste sampling of Hite Beer at the Dodger Stadium, June 13th!

In case you've missed the big news, Hite Beer and LA Dodgers have partnered up for the April 2012 Season and is now the first Korean beer to ever sell in the Dodger Stadium. For only $6 a bottle (half the price of competitor beers), how could you not want to drink Korea's #1 selling beer?

To switch it up a bit, Hite Beer held the free sample tastings of Hite Beer on the Field and Reserve Level, rather than the Loge level for the previous tasting. During the LA Dodgers vs. LA Angels game, fans had the opportunity to sample Hite Beer and Hite 'D' Dry Finish!

Missed out on your chance to see us at the Dodger Game? Although there is no set schedule for the upcoming taste sampling event, you can stay updated on the Hite Jinro FB Page (fb.com/hitejinro) for announcements on the next upcoming event!

You can also find Hite Beer at the Dodger Stadium all season, in all three levels (Field, Loge, Reserve) next to 1st and 3rd base.

(Age Restrictions Apply)


Don't forget to claim your discount Dodger tickets, courtesy of Hite Beer! Check it out: www.dodgers.com/hite

To see more photos, visit flickr.com/ilovesojuman.