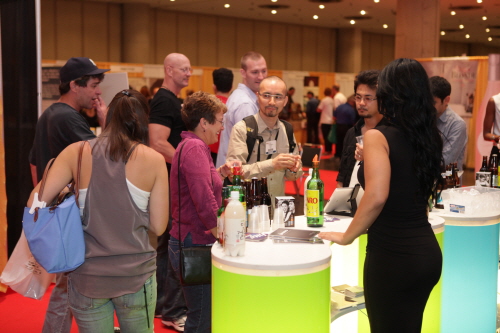 East Coasters: Were you ready for us…again? For the 2nd consecutive year, Hite Beer and Jinro Soju were proud sponsors of the East Coast's largest tradeshow, the 13th Annual Bar and Restaurant Show. Located in New York at the Jacobs K. Javits Convention Center, the Bar and Restaurant Show was held on June 26-27, at 11AM-5PM.

Hite Beer and Jinro Soju were ready and excited now, more than ever, to be one of the partnering sponsors at the Bar and Restaurant Tradeshow. Last year, Hite and Jinro were a huge success, reaching over 4,500 attendees and creating more recognition and value for Korean alcohol in the East.

This year, along with the original Hite products (Hite, Max, Stout Beer) and Jinro products (Jinro Soju, Chamisul Original & Fresh, Bok Bun Ja Rasberyy wine, Mae Hwa Soo Plum wine), Hite Beer and Jinro were thrilled to leave an even bigger impression than last year by introducing their newest member to the team, Hite 'D' Dry Finish Beer. The dry finish beer has been perfected after 49 failed attempts at finding the perfect dry yeast to make it a clean-cut, smooth, and refreshing beer till the very last drop.

There is no better way to gain more acknowledgment for Korea's #1 selling beer and distilled spirit than at the Bar and Restaurant Show. With thousands of restaurant and alcohol-related industry professionals that attended, Hite Beer and Jinro Soju greeted old fans as well as gained a new fan base with those who have
never heard of or tasted any products.

Hite Beer has also recently partnered up with the LA Dodgers and is now the first Korean beer every to be sold in the Dodger Stadium. With the unstoppable rate of Korean commodities breaking through to mainstream, Hite Jinro will hopefully one day become a household name by becoming readily available all over U.S.

Not in an area where Hite Jinro products are sold? Hite and Jinro are now sold online at wallys.com and binnys.com and can be shipped right to your door!